Cincinnati Symphony Orchestra and University of Cincinnati College-Conservatory of Music announce 2019-21 Class of Diversity Fellows
Five outstanding string players have been selected for the next class of the prestigious Diversity Fellowship program.
Cincinnati, June 4, 2019 — The University of Cincinnati College-Conservatory of Music (CCM) and the Cincinnati Symphony Orchestra (CSO) have selected five outstanding musicians for the next class of CSO/CCM Diversity Fellows. Born out of a mutual desire to make American orchestras more inclusive, this prestigious performance fellowship program was launched in 2015 with a generous grant from The Andrew W. Mellon Foundation. The Foundation approved a renewal grant of $850,000 in 2017, providing funding for the innovative program through June 2021.
With this collaborative Fellowship program, CCM and the CSO hope to provide new opportunities for underrepresented musicians, while simultaneously fostering a more inclusive environment in the orchestral industry.
"Reflecting our community and the world around us at every level — on stage, around the office, in the board room, and in neighborhoods throughout the region — is one of our highest priorities," said CSO President Jonathan Martin. "We welcome the new class of Fellows, look forward to the artistic contributions of the continuing class, and congratulate the Fellows who are now completing the program after two years."
Here is the incoming class of CSO/CCM Diversity Fellows:
Magdiell Antequera, 23 (violin)
Jordan Curry, 24 (violin)
Cristian J. Diaz, 28 (viola)
Michael Martin, 24 (double bass)
Denielle Wilson, 23 (cello)
"The CSO/CCM Diversity Fellowship embodies the University of Cincinnati's commitment to experience-based learning and community partnerships," said CCM Dean Stanley E. Romanstein. "Our five newest Fellows possess enormous talent, and we are delighted to welcome them to Cincinnati. Once you have an opportunity to see the Fellows perform, you will understand why we boast that 'Next Lives Here.' We are grateful for the ongoing generosity of The Andrew W. Mellon Foundation, through which CCM and the CSO can continue to work together to make the arts more inclusive."
These five exceptional string players will officially join the two-year fellowship program in August 2019 bringing the total number of CSO/CCM Diversity Fellows to nine for the 2019-20 academic year and performance season.
The second class of Diversity Fellows, which is comprised of Anita Graef (cello), Ian Saunders (double bass), Weiyi Shao (violin), and Dan Wang (viola) recently completed the program at the conclusion of the 2018-19 season.
"The combination of performing with a major professional orchestra while getting a graduate degree from a top conservatory provides the ideal combination of educational and professional development," said Yan Izquierdo, who will begin his second year in the CSO/CCM Diversity Fellowship in the fall. "I believe this Fellowship has significantly enriched my career and I highly recommend it to any music student, particularly those seeking opportunities in American orchestras."
HOW THE FELLOWSHIP WORKS
The CSO/CCM Diversity Fellowship Program is open to exceptional violin, viola, cello, and double bass players coming from historically underrepresented populations in classical music.
The program's tagline — "Bravos Without Barriers" — gets to the heart of its mission: eliminating obstacles that can prevent extraordinary musicians from achieving their full potential.
Fellows perform the equivalent of five weeks per season with the CSO while enrolled in a two-year Master of Music (MM) or Artist Diploma (AD) graduate degree program at CCM. Each class of Fellows is selected through a rigorous series of auditions, which saw hundreds of graduate-level musicians audition for CCM faculty members. Select players were invited back to Cincinnati for a final round of auditions judged by CSO musicians in Springer Auditorium at Cincinnati Music Hall on March 16, 2019.
Each Fellow receives full tuition scholarship support from CCM, in addition to a $10,000 per year graduate stipend and a one-time Graduate School Dean's Excellence Award of $3,000. Each Fellow also receives compensation of $8,000 per season while performing with the CSO.
Magdiell Antequera, Master of Music (MM) student, Violin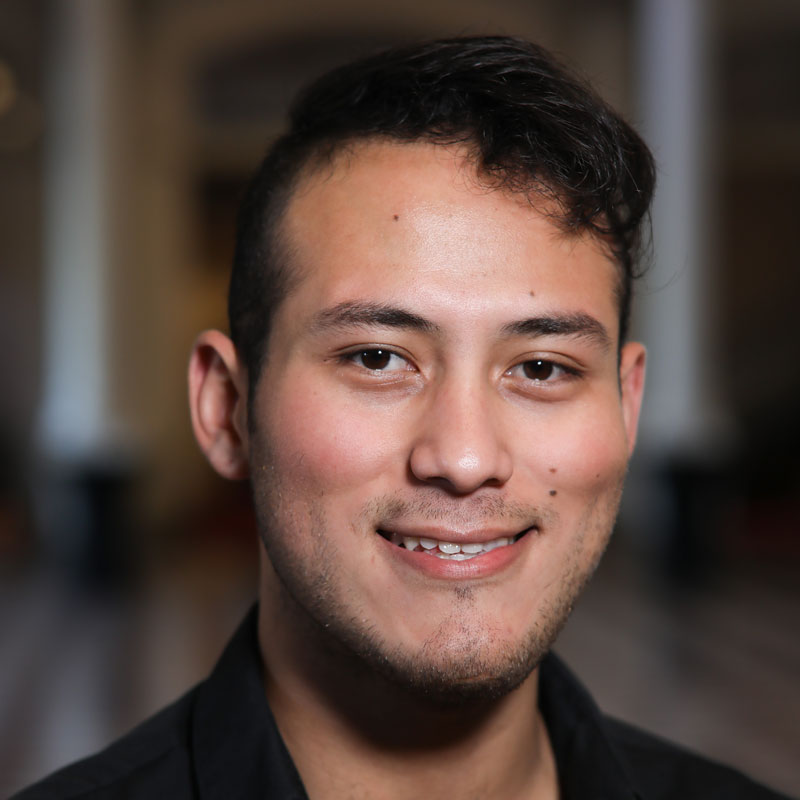 Venezuelan violinist Magdiell Antequera, 23, made his first debut as a soloist in with the Falcon Symphony Orchestra in Venezuela at the age of 10 and has continued to play as a guest soloist in various orchestras in South America and the United States. His work has been praised by legendary violinists including Midori Goto, Margaret Batjer, and Glenn Dicterow. Antequera has participated in multiple master classes and private lessons with acclaimed professors from a number of conservatories including the Juilliard School, and has won and received recognition from important competitions such as the Solo Competition at the Academia Latinoamericana de Violin (Venezuela), Thursday Musical Competition (Minnesota), Schubert Club Competition (Minnesota), Texas Rising Stars, Rodolfo Lipizer International Violin Competition (Italy), and others.
Antequera attended Shattuck-St. Mary's School as a member of the Pre-Conservatory Program from 2012–15, where he studied with Sally O´Reilly at the University of Minnesota. In 2015 he was awarded a full scholarship to the University of Texas at Austin, where he studied with Brian Lewis and kept an active solo career.
Jordan Curry, Artist Diploma (AD) student, Violin
Jordan Curry, 24, resides in West Olive, Michigan. He began playing violin at the age of six using the Suzuki method. A graduate of West Ottawa High School in Holland, Michigan, Curry continued to play violin and study music throughout his formative years.
He has participated in the Illinois Chamber Music Festival at Illinois Wesleyan University, the Michigan All-State Orchestra, and the Holland Area Youth Orchestra. Curry furthered his studies with Korean violinist Young Shin and Mihai Craioveanu, professor of violin at Hope College.
He received his bachelor's degree in violin performance at Western Michigan University in Kalamazoo under the instruction of professor Renata Artman Knific. Curry plays a violin from famed maker Mario Miralles on loan from acclaimed violin soloist Tai Murray. He recently received his master's in violin performance the University of Denver under Linda Wang.
Cristian J. Diaz, Master of Music (MM) student, Viola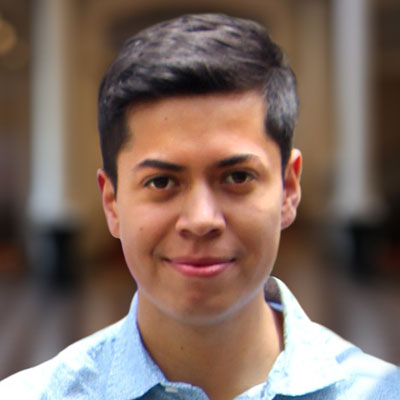 Cristian Diaz, 28, is a violist from Colombia who holds a bachelor's degree in violin performance from Colombia's National University- Conservatory of Music, and a master's degree in chamber music from Kent State University. His former professors include members of the acclaimed Miami String Quartet, Keith Robinson and Cathy Meng Robinson, and his viola professor Joanna Patterson Zakany, member of the prestigious Cleveland Orchestra.
Diaz has been part of many orchestras across the globe, and was runner up in the Kent State University concerto competition (2017), he was selected to become part of the Mahler Chamber Orchestra Academy 2018 in Dortmund, Germany, winner of the inaugural Diversity Fellowship of the CityMusic Cleveland Chamber Orchestra, and is also a member of the Efferus String Quartet.
He has attended the XI Cartagena Music Festival (Colombia, 2017), the first and second International Festival of String Quartets (Colombia, 2015 and 2016), III Bogota's Viola Festival (Colombia, 2015), Santa Catarina Music Festival FEMUSC (Brazil, 2012), and also the Kent Blossom Music Festival (2019). Diaz will begin his master's degree at CCM in the fall of 2019 where he will study with professor Catharine Lees.
Michael Martin, Artist Diploma (AD) student, Double Bass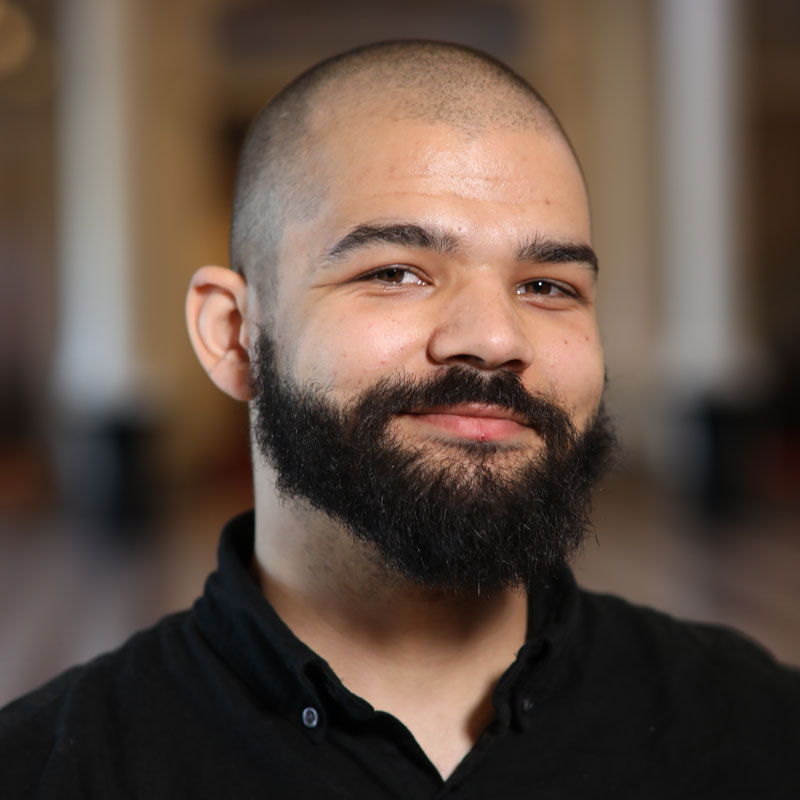 Raised in Allentown, Pennsylvania, Michael Martin, 24, began his study of the double-bass with local Suzuki pedagogue Domenick Fiore in early high school, after years of playing in school ensembles and teaching himself at home. Quickly finding that he had a deep love of the bass and music, he joined the Philadelphia Sinfonia and Young People's Philharmonic youth orchestras in the area, and began further studies with Joseph Conyers of the Philadelphia Orchestra.
An alum of Oberlin Conservatory (B. Mus., 2017) and Northwestern University (M. Mus.,2019), Martin studied with renowned bass pedagogues Tracy Rowell (Oberlin Conservatory, CIM Mari Sato Preparatory Program) and Andrew Raciti (Milwaukee Symphony, Northwestern University). Other mentors have included Peter Dominguez (Oberlin Conservatory) and Scott Dixon (the Cleveland Orchestra). In addition to his studies with Rowell and Raciti, Martin spent his summers as an undergraduate studying the method of bass virtuoso Francois Rabbath at the Domaine Forget International Academy in Charlevoix, Quebec. He has also been an Orchestra Fellow at the Emmanuel and Helen Olshan Texas Music Festival Orchestra Institute in Houston, Texas.
Martin plays a modern instrument made especially for him by Christopher Savino, and a bow by acclaimed Canadian bow maker Reid Hudson.
Denielle Wilson, Master of Music (MM), Cello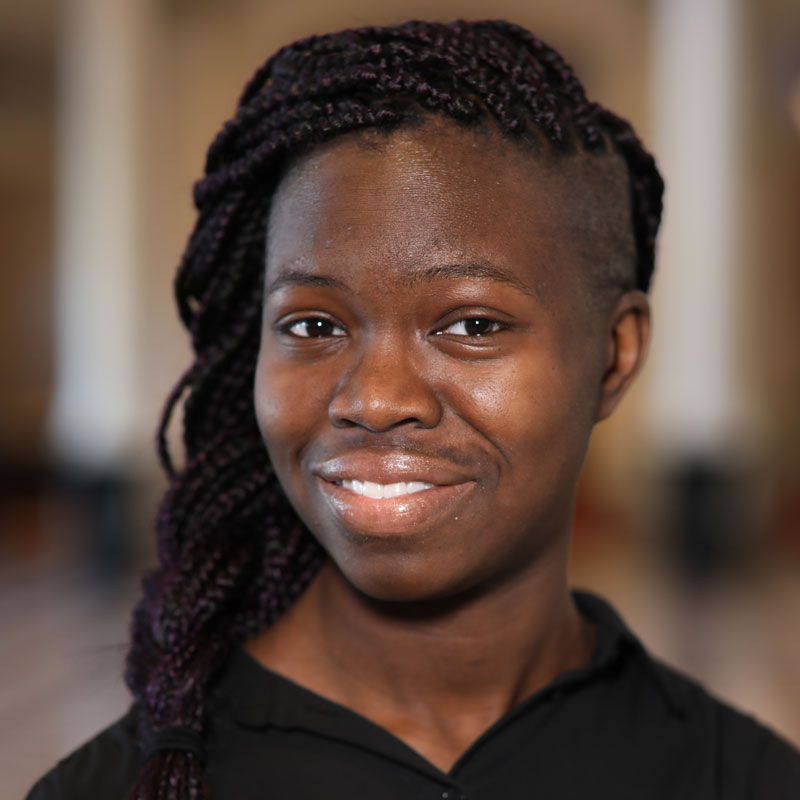 Denielle Wilson, 23, is a cellist from Lithonia, Georgia. She currently lives in Evanston, Illinois, plays in the Civic Orchestra of Chicago, and maintains a studio of private cello students. She completed an undergraduate degree at Northwestern University in 2017, having majored in cello performance and music education. Her musical mentors have included Hans Jørgen Jensen, Joel Dallow, and Nan Kimberling. She has spent summers at the Meadowmount School of Music, Bowdoin Music Festival, Aspen Music Festival and School, and the Grant Park Music Festival. She plays in a piano trio with her siblings, and they enjoy sharing classical and religious music with their local community.