Cincinnati Symphony Orchestra Announces New Staff Conductors
Samuel Lee and Daniel Wiley to Join the CSO and Pops as Assistant Conductors Beginning in September 2022
CINCINNATI, OH (June 23, 2022)— The Cincinnati Symphony Orchestra (CSO) and Cincinnati Pops have appointed Samuel Lee and Daniel Wiley as assistant conductors for the Cincinnati Symphony Orchestra, Cincinnati Pops Orchestra and May Festival. Lee and Wiley will begin their work with the organization in September 2022. They succeed François López-Ferrer and Wilbur Lin, whose tenures conclude in August.
"Assistant conductors are an integral part of our organization, and the Cincinnati Symphony Orchestra and Cincinnati Pops offer a unique training ground for emerging conductors," said Jonathan Martin, President and CEO of the Cincinnati Symphony Orchestra, Cincinnati Pops and May Festival. "From Mozart to the latest Marvel's Black Panther movie, our Orchestra's repertoire is vast and diverse in its genre and style, and our assistant conductors are vital to the continuity and quality of our artistic product. In addition, they receive the opportunity to work with and learn from established conductors in Louis Langrée, John Morris Russell and Juanjo Mena."
Both serving in the Ashley and Barbara Ford Chairs for Assistant Conductor, Lee and Wiley will assist with the Orchestra's concert preparation and are vital to the success of educational programs and digital initiatives. In addition to other conducting assignments, they will also be responsible for envisioning, rehearsing, and leading Young People's Concerts and Cincinnati Symphony Youth Orchestra programs. For each CSO, Pops and May Festival program, Lee and Wiley will assist in all rehearsals and performances, providing feedback to CSO Music Director Louis Langrée, Cincinnati Pops Conductor John Morris Russell, and guest conductors, enabling them to fine tune the sound and artistic quality of the ensemble. As understudies, Lee and Wiley must also be prepared to step in at a moment's notice should another conductor become ill or is otherwise unable to conduct.
"Assistant conductors serve as the communicators and moderators between many of the diverse aspects of an orchestra and the community," said Samuel Lee. "The CSO is unique because of its versatility. It can perform the classics, popular music, as well as engage with the youth—all at the highest caliber. When I discovered the opportunity to be a part of this Orchestra and work closely with Louis Langrée, I was inspired to apply. I am glad I did, and I look forward to serving the Orchestra and Greater Cincinnati community as one of the assistant conductors next season." Lee has maintained an active career in Europe and Asia, but this will be Lee's first time working with a U.S. orchestra.
"I deeply believe that an orchestra's purpose is to be an indispensable cultural asset and community ambassador. The CSO has developed a large, robust, and diverse platform with which to engage with its community," said Daniel Wiley. "I am thrilled to join a world class orchestra that is so clearly dedicated to enriching the cultural life of Cincinnati and beyond, through music."
Both assistant conductor positions are endowed by Ashley and Barbara Ford.
ARTISTIC LEADERSHIP
Samuel Lee, Assistant Conductor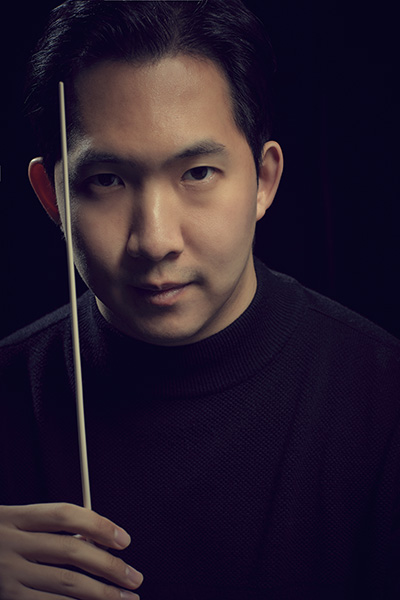 Samuel Lee, first prize winner of the BMI International Conducting Competition in Bucharest and the International Conducting Competition in Taipei, has recently been appointed Assistant Conductor of the Cincinnati Symphony Orchestra, beginning in the 2022–23 season.
Guest conducting engagements include his debut at the Elbphilharmonie Hamburg with the Hamburg Camerata and in Gewandhaus with Leipziger Symphoniker, as well as with Konzerthausorchester Berlin, Hamburg Symphony Orchestra, Stuttgart Philharmonic Orchestra, Nuremberg Symphony Orchestra, Frankfurt State Orchestra, Brandenburg Symphony Orchestra, Hamburg Camerata, Tokyo Philharmonic Orchestra, Bucharest Symphony Orchestra, Arad Philharmonic Orchestra, Seoul Philharmonic Orchestra, Korean Symphony Orchestra, KBS Symphony Orchestra and the SAC Festival Orchestra. Lee was also a Conducting Fellow with the Cabrillo Festival of Contemporary Music in 2021 and 2022, where he worked with conductors Cristian Măcelaru, Yannick Nézet-Séguin, Octavio Más-Arocas and Marin Alsop.
Lee has assisted Cristian Măcelaru in concerts with the WDR Sinfonieorchester in Cologne, Munich and Salzburg, as well as Vladimir Jurowski for his concert with the London Philharmonic Orchestra in Seoul.
As a Conducting Fellow and participant in masterclasses of conductors such as Daniele Gatti, Riccardo Muti, Neeme Järvi, Markus Stenz and Stefan Blunier, he gained deeper insights into the art of conducting.
In 2019 he was invited to conduct the Orchestra Giovanile di Siena as part of an audition for the Chigiana International Music Festival in Siena, overseen by Daniele Gatti; for this performance, he led Stravinsky's The Firebird Suite, Bartók's Concerto for Orchestra, and Ravel's Ma mère l'Oye. He was also invited to the Riccardo Muti Italian Opera Academy in Tokyo Vol. 1, organized by the Tokyo Spring Festival, where he conducted Verdi's Rigoletto.
Since 2016 Samuel Lee has been the chief conductor of the C.P.E. Bach Musikgymnasium Orchestra Berlin. He and the orchestra have been regularly invited to the Berlin Philharmonie and Konzerthaus Berlin for subscription concerts. He also served as a viola professor at Hochschule für Musik und Theater "Felix Mendelssohn-Bartholdy" in Leipzig, Germany until 2022.
As a violist, Lee was invited to perform with the Baden-Baden Philharmonic, Munich Chamber Orchestra, Southern German Philharmonic, Zabrze Philharmonic, Seoul Philharmonic, KBS Symphony, Korean Symphony and at the Schleswig-Holstein Music Festival and the Mecklenburg-Vorpommern Music Festival.
From 2009 until 2017, Lee was the violist of Novus String Quartet, which performed and was invited to renowned venues such as Berlin Philharmonie, Carnegie Hall, Vienna Musikverein, Cologne Philharmonie and Suntory Hall. He also was the second prize winner of the 61st International Music Competition of ARD Munich and first prize winner of the Salzburg International Mozart Competition.
Lee is an alumnus of Hochschule für Musik "Hanns Eisler" Berlin where he studied viola with Prof. Tabea Zimmermann (BM, MM, Konzertexamen), and orchestral conducting with Prof. Christian Ehwald (BM, MM). Lee completed Konzertexamen in orchestral conducting from Hochschule für Musik und Theater Hamburg (Prof. Ulrich Windfuhr).
Daniel Wiley, Assistant Conductor
Daniel Wiley has quickly become a notable young conductor on the rise, having made guest appearances with the Denali Chamber Orchestra, Meridian Symphony, Equilibrium Ensemble, Boise Philharmonic, Abilene Philharmonic, London (Ontario) Symphonia, Windsor (Ontario) Symphony Orchestra, Windsor Abridged Opera, University of Windsor's Wind Ensemble, and the University of North Florida's Opera Department.
In the fall of 2022, Wiley will join the Cincinnati Symphony Orchestra and Pops as an Assistant Conductor, where he will be responsible for conducting and covering a wide variety of concerts as well as working with the Cincinnati Symphony Youth Orchestras.
Prior to his tenure in Cincinnati, Wiley held numerous conducting posts, including Assistant Conductor of the Jacksonville Symphony, Music Director of the Jacksonville Symphony Youth Orchestras, Associate Conductor of the Windsor Symphony Orchestra, Music Director of the Windsor Symphony Youth Orchestras, Music Director of the Windsor Symphony Community Orchestra, Wind Ensemble Conductor at the School of Creative Arts at the University of Windsor, Education Conductor/Consultant for London Symphonia, Conductor for the Windsor Abridged Opera Company, Music Director of Texas Academy of Mathematics and Science Youth Orchestra, and Assistant Conductor for the Meridian Symphony Orchestra.
During the pandemic, Wiley was instrumental in expanding the Windsor Symphony's educational footprint by creating a digital education concert series that includes 12 hours of interactive music curriculum for schools. Lauded as "an exemplar of impassioned and outstanding pedagogy" (Dr. Ken Montgomery, Dean of the Faculty of Education, University of Windsor) and recognized in the Ontario Provincial Parliament as an example of how an orchestra can change lives through music even during a time of unprecedented uncertainty, this program to date has served more than 123,000 students across the United States and Canada.
In 2019 Wiley was the second prize recipient of both the Smoky Mountain International Conducting Institute and Competition and the Los Angeles International Conducting Competition. Wiley has also spent time conducting new music ensembles, including for the Musicbed Music and Film Corporation based in Fort Worth, Texas, as well as participating in the Composing in the Wilderness program as part of the Fairbanks Summer Arts Festival in Fairbanks, Alaska. With this program, Wiley has conducted numerous premieres in Denali National Park.
As a former public-school music teacher, Wiley has a unique passion for music education, and he frequently donates his time as a guest clinician to support students and teachers in music programs across North America.