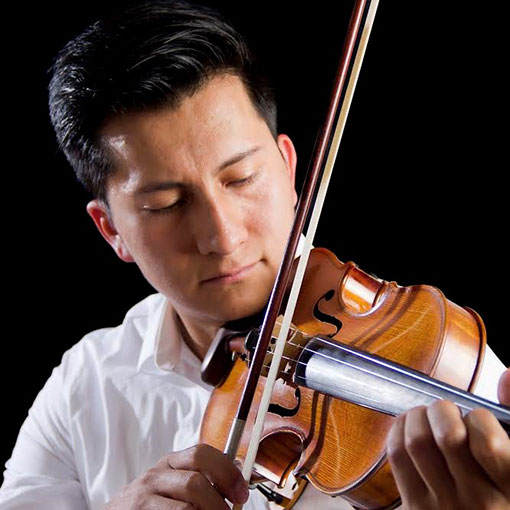 Giuseppe Tejeiro was born in Bogotá, Colombia. He started his musical studies in the capital of Colombia at the Youth Symphony Orchestra Foundation, where he took theory, violin and piano lessons. He attended the Central University to pursue his musical degree with an emphasis on violin. He was a soloist with the camerata (chamber orchestra) of Central University, during tours in Peru and Colombia.
Tejeiro has participated in music festivals including the FOSJA 2007 in Puerto Rico and he was a member of the World Orchestra of Jeunesses Musicales (WOJM) in Spain, which toured China in 2008. In 2010, he was concertmaster of the Joven Orquesta de Valencia (JORVAL), a youth orchestra in Valencia, Spain. He was selected by the Central University to go to Cartagena Music Festival in 2009 and Kent Blossom Music Festival in 2019, playing side by side with the Cleveland Orchestra. He has been in master classes with violinist Stephen Rose, Peter Otto, Alexis Cardenas, Ilya Kaler, Arnaud Sussmann and Sasha Sitkovetsky, among others.
He is currently finishing his second year of graduate studies at Kent State University with Professors Amy Rosenwein and Cathy Robinson. For the past 10 years, he has held a tenure position in the violin section with the Bogota Philharmonic Orchestra, and he has worked with Akron, Youngstown and Canton Symphony Orchestras in the U.S.