by CSO Staff
adapted from a story by Anne Arenstein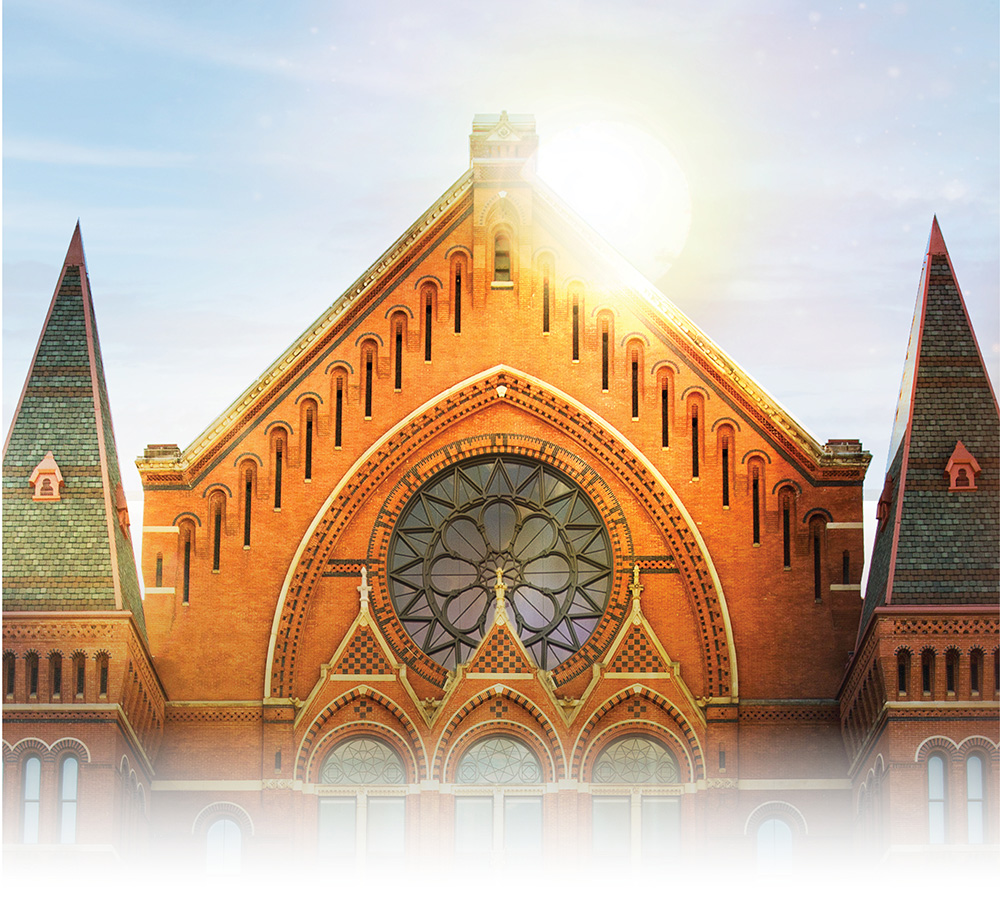 Catalyzed by the Covid-19 pandemic, the Cincinnati Symphony Orchestra prioritized and accelerated diversity, equity, and inclusion (DE&I) and digital innovation efforts in its aim to become the most relevant orchestra in America.
The orchestra industry is notorious for its glacial pace of change. If you look at a picture of an orchestra from the 1800s and compare it to one from today, there are striking similarities between the two ensembles separated by nearly 200 years.
It's easy to speculate why this is the case. Perhaps the upholding of Western classical music traditions contributed to the slow pace of change. Perhaps the lack of diversity and people's inability to conceptualize "Orchestra 2.0" allowed the industry to perpetuate more of the same. Or, maybe, attempts at innovation faced resistance too insurmountable to overcome.
The truth undoubtedly lives in varying levels of "all of the above." But regardless of the exact diagnosis for the current state of the industry, the Covid-19 pandemic in 2020 proved to be a clarifying moment in time and an undisputed accelerant for change. This was especially true at the Cincinnati Symphony Orchestra.
On March 13, 2020, the Cincinnati Symphony Orchestra halted operations when the state of Ohio banned mass gatherings of people.

"There was a cloud that came over us," recalled President & CEO Jonathan Martin. "We were in shock, and it was a dark moment for our institution as stability was ripped from beneath us."
"Looking back, the light in the darkness came from within our people," continued Martin. "We took care of one another in our 'people first' approach, and we relied on each other to be thought leaders. All voices were critical. All ideas were on the table."
Step by step, the people of the Cincinnati Symphony Orchestra put one foot ahead of the other and lifted themselves up from the ground.
"At our core, we are a community service organization," Martin explained. "It was clear what we needed to do in order to further our mission, to seek and share inspiration."
Music Director Louis Langrée, then-Board Chair Rob McDonald, President & CEO Jonathan Martin, and Chief Operating Officer Robert McGrath formed the first of many teams of people who contributed to the plan to "pivot to digital."
"It was like steering the Titanic. We were trying to make a sharp turn while going 70 miles per hour. And, we did it," remarked McGrath with a smile.
Six weeks into the shutdown, on April 30, 2020, the CSO hosted a livestreamed conversation with Langrée and Martin in their respective homes, backed by a support team of production personnel "Zoom-ing" in from their homes.
"To be able to see and speak to one another was an emotional experience," reminisced Langrée. "We answered questions from our audience, listened to recorded excerpts, and shared personal insights. We were together again."
"We didn't realize at the time how this live­streamed conversation gave hope to so many people on our team," said Martin. "It proved to us that we could do this. Digital innovation was not only necessary, it was within reach. It provided the fuel we needed to keep going."
And keep going they did. Only three weeks later, on May 16, 2020, the CSO streamed a performance of Mahler's Piano Quartet and the world premiere of a fanfare for oboe by Matthias Pintscher, performed by CSO Principal Oboe Dwight Parry. Two months after that, on July 27, 2020, the CSO and Pops announced plans to livestream seven free Live From Music Hall concerts in the upcoming season.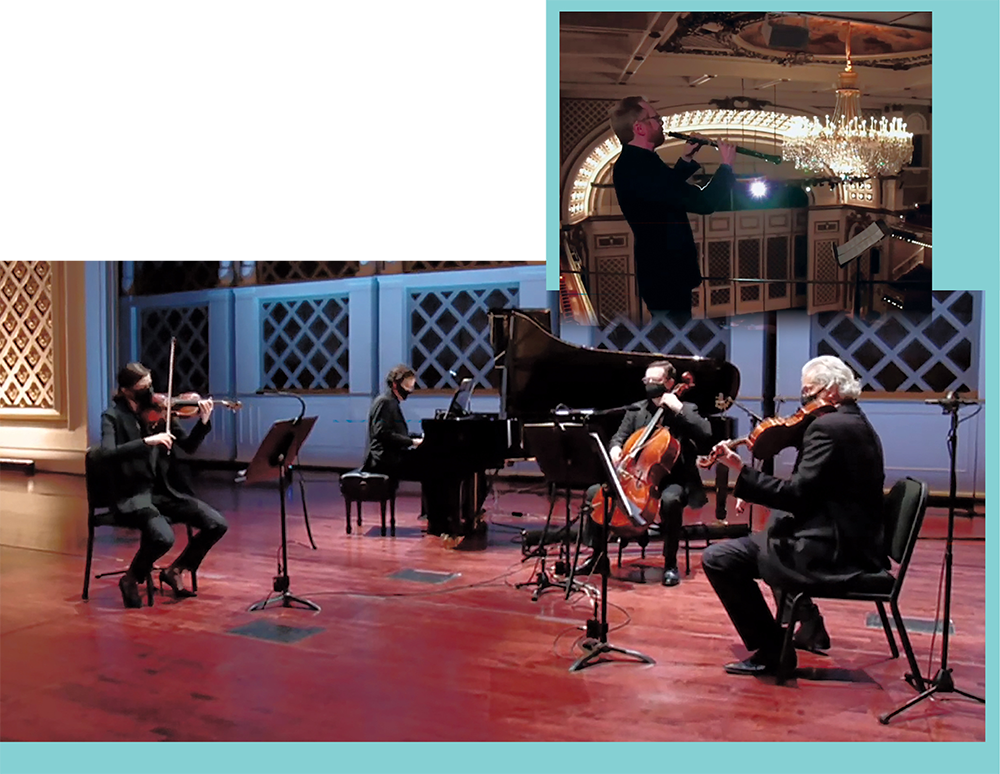 Momentum was building. Every step forward provided more solid footing. The CSO gained traction, and ideas that were once considered pipe dreams became reality.
"Every win was a big win," said Martin. "We needed each win for the Orchestra, but we also needed each win for ourselves to build confidence that there would be 'another side' of the pandemic to reach. In the face of seemingly insurmountable challenges, our team rallied together to ensure the preservation of our Orchestra. And, it was inspirational."
Like most orchestras across the globe, the CSO faced sudden and extreme budget shortfalls stemming from pandemic-related concert cancellations. Ticket sales dried up and refunds were issued. With the future of in-person concerts an uncertainty, the leaders of the CSO needed a plan to address the budget shortfalls and stabilize the organization.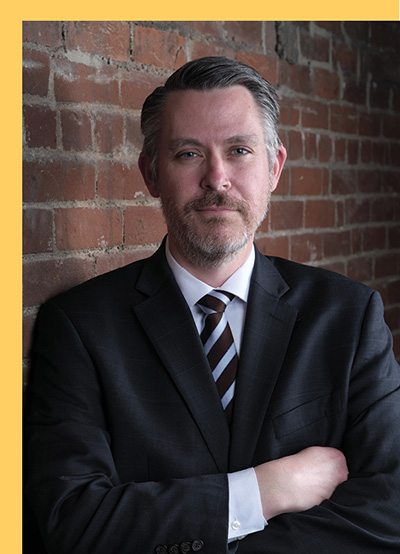 "The Board guided our development of a three-pronged plan of expense cuts and salary reductions for musicians, staff, executive and artistic leadership, special fundraising, and a draw from our cash reserves," explained McGrath. "We realigned around digital innovation and negotiated a one-year agreement with our musicians to allow for greater scheduling and work rules flexibility. We were in this together. We were devoted to making this work."
"We are profoundly grateful to our musicians for understanding the need to incorporate increased flexibility into the new one-year contract," said Martin.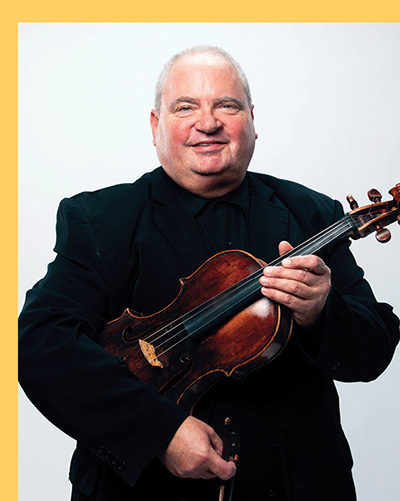 "For decades, we have worked to create a truly collaborative arrangement and relationship between the administration and players," said Paul Frankenfeld, President of the Cincinnati Musicians' Association, Local 1 AFM and then-CSO Associate Principal Viola. "Without a doubt, it was the foundation for our successful contract negotiation."
With the strategy in place, the CSO team worked swiftly to put the plan into action. Back at the office, a four-member digital production department was established to oversee livestreams and digital innovation.
"An organization is the embodiment of strategy," stated Martin. "When we realigned around digital innovation, we took a serious look at our team to make sure that we were structured in a way that kept our goals in focus. It was clear. Our revised strategy required a new Digital Content and Innovation department."
"We're an orchestra, not a TV station or a TV production company," explained McGrath. "We had to build a digital delivery infrastructure from the ground up to allow us to produce digital content more easily, more efficiently from a cost standpoint, and with a higher quality. We had to invest in a significant number of assets, from cameras to upgraded lighting systems and all the technical expertise that requires. That meant a significant investment in equipment and personnel."
As quickly as the CSO Board, administration and musicians pivoted, a quiet and highly successful fundraising effort was underway to offset the costs of new digital production initiatives. The initiative, dubbed the "Preservation and Innovation Fund," involved Board members, individuals, corporations and foundations who stepped up from across the community to support the Orchestra, stabilizing the budget in the short-term while ensuring that calculated risks could be taken to extend the longevity of the Orchestra.
"The CSO met the additional expenses of producing these digital livestreams and did it very strategically to fulfill its goal of becoming the most relevant orchestra in America," said current CSO Board Chair Dianne Rosenberg. "The Orchestra's commitment to remaining a vibrant presence during the pandemic and doing it in a way that was accessible to all was truly inspiring."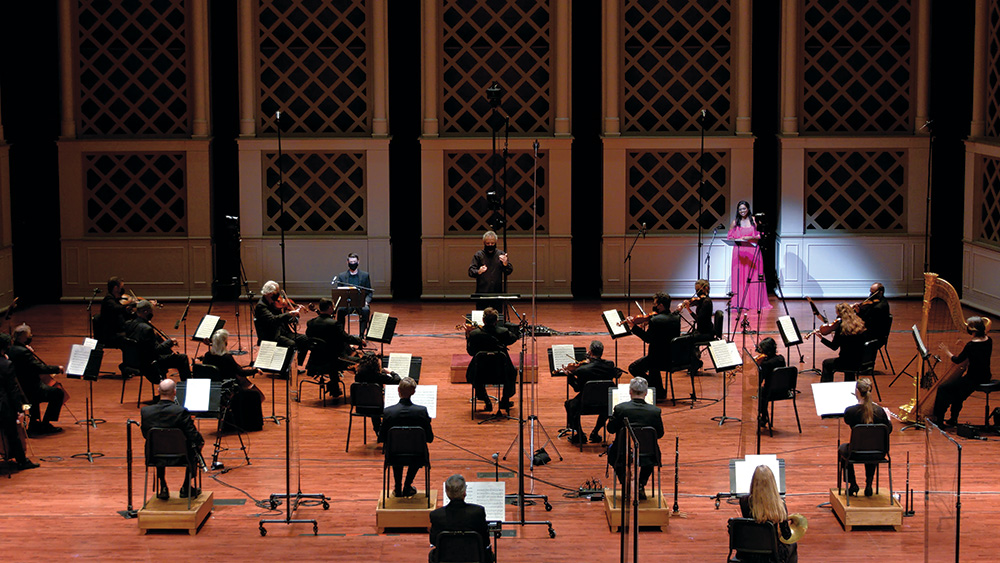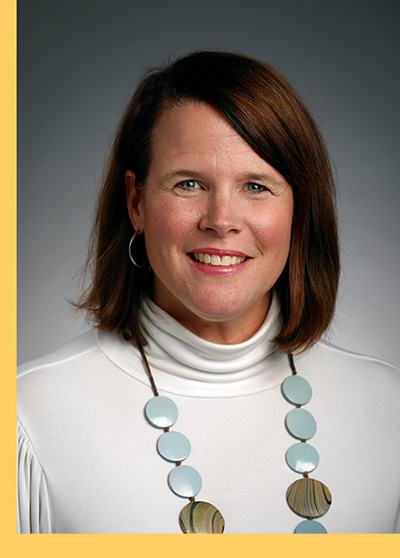 "Accessibility was and continues to be a priority for us," said Chief Philanthropy Officer Mary McFadden Lawson. "We viewed our new digital livestreams as 'value-adds' to complement in-person concert experiences, not as replacements, and we did not want to limit our audiences by putting up paywalls. During the pandemic, livestreams allowed us to stay connected with our audiences. Now, they are an essential part of our audience engagement strategy."
"We were lucky," reflected Martin. "We navigated the onset of the pandemic with the right people in the right places at the right time. Collectively, we were able to come to the right decisions for us. Looking back, it's truly remarkable what we were able to pull off in a compressed period of time—projects that would have undoubtedly taken years to realize pre-pandemic. That shared experience has made us stronger, and I am immensely proud of our Board, our musicians and our team."
For many, the pandemic was a Matrix-like moment that simultaneously paused and accelerated time. While certain aspects of life were at a standstill due to early pandemic restrictions, such as social distancing and masking, other long overdue conversations catapulted to the forefront.
George Floyd's murder on May 27, 2020 made international headlines and provoked what many considered a reckoning with racism embedded throughout American society, with particular attention on cultural institutions.
"The Covid pandemic and the tearing back of the scab of social injustice in this country were intertwined," acknowledged Martin. "The pandemic inadvertently created the right conditions for this necessary conversation to rise to the top. The headlines and social media responses to the news online ignited a wildfire. We were all forced to pay attention, and it was about time."
The CSO issued the following statement:
We see you. We hear you. We realize we must do better, and today we reaffirm our commitment to push for justice and equality, elevate and broaden our role as a voice of positive change, and amplify the voices of those who can help us realize that change.
But behind-the-scenes they still grappled with the news and what it meant personally and for the organization.
"We had made a commitment to diversity, equity, and inclusion as part of our 2019 strategic plan, but after George Floyd's death, DE&I took on greater urgency," explained Martin. "There was no turning back."
The artistic and administrative leaders of the CSO elevated DE&I and quickly developed a 10-point action plan that set the organization on an accelerated path to address DE&I. Points included convening a standing Community Advisory Council to help the CSO amplify and support important community initiatives; building a staff structure that better supported and amplified DE&I goals; implementing cultural competency and implicit bias training for staff, Board and musicians; and evolving existing operations to make important DE&I considerations.
"The goal of the ten-point plan was to quickly establish infrastructure to accelerate the absorption of best DE&I practices into all facets of the organization," explained Martin. "It was a logical extension of our 2019 strategic plan."
In fall of 2020, a new DE&I department came to fruition at the insistence of Martin and the Board, and a national search for a Chief Diversity & Inclusion Officer — one of the first such positions created in a major American orchestra — commenced. By March 2021, Harold Brown, a Cincinnatian with extensive nonprofit leadership experience, was named the CSO's first-ever Chief Diversity & Inclusion Officer.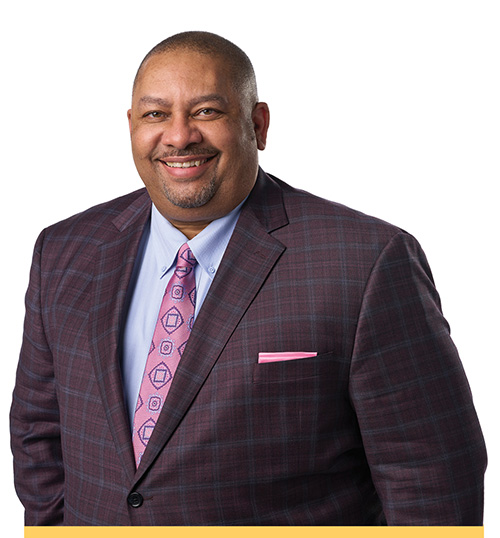 "It's a marathon, not a sprint," said Brown. "Any journey toward an equitable and inclusive organization needs to be carefully thought out and intentionally incorporated into all parts of the organization. It is difficult and full of learning opportunities, but it is worth it to hold ourselves accountable for the work that we need to do in order to make progress. I continue to be impressed with Jonathan Martin, the Board, staff, and others who are totally committed to this work."
The importance of the Chief Diversity & Inclusion Officer position was underscored when it became the first endowed administrative staff position at the CSO in January 2022. It was renamed The Honorable Nathaniel R. Jones Chief Diversity and Inclusion Officer, after the pioneering civil rights leader, lawyer, and federal judge Nathaniel R. Jones, whose efforts to abolish racial discrimination included challenging school segregation, ending racial bias in the military, and combating injustice everywhere.
"This is a position that is now endowed in perpetuity, thanks to the generosity of Michael Cioffi and Rachael Rowe," said Lawson. "It reinforces how integral this function is to the longevity of our organization and artform."
The CSO also made impressive gains in diversifying its Board and administrative staff. Led by Board member Melanie Chavez, the Board's Nominating Committee audited the diversity and expertise of its Board members and created a plan to bring in people from a variety of backgrounds and experiences.
"In the context of how orchestras everywhere are evolving, we are at the forefront," explained Rosenberg. "Our challenges now are really growing pains."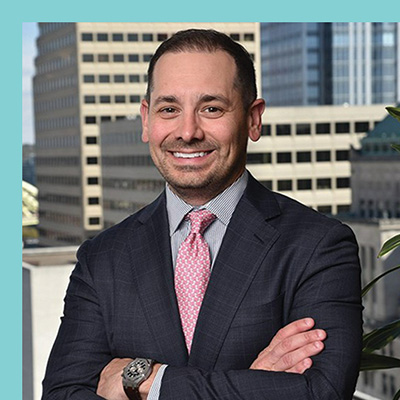 "We made some substantial progress at the CSO, but we still have a lot of work to do to reach our DE&I goals," agreed Rob McDonald, who served as CSO Board Chair for the last three years during the height of the pandemic.
Among other diversity goals, the CSO sought to reach a Board diversity of 20% Black/Latine members by 2025, a goal already exceeded thanks to Chavez's leadership. Black/Latine membership is currently at 33%, more than double what it was in 2015, and membership of those under the age of 40 is at 28% versus none in 2015.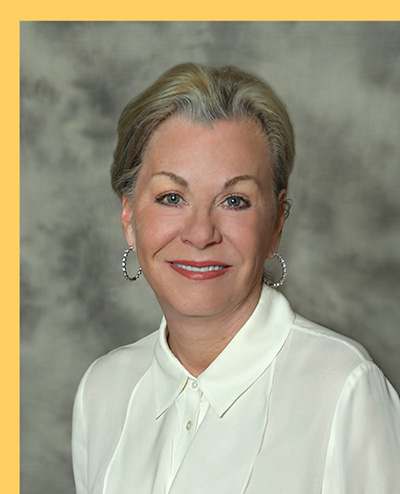 "The numbers are im­portant, but DE&I is not just about the numbers," explained Rosenberg. "It is not just looking at our Board and saying we have the right mix. It goes much deeper than that, and it is essential that we make DE&I a part of everything we do, so that our organization can best serve our community."
Like most orchestras, the CSO has served a demographic that vastly differs from the demographics of the community where its concert venue, Cincinnati Music Hall, resides. This has also been true of audiences for Cincinnati Pops concerts.
"It's a disgrace that systemic barriers have discouraged people from belonging to our orchestral family for so long," expressed Cincinnati Pops Conductor John Morris Russell. "The 'Pops' gets its name from the Latin word populus—meaning people—our music is meant for all, and we're dedicated to making that a reality."
The Orchestra has a history of community engagement, most notably through its annual Classical Roots concert, which debuted on July 11, 2001 at Lincoln Heights Missionary Baptist Church with the CSO led by Russell.
"We wanted the organization to get out of its comfort zone," recalled Russell. "We collaborated with CSO staff members Anne Cushing-Reid and Kathy Jorgensen-Finley, as well as music leaders in predominately Black congregations and members of MAC to create Classical Roots. We were ecstatically embraced by packed houses in every neighborhood church we performed in. Everyone wanted us to come back. And we did for the next decade."
Later, Classical Roots moved to Music Hall with sold-out audiences in tow. And, in August 2021, the Orchestra celebrated the 20th anniversary of Classical Roots in a special performance to a socially distanced audience.
"During the pandemic, it became imperative to keep the music going and the musicians playing," said Tiffany Cooper, the Orchestra's Director of Community Engagement and Diversity. "After George Floyd, everyone suddenly realized the importance of what goes on outside of Music Hall. There was a deep desire from the Board, artistic leadership, musicians and staff to shift our focus to how we were showing up in our community."
"We asked: 'How can we tailor ourselves to be even more responsive to the needs of the community? How do we deploy our musicians and expand our community engagement?' We found shared solutions that work in our rapidly changing environment," said Martin.
The CSO made a commitment to expanding engagement with the community outside the walls of Music Hall. During the pandemic, musicians agreed to a contract extension that provided some of the flexibility required for "pop-up" concerts at recreational centers, parks and hospitals, and musicians even performed on Zoom for children's hospital patients. It ultimately led to the ratification of a new three-year contract in November 2021, which restored musician salaries to pre-pandemic levels, provided salary increases over the life of the contract, and set groundbreaking work rule changes to maximize scheduling efficiency.
"We saw first-hand how valuable this type of interaction with the community was for all involved. It inspired a different paradigm for our labor agreement with our musicians so we could schedule the Orchestra in more ways that allowed us to be more adaptive and innovative in the coming years. It allows us to deliver what our audiences and community expect and need," explained McGrath.
In December 2021, the Orchestra received a major gift from an anonymous donor to support two large-scale initiatives: the Andrew J. Brady Neighborhood Concert Series, a free summer concert series located at various community hubs across the region, and the Andrew J. Brady Internship Program, a program aimed at creating pathways for emerging talent in orchestral administration. Both were named after the longtime Cincinnati music teacher and band director at Western Hills High School, who also led popular band concerts at parks across Cincinnati and Hamilton County.
"Through the free neighborhood concert series and paid internship program, we are making strides at removing barriers to access, especially for populations historically excluded by our Orchestra," said Martin.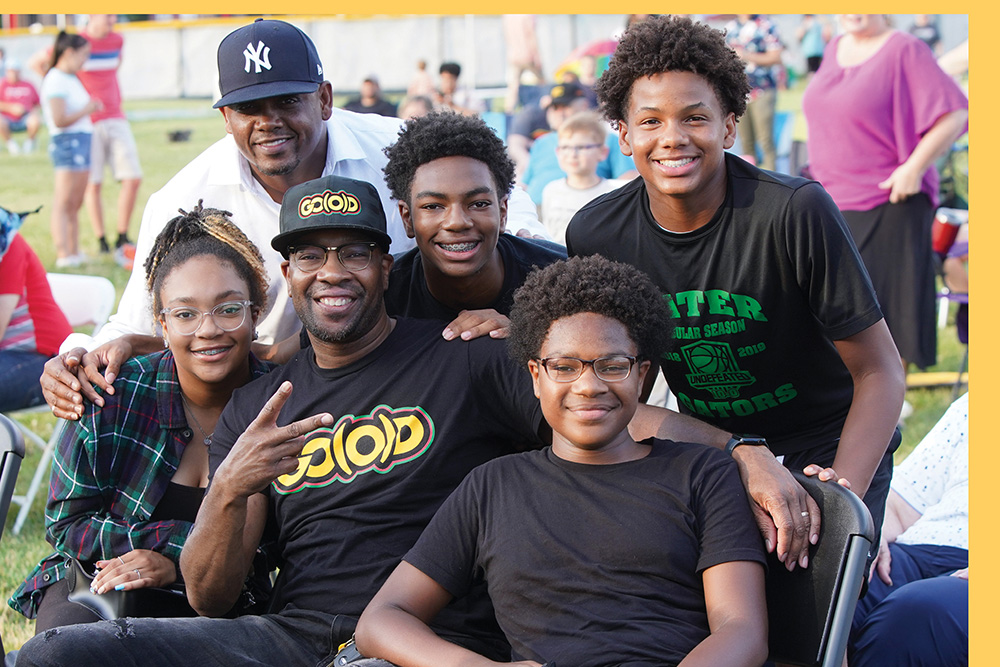 "The Andrew J. Brady Internship Program and Andrew J. Brady Neighborhood Concert Series will help us to become more reflective of our community and world," remarked Brown.
An evolution of the collaborative work with community partners, the Orchestra presented four public full-orchestra concerts in summer 2022 in neighborhoods across Cincinnati. The fifth concert was cancelled due to inclement weather.
"Community engagement is about meeting people where they are," said Cooper. "The Andrew J. Brady Neighborhood Concert Series is about highlighting the assets within our own back yard and providing an opportunity to use music to connect with our neighbors."
"This is just the beginning of the journey," continued Cooper. "And there will be lots of starts and stops along the way. It takes a lot of assessing and reassessing to put us in alignment, to include all voices at the decision-making table. The journey is not always linear, but we are committed to building and rebuilding relationships with our community to get it right."
"At the end of the day, it is all about people," said Martin. "And, I am humbled by our team of people who are committed to driving this change. It takes everyone behind-the-scenes, on stage, and in the community pulling together in the same direction at the same time to create this movement. The pandemic certainly accelerated our efforts, but it has also created a more solid foundation from which we can build."