Works from Across the Globe: The Premieres that Draw
the CSO's Season to a Close
by Ken Smith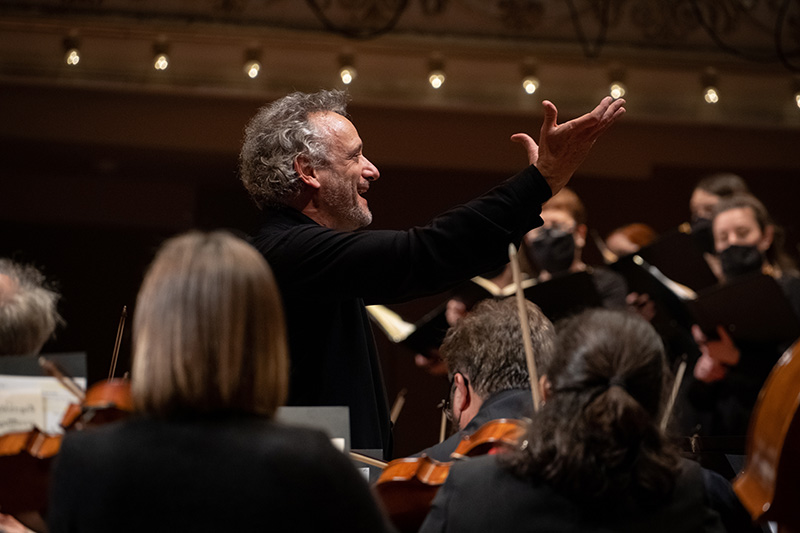 The Cincinnati Symphony Orchestra's return to Music Hall this season has been jam-packed with premieres, some freshly written, others postponed from Covid-related cancellations. In May, the Orchestra offers an example of each: Guillaume Connesson's Les belles heures, a new oboe concerto featuring CSO Principal Oboe Dwight Parry, and Gabriela Ortiz's Tzam, originally planned for the 2020–21 season finale, now bringing the 2021–22 season to a close.
As originally scheduled nearly a year ago, Ortiz's piece will appear with Bruckner's Symphony No. 7—a pairing that CSO Music Director Louis Langrée admits was in the picture from the beginning. "I said, either make a link to Bruckner or absolutely no link—an 'anti-link,'" he says.
Or as Ortiz recalls, "They all told me to write an orchestral piece around 20 minutes long that could be paired with Bruckner, which meant that I was supposed to use Bruckner's instrumentation—except for adding percussion. I can't do anything without percussion."
The Mexico City-based composer, whose vibrant musical output has led to numerous awards and fellowships as well as two Latin Grammy nominations, is well aware of the pitfalls of cultural labels. "It's easy to define Mexican music as mariachi, or Latin American as all rhythm with congas and maracas," she says. "But there are so many composers, so many voices. My music is often associated with rhythm and Latin influences, but I have many sides to my esthetic."
Tzam, Ortiz's piece for the CSO, is one of those works that "doesn't fit the stereotype," she admits. Written in honor of Ortiz's teacher and mentor, the Mexican composer Mario Lavista (see Gabriela Ortiz talks about the inspirations behind Tzam) who died of cancer during the Covid pandemic, the piece actually fits the spirit (if not the sonorities or structure) of Bruckner's Seventh, which was written in part in anticipation of the death of Richard Wagner. "The Seventh is a sublime Mass without words," Langrée says, though he balks at any suggestion that Ortiz's music is anything like Bruckner with more percussion. "It's difficult to have less percussion than Bruckner," he says.
Percussion, though, was a central part of Langrée's early Bruckner experience, when he first conducted the Seventh with an orchestra in France. Upon hearing of Wagner's death, Bruckner had added a climactic (and controversial) cymbal crash in the second movement. Some conductors honor the addition, others prefer to omit it.
Having chosen the version with the cymbal, Langrée was in the midst of a performance when he saw the percussionists moving into place too soon. After motioning them back, he noticed them listening intensely to the music—a bit too deeply, it turned out, since they later forgot to play at all.
"They were so taken with the lyrical playing in the string section that they forgot where they were in the score," he recalls. "The one note they had, they forgot to play. They came backstage to me after the concert very apologetic. I told them, 'Well, that was one possible version of the piece. Tomorrow, please get ready to play the other one.'"
***

Guillaume Connesson. Credit: Christophe Peus
Unlike the belated world premiere of Ortiz's Tzam, Connesson's Les belles heures will indeed have its world premiere as its title indicates, at "the beautiful hour." "This work is truly beautiful. Collaborating with Guillaume was a special and rewarding experience," says CSO Principal Oboist Parry, Connesson's soloist and musical collaborator for the piece (see Dwight Parry discusses Connesson oboe concerto).
Langrée first conducted a work by Connesson with the CSO during an all-French gala program that opened the 2018–19 season, when Langrée added the composer's Flammenschrift, a 10-minute orchestral piece from 2012, as a contemporary rejoinder to Dukas' Sorcerer's Apprentice and Ravel's Daphnis et Chloé, essentially marking an extension of French musical tradition.
"The main thing about the piece was its rich orchestration," Langrée recalls. "Connesson certainly knows how to create an orchestral sound, not just in the variety of colors but also in creating a certain chemistry between those sounds and players themselves."
That said, Langrée says he hesitates to wave the French flag excessively on the podium. "You know, I never feel more French than when I am abroad," the Alsace native admits. "When I'm conducting Bernstein or Sebastian Currier or John Adams or Missy Mazzoli, I can see without question how they are American. But when I'm conducting in my mother language, musically speaking, I don't feel how French pieces are specifically French. It's just my language."
Although both Langrée and Parry cite the range of musical timbres as central to Connesson's appeal, the composer himself says he aims for a balance of tone color with rhythm, melody and harmony. "Even in Debussy's most ethereal pieces, there's a strong rhythmic idea," he says. Even in Stravinsky's Rite of Spring, amidst its rhythmic force, there's an extraordinary melodic discourse. This is what guides my own work: the quest for balance."
A sense of balance, primarily in the placement of musical forces, also extends to the Music Hall stage. With an appropriate nod to the CSO's "fanfare" tradition, Ortiz's opening calls for placing brass instruments and percussion in a circular, quasi-stereophonic setting.
Taken together, the season's final CSO commissions are a sign of returning to business as usual. "After the past two years, seeing antiphonal placement of brass and percussion is already very exciting," Langrée says. "And having Dwight standing beside me, not just sitting in front of me, will be a great joy."