Honoring Retiring Orchestra Musicians
by Wajeeh Kahn
As the 2022–23 season comes to a close, the Cincinnati Symphony Orchestra congratulates and honors seven musicians on their retirements—violinists Michelle Edgar Dugan and Sylvia Mitchell, cellist Daniel Culnan, bassist James Lambert, trumpeters Robert Sullivan and Steven Pride, and bass trombonist Peter Norton. Together, they have served within the Orchestra for a combined 246 years, performing in countless concerts, tours and recordings. Five of these soon-to-be retirees offered memories of their time with the Orchestra and discussed their plans for the next chapter.
Daniel Culnan
Associate Principal Cello
Ona Hixson Dater Chair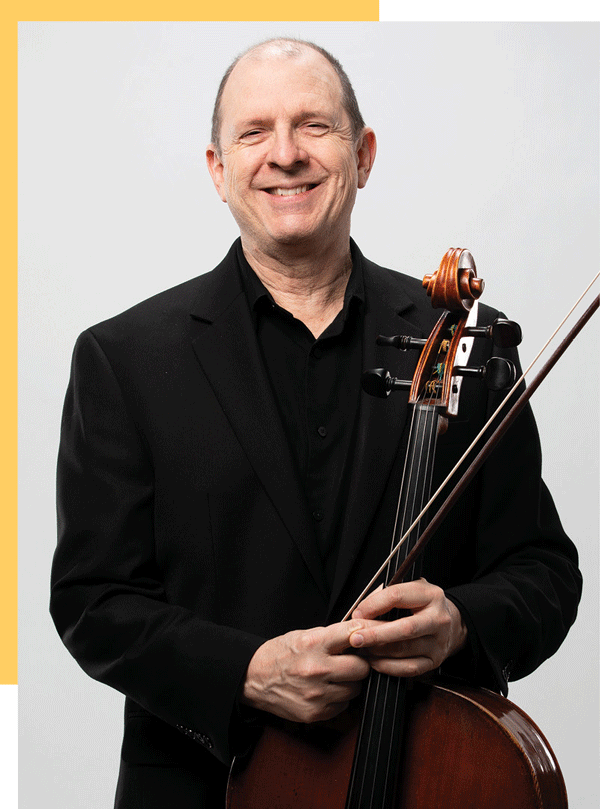 Since joining the CSO in 1982 (coincidentally winning his audition on the same day as Michelle Dugan), cellist Dan Culnan has had an extensive musical career. A section cellist for the first ten years of his CSO career, Dan earned the role of Associate Principal Cellist in 1992, a position that he has held ever since.
Some of his favorite career highlights include the time when he was a piano soloist for the CSO's "Carnival of the Animals" concert, being able to take his family on tour with him when the CSO toured Japan in 1990 and, most notably, meeting his wife, Rebecca (the CSO's long-time Associate Concertmaster, who retired in 2016–17), the same year that he joined the CSO.
Dan looks forward to all of the new opportunities that retirement will provide, which include being able to play more tennis, create pottery and play the piano, which is an instrument that has always been second nature to Dan. Most importantly, though, Dan is ecstatic to spend more time in Chicago with his family and his new grandson.
What Dan appreciates the most about his time with the CSO are the numerous meaningful relationships he has made. "Looking back, I've been really lucky to have so many talented people to learn from, admire and know," reflected Dan. "I'll especially remember the lessons I learned from the great CSO principal cellists Peter Wiley, John Sharp, Desmond Hoebig, Eric Kim and Ilya Finkelshteyn. It's truly been an honor and privilege to have learned and grown so much from those around me, and to have performed with them to bring such great music to the community."
Michelle Edgar Dugan
Violin
Donald and Margaret Robinson Chair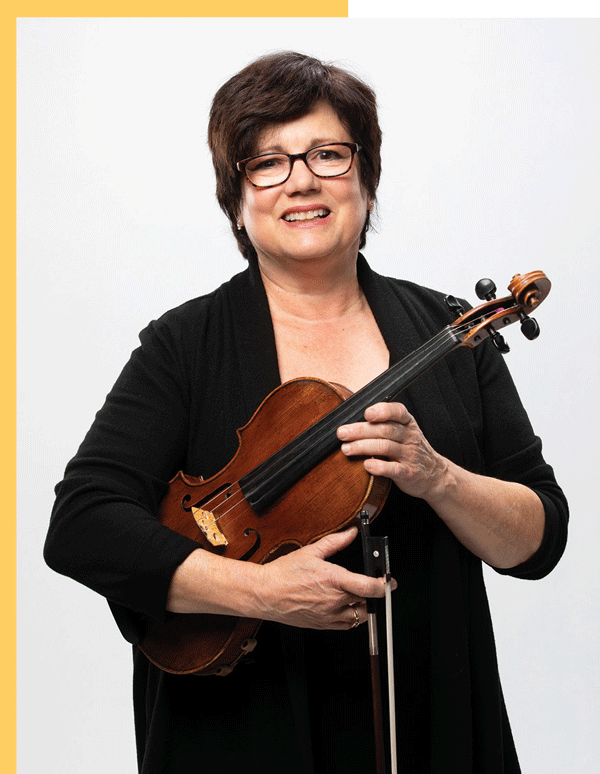 Michelle Dugan joined the CSO in June of 1982, after having played with the Kansas City Philharmonic and Denver Symphony. Michelle's 41-year career with the CSO started in the Violin II section. Her most fond memory was of her first promotion audition in 1983. Michelle was convinced that she totally messed up the initial audition; therefore, she proceeded to have a few drinks, only to be recalled to reaudition later that day. The result? She was promoted to the Violin I section and has served in that section in the sixth chair for 23 years. Needless to say, it was a successful audition.
In retirement she plans to travel with her husband and take up other artistic pursuits. "I will miss the unique camaraderie of playing in a symphony. The orchestra breathes as an organism, pulsing and breathing together. I can't imagine any substitute. I have been in professional orchestras since I was 15. It will be fun to learn new things."
James Lambert
Associate Principal Bass
Thomas Vanden Eynden Chair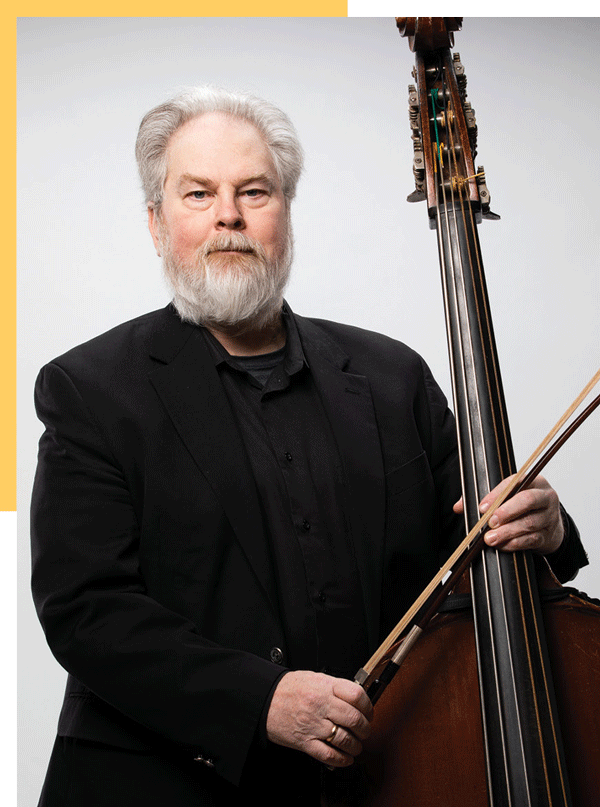 Initially playing as a substitute during the 1983–84 season, longtime bassist James Lambert officially joined the CSO during the May Festival of 1987, playing Handel's Messiah under James Conlon. For James Lambert, the opportunity to join the CSO was especially meaningful, as he had been quite familiar with the Orchestra from attending numerous concerts as a student at the University of Cincinnati College-Conservatory of Music.
Throughout his vast career, James has enjoyed a wide variety of successes and meaningful moments. Some of his favorite performances as a member of the CSO include the series of Wagner operas with Jesús López Cobos, the Nielsen symphonies with Paavo Järvi, the Pelléas series with Louis Langrée, and a very special Brahms Second Symphony with Max Rudolf. Notably, James also soloed with the CSO in 1997, playing Johann Baptist Vanhal's Concerto for Double Bass and Orchestra.
"My wife and I plan on remaining in Cincinnati, taking advantage of what our adopted hometown has to offer," said James. "I hope to continue playing, but on a more reduced schedule, for as long as I am able. There are also so many books to read, movies to watch, dogs to walk, and still, many things to learn. I can assure you that I won't be bored!"
Although James has mixed feelings about retiring, since playing double bass in an orchestra is all he has ever really wanted to do, James is still extremely grateful for the time he has spent with the CSO. "It will be hard to leave the musical and social environment of the CSO, but I will still get to experience it from the other side," reflected James. "I will really miss that moment in the concert when the downbeat is given and we set off on a journey through some great music—and I will miss performing with my fantastic colleagues, who have been a source of continual inspiration to me."
Steven Pride
Trumpet
Otto M. Budig Family Foundation Chair
Having joined the CSO in 1980, longstanding second trumpeter Steve Pride has enjoyed a vast and diverse career. On top of performing countless concerts and multiple tours with the Orchestra, Steve has also played on more than 150 CSO recordings with maestros Michael Gielen, Jesús López Cobos, Paavo Järvi, Louis Langrée, Erich Kunzel and John Morris Russell.
For Steve, his time with the CSO has truly come full circle. "My first concert after winning my audition was Mahler's Second Symphony with Maestro Michael Gielen, during which I played the off-stage trumpet solo," recalls Steve. "Fast-forward to this season, we're playing the same piece, and my son, Alex, is playing the same trumpet solo—on the exact same part of the stage where I played all those years ago. For me, that was a perfect bookend to my time here. With it being my final season and probably the last time I'll ever play that piece, getting to witness my son play the same solo I did all those years ago was truly special."
In his next chapter, Steve is excited to dedicate more time to his hobbies, which include fishing, hiking, running, barbecuing and practically anything else related to the outdoors. Steve is also very much looking forward to traveling throughout the U.S. and to Europe again with his wife, with Germany being at the top of his list.
"The people are what I will miss the most," said Steve. "I've made so many friends during my time with the Orchestra, and I've had too many notable moments to count. The world's greatest music was written for the symphony orchestra, and I will really miss being able to play it with such wonderful people."
Robert Sullivan
Principal Trumpet
Rawson Chair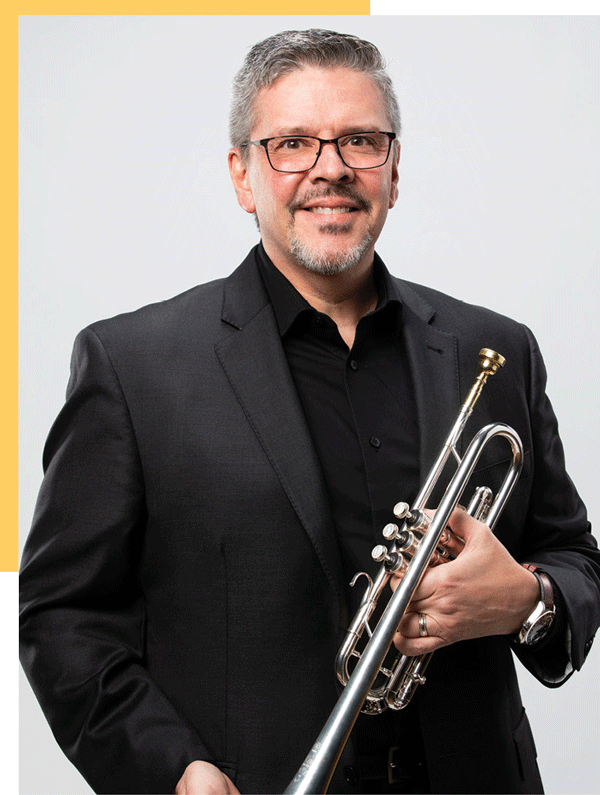 Trumpeter Robert Sullivan first joined the CSO in the fall of 2008 under Music Director Paavo Järvi. After an event-filled five years, Robert departed the CSO in 2013 to teach full time at Northwestern University. Although Robert greatly enjoyed his time there, fate had other plans. "While I was at Northwestern, the CSO principal trumpet chair opened again," said Robert. "I missed the Orchestra so much that, after five years away, I re-auditioned and was fortunate to be offered the position again. I always thought it was a bit ironic that I served on the Music Director search committee that led to Louis Langrée's appointment, and years later he was the Music Director who hired me!"
Some of Robert's favorite moments as a member of the CSO include his first touring concert in Tokyo, his first performances of the principal trumpet parts of Mahler's 3rd and 5th symphonies, Stravinsky's Petrushka, and Strauss's Alpine Symphony, and Louis Langrée's performance of Brahms' Second Symphony with the CSO prior to his appointment as Music Director.
For Robert, retirement is more of a transition period. He isn't fully retiring just yet; in fact, Robert has just begun his first year as Professor of Trumpet at his alma mater, the University of Michigan. Coincidentally, Robert will be teaching in the same room where he once had his own lessons with his teacher and mentor Armando Ghitalla. When he isn't teaching, though, Robert plans to spend the majority of his downtime on the beaches and golf courses of Hilton Head Island, where he plans to enjoy his time with his six children and their families—which includes three grandchildren.
"I'll really miss my colleagues," lamented Robert. "There is nothing like being one player among 100 all working together for the same goal of communicating great music to an audience. The CSO has an incredibly committed team both on and off the stage, and it's always fun to come to work. I'll continue to play after I retire from the Orchestra, but I'll miss my friends at Music Hall."
Sylvia Mitchell
Violin
Joann & Paul Ward Chair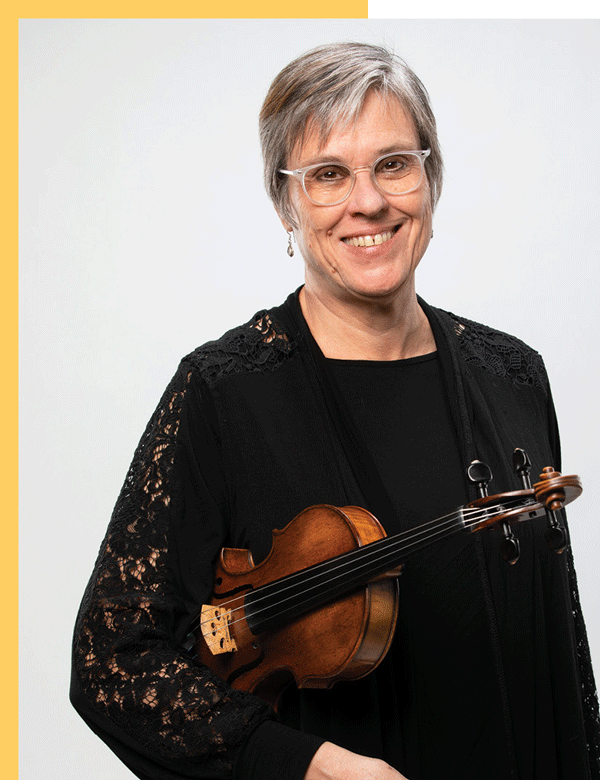 Sylvia joined the Orchestra in 1983. The CSO is grateful to Sylvia for her 40 years of service.

Peter Norton
Bass Trombone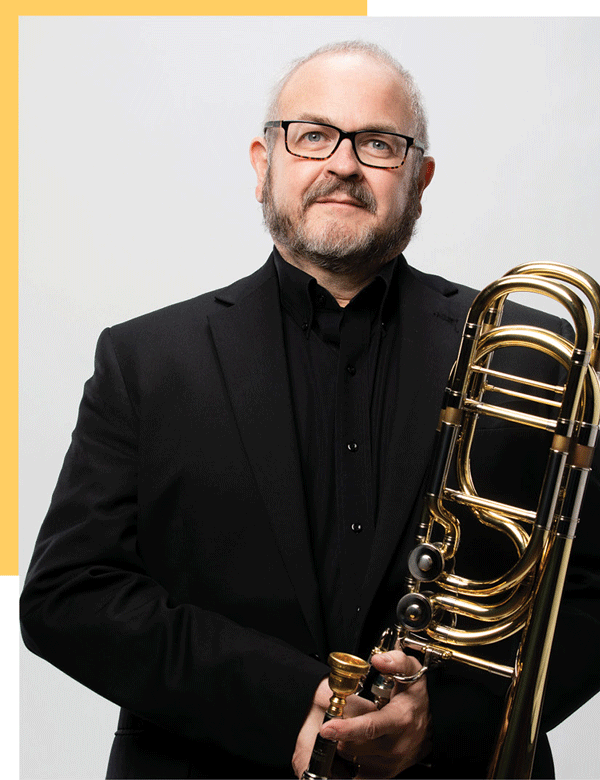 The CSO is grateful to Peter for his 34 years of service.