March 2020
On February 12, a cherished member of our Cincinnati Symphony Orchestra family, William Winstead, passed away after a brief illness.
Bill was a beloved and dedicated member of the Orchestra for over 30 years. As Principal Bassoonist from 1987 until 2018, Bill approached his music-making with a spirit of camaraderie, integrity and great passion. He brought formidable technique, a deep knowledge of the repertoire and was an artistic standard-bearer for his colleagues worldwide. Bill was also admired as a teacher; in addition to his post at the Cincinnati College-Conservatory of Music, he was a college professor—teaching piano, bassoon, composition, and music theory—at West Virginia University, Indiana-Purdue University, Florida State University, and at the Oberlin Conservatory of Music. He touched the lives of hundreds of music students, many of whom have gone on to have professional careers in our field, including three members of the CSO bassoon section.
Bill was also an accomplished composer of chamber music and works for orchestra, including major commissions from The Philadelphia Orchestra and the Pittsburgh Symphony Orchestra. And in January, at our 125th anniversary concerts, the combined forces of the Cincinnati Symphony Orchestra and the Cincinnati Symphony Youth Orchestra gave the world premiere of Passages in Time. I understand that Bill considered this work his crowning achievement, and for those of us who had the privilege to hear or perform this work, I am sure you will agree.
Louis Langrée has shared the following thoughts: "I am deeply saddened to hear of Bill's passing. He had a very specific artistry and a singular sound and style and there are so many special musical moments shared on stage I will keep forever. For instance his stunning virtuosity in Beethoven's Fourth Symphony, the inimitable sense of humor he brought to Carmina Burana, the singing beauty of his expression and tone in Tchaikovsky's Fourth Symphony. I am so proud to have served as his Music Director during his last years in the Orchestra, and I am so grateful—for us and for Bill—that we were able to offer him one of his final joys with the 125th anniversary commission. That piece will always be a part of us and only adds to an amazing legacy which will live on through the work of his colleagues, students and all those who knew him."
February 2020
Last month marked the Orchestra's official 125th birthday, and the CSO celebrated with two consecutive weekends of anniversary concerts. The first featured opera megastar Renée Fleming performing operatic and Broadway favorites and guest pianist Behzod Abduraimov playing an electrifying version of Rachmaninoff's Piano Concerto No. 2. The second weekend mixed the traditional with the contemporary as an array of guest artists performed works by Ysaÿe, Scriabin, Ellington and Gershwin (featuring Gershwin himself) along with new commissions by composers William Winstead and Daniel Bjarnason. These celebratory concerts encapsulated what the CSO is known for: thrilling guest artists, masterfully performed classics, and engaging new works that continue to push the boundaries of orchestral music.
And I'm happy to report that the 125th party continues! There are four more months of great concerts, world premieres and amazing guest artists to come.
This month, Louis Langrée and the Orchestra perform a recreation of the monumental Beethoven Akademie of 1808 (Feb 29 and March 1), the concert that defined and secured Beethoven's reputation as one of history's most masterful and innovative composers. Beethoven Akademie presents music by a maestro who captures a specific time, place and cultural moment: early 19th-century Vienna and the beginnings of the Romantic Movement. This theme continues throughout spring 2020 with "Handel in Rome" (March) and "Mozart's Paris" (May), each interpreting a city and a time period through the music of a particular composer.
But the CSO's 125th anniversary celebrations not only look to the past for inspiration. In March–May the Orchestra will present new works by composers Sebastian Currier, Caroline Shaw, Ohad Ben-Ari and Julia Adolphe. The anniversary season will also be capped with the final of three CSO Proof performances, "Surrealist el Tropical," on April 22, when audience and Orchestra will share the stage with dancers choreographed by guest artist Rosie Herrera, all set to a Latin beat.
These performances promise to make the second half of the CSO's 125th anniversary season as spectacular and innovative as the first, and we look forward to celebrating the Orchestra's past—and future—with you this spring!
-Special CODA by Director of Communications Franck Mercurio
January 2020
The Cincinnati Symphony Orchestra has a profound recording history dating back to the CSO's first album in 1917.
From more recent decades, many music fans adore the CSO's 1812 Overture recording from 1978. It was a landmark in American classical music recordings and remains the best-selling Telarc record of all time. That album ushered in decades of CSO and Cincinnati Pops albums on the Cleveland-based label, resulting in over 10 million units sold around the world.
The last ten years have seen enormous changes to how we consume recorded music, and the Orchestra has evolved with the times, offering downloads and streaming audio and video performances. Commercial recordings offered through online music services and heard everywhere on the radio remain important, and our own Fanfare Cincinnati label, launched in 2010, provides the necessary platform.
This year's Grammys will be awarded on January 26, and the Orchestra has two nominations. Transatlantic featuring Louis Langrée conducting the CSO is nominated for "Best Orchestral Performance." American Originals: 1918 featuring John Morris Russell leading the Cincinnati Pops Orchestra and collaborators Rhiannon Giddens, Steep Canyon Rangers and Pokey LaFarge is nominated for "Best Classical Compendium."
In addition, the producer of the Vocal Arts Ensemble's Canticle—released on our Fanfare Cincinnati label—is also nominated for "Producer of the Year, Classical."
All of this represents the culmination of tremendous work, artistry and a commitment to having our music heard around the globe. Congratulations to all of the artists, producers and engineers involved, and thanks to our supporters for making these global initiatives possible.
November 2019
The "recorded" history of the Cincinnati Symphony Orchestra is a testament to innovation and inspiration. The first commercial CSO recording was in 1917, the Orchestra had an exclusive contract with Decca starting in the 1960s, and the 1812 Overture recording on Telarc from 1978 was a landmark in American classical music recordings. 1812 Overture is the best-selling Telarc record of all time, and it ushered in decades of CSO and Cincinnati Pops albums on that label, selling millions of copies around the globe.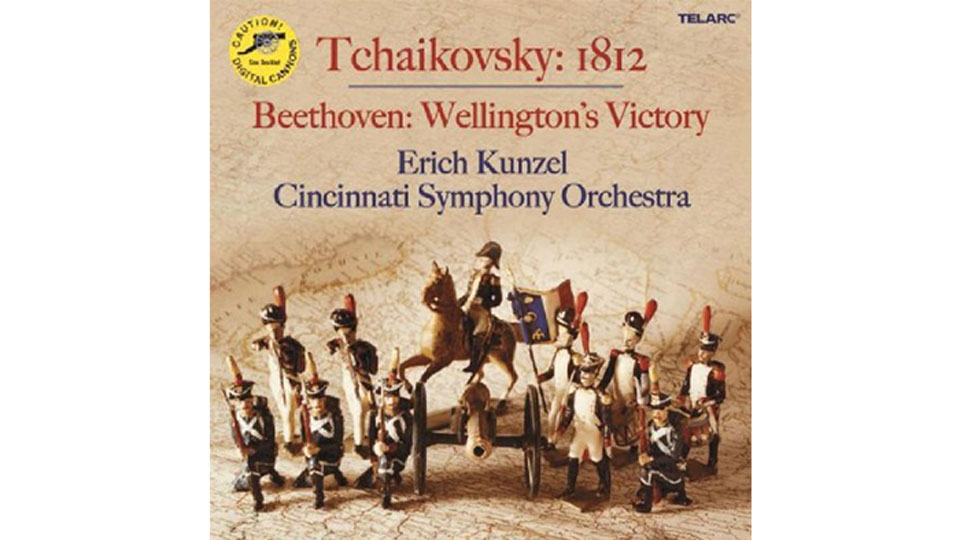 The record business has changed a lot in the last decade and, nine years ago, the CSO launched its own recording label, starting with Paavo Järvi's final two recordings with the CSO as Music Director, American Portraits and Baltic Portraits.
The Orchestra's label was renamed Fanfare Cincinnati in 2012 with John Morris Russell's inaugural recording as Conductor of the Cincinnati Pops, Home for the Holidays, and there has been a steady flow of releases since then.
Not only does Fanfare Cincinnati feature CSO and Cincinnati Pops recordings, but the label has also released albums on behalf of Cincinnati Opera, the May Festival Chorus and Vocal Arts Ensemble.
In the past year alone, Fanfare Cincinnati has put out four albums, three featuring the Orchestra, that reach a worldwide audience.
I encourage you to check out Transatlantic, the latest release of Louis Langrée and the CSO, and Voyage, the latest release from John Morris Russell and the Cincinnati Pops. These albums are available on CD, digital download and through streaming services.
October 2019
We are full steam ahead on this 125th anniversary season for the Cincinnati Symphony Orchestra, and what a season!
Amidst the amazing concert experiences, I would also like to call your attention to our celebration of the CSO's legacy through an interactive timeline. Hours upon hours of meticulous volunteer research have gone into showcasing highlights over the past 125 years. The resulting timeline is a testament to the commitment, artistry, perseverance, risk-taking, creativity and entrepreneurialism that have made the CSO what it is today. How do you find the timeline? Simply visit cincinnatisymphony.org/timeline.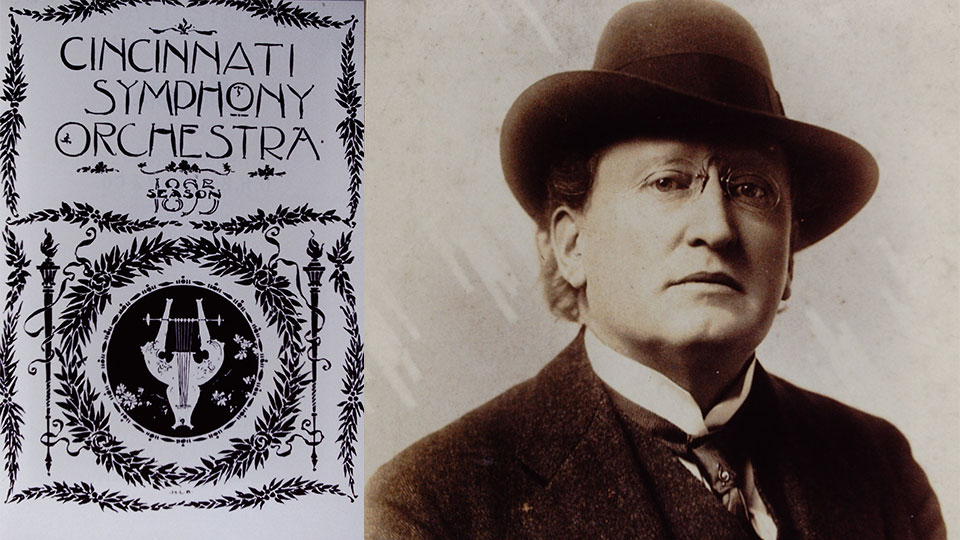 From the beginnings in the 1800s, with multiple attempts to establish a professional orchestra, to the founding of the CSO in 1895 and the various triumphs and challenges over the past 125 years, we hope you will take time to explore the events, musical works, and personalities that tell the story of the Orchestra.
I imagine some people reading this month's column have their own stories about the CSO and we want to know those, too. If you have a special memory of the Orchestra, please visit cincinnatisymphony.org/mystory and fill out the online form. Your story might just be added to the CSO's timeline.
I mentioned our timeline volunteers, but I would like to recognize them by name: Patty Wagner, Tom Braun, Thea Tjepkema, Nancy Wagner, Tom Ziegler, and our friends at the Public Library of Cincinnati and Hamilton County. Your care, commitment and curiosity have made all of this possible.
Happy exploring!
September 2019
There are so many exciting musical topics to write about in this 125th anniversary season, but for this first issue of the season, my CODA is dedicated to some very noticeable changes to how we enter Music Hall.
I have been experiencing performances and other events at this historic building for most of my life, and have worked at Music Hall since 2001. Access to happenings has always been relatively hassle-free, but, unfortunately, we live in complicated times. You see it in the news or maybe you or someone you know has been affected by a terrorist incident. The potential for violence in public spaces and at public events poses a safety risk, and we the organizers and hosts of shared experiences like concerts are doing what's necessary to mitigate that risk.
Starting this month, all persons entering Music Hall will have their bags searched and will have to walk through a metal detector or be screened with a hand-held detector. The purpose is simply to prevent items not allowed at Music Hall from making it into the building. A list of those items is available on the Orchestra's website.
I want to be clear that the implementation of these safety procedures is not a response to any immediate threat or concern, but rather an additional best practice to create a safe and pleasant experience for everyone attending concerts and events at Music Hall.
These procedures are being implemented by the Cincinnati Arts Association, which operates Music Hall, and in partnership with the CSO, Cincinnati Ballet, the May Festival and Cincinnati Opera.
Our goal is to make this as quick and pleasant as possible, and we certainly appreciate your understanding and patience as we all get used to these new procedures.
Summer 2019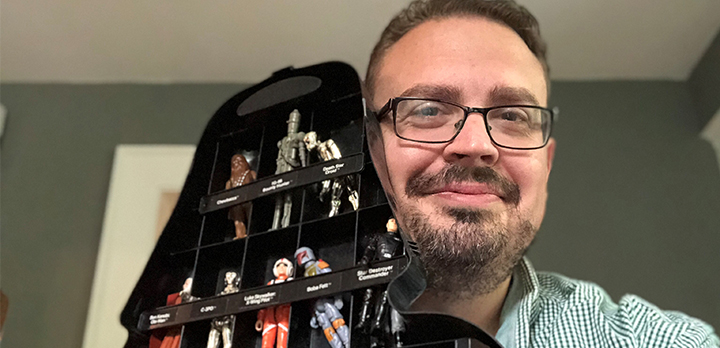 I remember May of 1980 and the highly-anticipated release of The Empire Strikes Back. I had memorized the portion of Star Wars available on LP (that's a long-playing, 33-inch record to the younglings reading), collected the trading cards, read the comics, and yes, collected and tested the toys. How would the saga continue? To say my eight-year-old self was chomping at the bit to experience this movie would be an understatement, and I was lucky to have parents who recognized and obliged my Star Wars obsession.
We piled into the crowded Showcase Cinemas in Erlanger, Kentucky, and after a few previews, the 20th Century Fox logo appeared on the screen with its traditional music fanfare. The sold-out house cheered. Then the words, "Star Wars," burst onto the screen, accompanied by John Williams' iconic score, and my eight-year-old self thought, "They put in the wrong movie. This is supposed to be The Empire Strikes Back." We didn't know all the movies would begin with "Star Wars" back in 1980. I was quickly reassured it was the right movie as the words "The Empire Strikes Back," began to scroll.
We are now ten movies into the Star Wars saga and The Empire Strikes Back remains my favorite. With distinct environments ranging from the ice planet of Hoth to the swamp on Dagobah to the Cloud City of Bespin, the movie-goer is treated to developing heroes and villains, witty banter, pulse-pounding action sequences, a startling family revelation, a cliffhanger of an ending, and special effects that hold up to this day. We are introduced for the first time to iconic characters like Yoda, Lando Calrissian, Boba Fett, and ever so briefly, Emperor Palpatine. There's so much to like in this movie.
A large chunk of the population has only experienced this movie on television screens, so the idea of experiencing it on a big screen with an audience is special. The opportunity to experience it on the big screen with John Williams' amazing musical score performed live by the Cincinnati Pops is beyond exciting. I can't wait to introduce my son to The Empire Strikes Back, and I am thrilled to have our friend Damon Gupton, who also grew up loving this film, on the podium for what I'm confident will be an unforgettable experience. The Force will be with you. Always.
Find more information about the performances here.
May 2019
I've never heard anyone express regret over attending too many live musical performances over the course of a lifetime. Concerts are among the most enriching and fulfilling experiences, and I have the good fortune to attend many on a regular basis. If pressed, I'm confident I could rattle off several favorites spanning a few decades. Why those performances? It may have been the state of mind I was in at the time, the company I was with, or even the energy of the audience, but more often than not, I simply witnessed an absolutely electrifying performance of music that resonated on an emotional level, leaving a forever impression. I bet many can relate to this.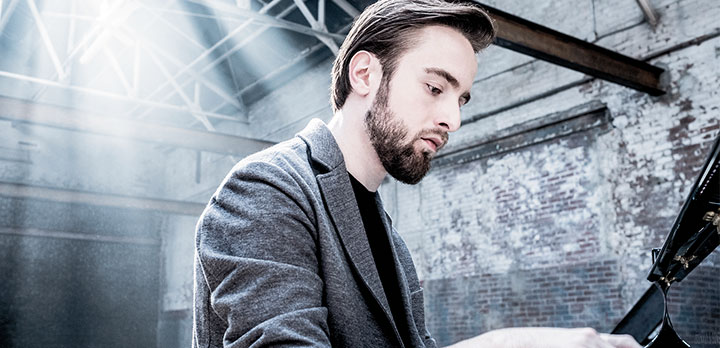 When the CSO successfully engaged piano sensation and Musical America's 2019 Artist of the Year Daniil Trifonov for concerts on May 3 and 4, I immediately began anticipating one of these forever impressions. At age 28, Trifonov has already left audiences and critics from around the world breathless, crediting the pianist's artistry and staggering technique. Following a concert in the nation's capital earlier this year, Washington Post critic Anne Midgette described him as the "hipster poet of the piano who caressed the keys until they yielded music that was like a sinuous being of its own." The New York Times' Anthony Tommasini called him the "young conqueror of the keyboard," and former New York Philharmonic Music Director Alan Gilbert said Trifonov was "unique and compelling—a once-in-a-generation phenomenon."
For the CSO's May 3 and 4 concerts, Cincinnati has an opportunity to experience this "once-in-a-generation phenomenon" performing Beethoven's "Emperor" Concerto live with Louis Langrée on the podium. Not only is this a season highlight, but it is a concert program I believe Cincinnatians will be talking about for years to come.
April 2019
For the 2018–19 season, we have looked to Composer-in-Residence Jonathan Bailey Holland for the inspiration-seeking part of the CSO's mission "to seek and share inspiration," and the impact of his residency has been meaningful.
Jonathan's history with the CSO dates back to 2003 when the Orchestra commissioned his Halcyon Sun, written and premiered in honor of the opening of the National Underground Railroad Freedom Center, with former Music Director Paavo Järvi conducting. A live recording of that piece was included on the CSO's 2011 CD American Portraits, and a 2011 WTJU review calls the work "an amazing example of orchestral mastery... that shimmers as light through a prism." Halcyon Sun opens the March 30–31 CSO concert program with Louis Langrée conducting.
Jonathan has composed four other works for the CSO through the years, the most recent of which, Ode, had its world premiere in November. Music critic Janelle Gelfand wrote, "Its outer movements were atmospheric and well-crafted. The composer effectively scored a wordless chorus, minimalist-like repetitions and glimmering effects in the mallet instruments. Recognizable fragments of themes from Beethoven's Ninth glided by, as if in a mist of time. There were moments that were quite beautiful, even mystical."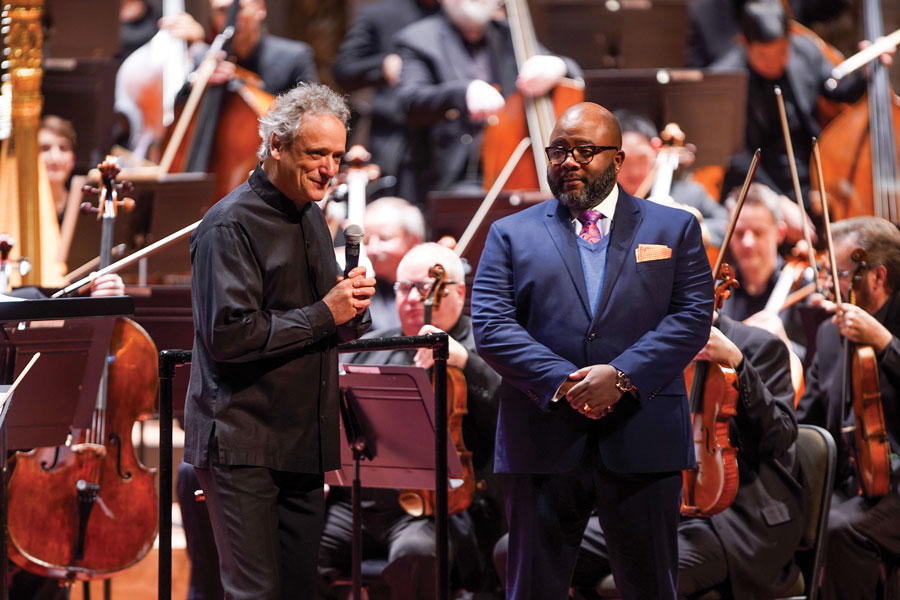 According to Jonathan, "There is a comfort and familiarity in getting to work with the Orchestra repeatedly, but also a feeling of honor at being asked to do another work for such a great orchestra," and Louis wrote, "Jonathan's music resonates with Cincinnati audiences and the musicians at the Orchestra."
Jonathan also curated a chamber performance at the National Underground Railroad Freedom Center in January, and throughout this season he led the CSO's Young Composers Workshops, during which five young area composers received coaching and the opportunity to write new chamber works. Those works were premiered by CSO musicians on March 29 in the Wilks Studio at Music Hall.
I had the privilege to host a community event with Jonathan at the Public Library of Cincinnati and Hamilton County last fall and interview him for Episode 13 of the Fanfare Cincinnati Podcast, available to stream on a computer, tablet or smart phone near you.
Having Jonathan as the CSO Composer-in-Residence this season has affirmed and grown our relationship with an important American composer. While his residency is coming to an end, the impact and inspiration from our time together lives on.
March 2019
In February the Orchestra recorded what will become the 96th Cincinnati Pops album. Unlike the previous two Pops American Originals recordings, which were captured with live audiences, Voyage is a studio recording. That doesn't mean this massive orchestra was stuffed into a recording studio somewhere, but rather the stage at Music Hall's Springer Auditorium became the studio.
Look for Voyage, which features great music inspired by space, just in time for the 50th anniversary of the first lunar landing and Ohioan Neil Armstrong's "giant leap for mankind" this summer. The title track of the album is the world premiere recording of a piece by celebrated Hollywood composer Michael Giacchino, co-commissioned by the Cincinnati Pops, the National Symphony and NASA. This will be John Morris Russell's sixth recording as Conductor of the Pops.
The Orchestra is back in the studio during this month of March for another important studio recording, this time as the CSO. Music Director Louis Langrée conducts the world premiere recording of the unabridged version of a new critical edition of George Gershwin's An American in Paris. The Orchestra gave the world premiere performance of the new critical edition in Paris during its 2017 European tour, and this month they present the world premiere of the unabridged version of the critical edition. For the first time on a recording, listeners will be able to hear this piece the way Gershwin originally intended.
This upcoming CSO recording, Louis' third internationally released album with the CSO, also features Edgard Varèse's Amériques and will be released around the world later this year. So we have an American composer inspired by Paris and a French composer inspired by America, performed by an American orchestra conducted by its French music director. Sounds pretty perfect.
Happy future listening!
February 2019
Back in September, I wrote about the new Fanfare Cincinnati Podcast presented by the Cincinnati Symphony Orchestra. This half-hour bi-monthly program emanating from Cincinnati Music Hall provides an opportunity for listeners to explore the world of music, the CSO, the Cincinnati Pops and the region's vibrant cultural life, through conversations with performers, conductors and the people behind the scenes who make the music possible. I pledged then that we would present engaging conversations covering myriad topics—all centered on the music we love.
Through podcast episodes, we've unveiled the Orchestra's audition process, explored the significance of Rite of Spring, considered the changing media landscape's impact on music and the arts, discussed the latest Cincinnati Pops recording and the deep thinking behind it, taken deep dives into the composition process, highlighted the importance of Education and Community Engagement programs as well as audience engagement programs, and, of course, have come to know Orchestra musicians and conductors as artists and neighbors.
Now in February, with several episodes available and more than 5,000 listens, I'm happy to report that the podcast audience continues to grow. To everyone who has checked it out, thank you!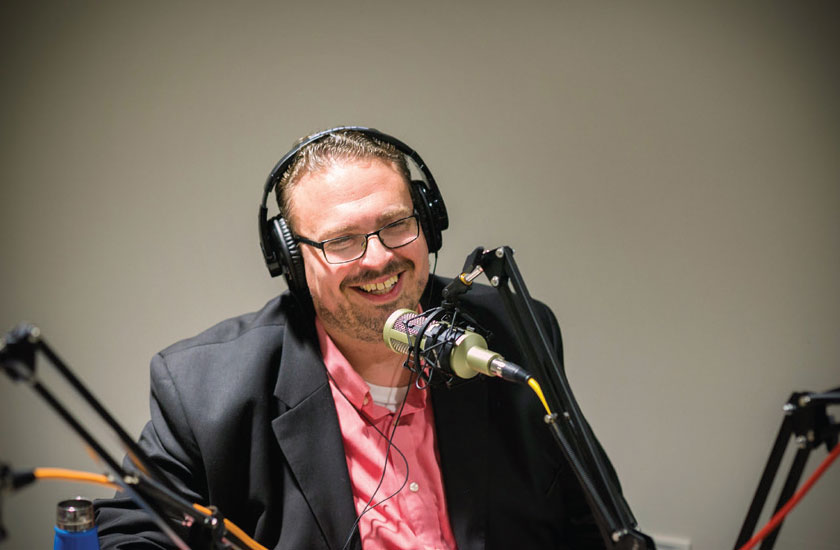 There's much more to talk about, and as we prepare for the CSO's 125th Anniversary Season, I want to hear your podcast ideas. What are you curious about? Who would you like to hear from? If you see me around the Grand Foyer before a concert or at intermission, please feel free to let me know. You can also send ideas to [email protected].
Subscriptions for the Fanfare Cincinnati Podcast are available through the iTunes store, or you can simply stream by visiting the podcast page.
Happy listening!