Fanfare Cincinnati asked this weekend's Cincinnati Pops guest artist, Marcus Roberts, about his Cincinnati debut and affinity for jazz, classical and the music of George Gershwin.
This will be your Music Hall debut. What are you most looking forward to here in the Queen City?
I look forward to playing this Gershwin masterpiece [Rhapsody in Blue] with another major orchestra in a new city. I love to collaborate musically with the talented musicians in a great orchestra. It helps me to grow as an artist, and the public gets to see a truly integrated approach to jazz and classical music. And I must add that I have a special affinity for Cincinnati, because I was a huge Reds fan as a kid. I just loved that Big Red Machine with Johnny Bench, Pete Rose, Joe Morgan, George Foster, and a bunch of other talented guys!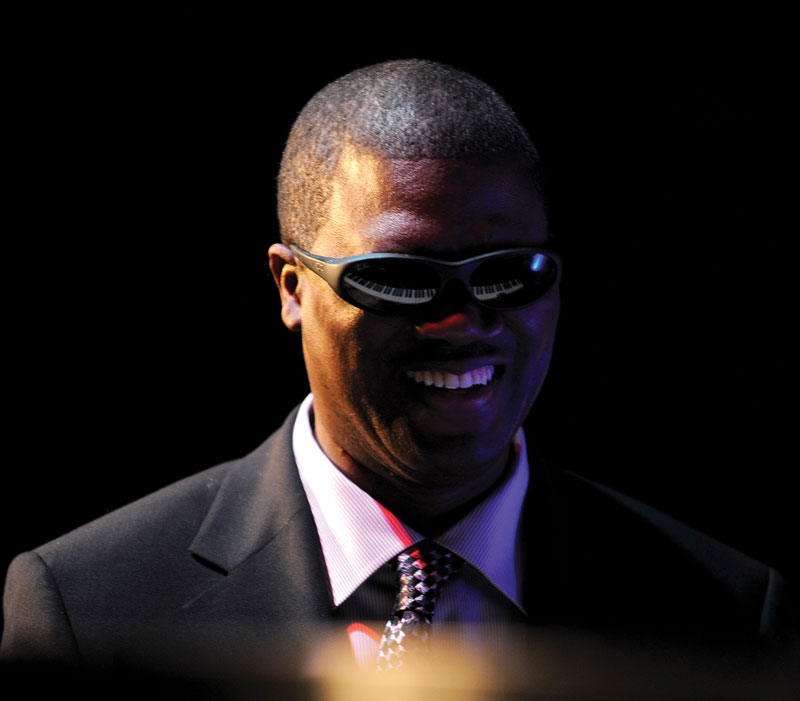 We know that jazz is your first love, and you are also an accomplished classical pianist. How is practicing for a classical concert different than preparing for a jazz concert?
The biggest difference, of course, when I prepare to play with an orchestra, is that I have to pay attention to the written orchestral parts. But when I perform Rhapsody in Blue, the influences on my own playing go beyond the jazz domain. I might find myself experimenting with the light, beautiful textures of Debussy and Ravel, or the powerful "meat and potatoes" chords of Beethoven, or the lyrical contrapuntal style of Chopin. My goal is to bring a classical audience into an authentic jazz environment without sacrificing the integrity of either art form.
What do you most enjoy about playing the music of Gershwin?
Gershwin's music has a soulfulness and folk essence that readily lends itself to jazz improvisation. That's why his classic songs like The Man I Love, Embraceable You and I Got Rhythm have been played by so many of our major jazz artists. Also, Gershwin was a very fine pianist who loved exploring European form and using those formal structures to explore a distinctly original American sound. The foundation of Gershwin's sound was Joplin, Jelly Roll Morton, early blues, and other styles and sounds that he picked up from the early jazz musicians.
What songs are you most looking forward to performing with the Cincinnati Pops?
I absolutely look forward to playing Rhapsody in Blue. It is such a quintessential American classic. American audiences recognize it immediately and love it, and I love creating new approaches to playing it. Also, Rodney Jordan (bass) and Jason Marsalis (drums) add so much flare, color and vitality to the piece. We truly play it completely differently every single time, and I can't wait to explore this great work with the Pops.
Throughout your career critics have referred to you as, "the genius of modern piano." How will you reflect your style in Rhapsody in Blue?
My vision of playing jazz music is different from what is traditionally thought. In the popular press, jazz artists are sometimes relegated to a particular period or influence. For example, an artist might be associated with bebop, or New Orleans music, or avant-garde, etc. I think that most of the time this really oversimplifies the essence of a particular artist's style. As for me, I draw from the entire history of jazz piano whenever I play. That history gives me inspiration for my performance. When you add what I know of European music to the mix, it gives me endless possibilities to explore. But the most important thing is this—my main objective is to combine that knowledge with the blues (the folk essence of America) using modern approaches to form, harmony, rhythm and melody. I want my playing to reflect the tremendous virtuosity and versatility that you hear throughout the history of jazz and classical music.
Orchestral Spectacular: Rhapsody in Blue
Jan 31-Feb 2 | Music Hall
Go all-out with an all-Gershwin program that's blues-y, jazzy and fun, featuring a brilliant improvisation of Rhapsody in Blue.