Mr. Brady's Opus:
Inspiring a New Generation and
Bringing Music to the Community with the Cincinnati Symphony Orchestra
by Laura Trujillo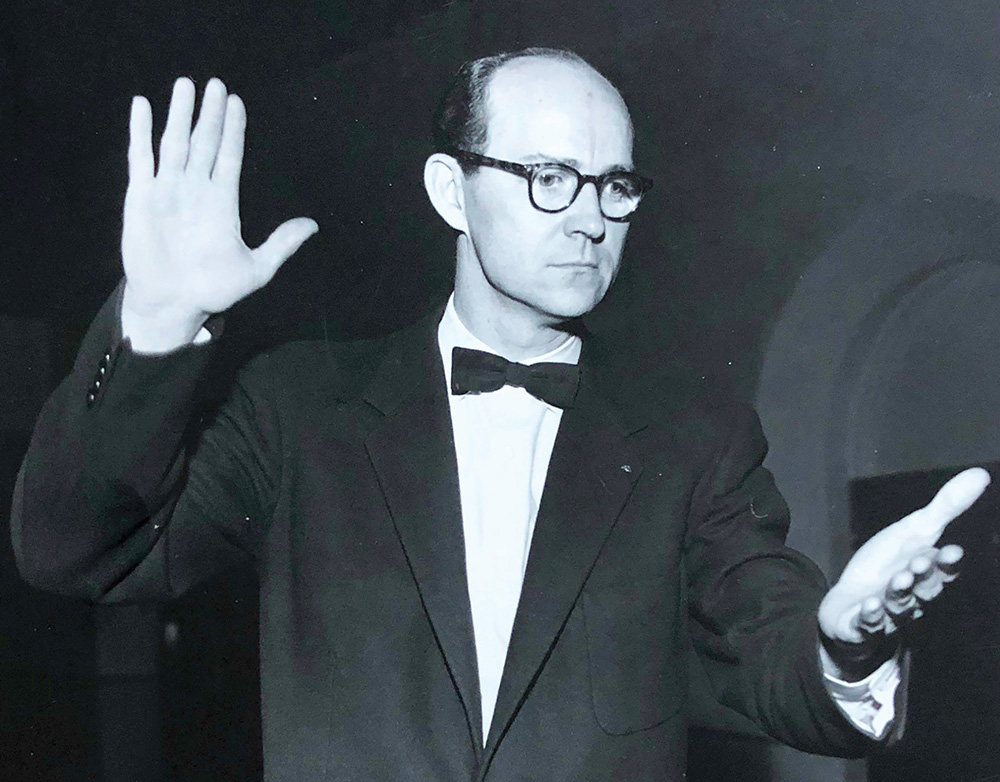 Andrew J. Brady (1915–2004) was known for inspiring the best.
It was a time when the community looked forward to the spring variety show that he produced, showcasing the talents of their west side high school.
He was known for bringing music to the people.
It was a time when concerts at parks throughout Cincinnati and Hamilton County filled the air of summer weekends.
So, it is a fitting recognition for the man who encouraged so many students to better themselves in music as well as life that, in December 2021, the CSO announced two new large-scale programs named to honor his legacy: the Brady Block Parties, and the Andrew J. Brady Internship Program.
"Andrew Brady's love of music lives on," says Jonathan Martin, president and CEO of the CSO. "Supported through an extraordinary gift from an anonymous donor, we can celebrate Mr. Brady's lasting impact on our community."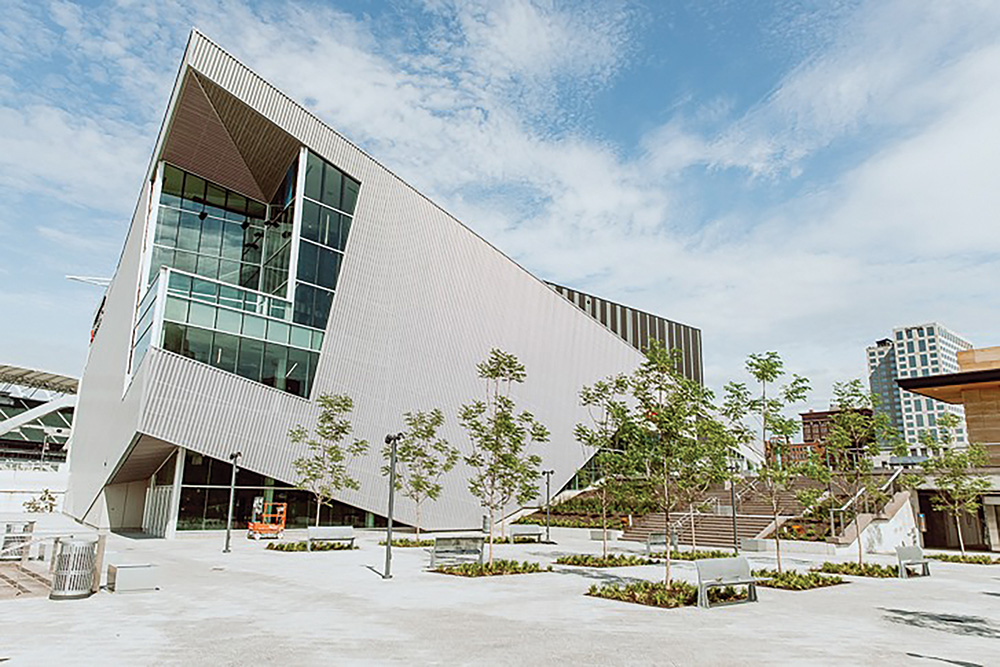 To further elevate the visibility of Mr. Brady and honor his contributions to Cincinnati, the new music venue recently opened at The Banks alongside the Ohio River is being renamed The Andrew J. Brady Music Center. Opened in July 2021, the Brady Music Center has already hosted such artists as Earth, Wind & Fire, Nelly, and Jason Isbell, and will continue to serve as a centerpiece for the region's music scene.
The CSO will launch the Brady Block Parties this coming summer, with concert programs developed in collaborative partnership with neighborhood and community groups. And the Andrew J. Brady Internship Program, launched last fall, is training and mentoring students interested in pursuing an arts administration career. "Both of these initiatives will focus primarily on communities and individuals who have traditionally been underserved by, or not adequately represented in, the CSO. As such, they are emblematic of Mr. Brady's commitment to bring music to everyone and include everyone," Martin said. "He believed in the power of music to elevate life, and these programs will demonstrate his significance in our community."
If you were lucky enough to meet Brady, he would deflect the attention and instead focus on his students. While he was a talented musician—a composer and conductor, pianist and trumpeter—first and foremost, he was a teacher.
"He was just a very good guy, someone you would have called a cool guy in those days," said Joan Wilson, who graduated from Western Hills High School in 1956 and played the clarinet in the band. "Mr. Brady made the band so special that, to this day, if you meet someone who went to the school the next question you ask is if they were in the band. If so, there is a comradery that is there to this day."
Brady graduated from the Cincinnati Conservatory of Music and played at the Beverly Hills Supper Club with jazz musicians as well as with the conductor and entertainer Skitch Henderson, who provided music for the Tonight Show in the 1950s and 60s and who founded the New York Pops.
But Brady's greatest love—and proudest accomplishment—was encouraging and inspiring students at Western Hills High School as the band and orchestra director for 32 years, from 1944 to 1976. He created new shows each week for half time at the football games, and he presented Bandwagon, the spring variety show that featured Rosemary and Betty Clooney in his first year. Ask a Western Hills grad about Bandwagon and prepare for broad smiles and a meaningful trip down memory lane.
His orchestra was so popular that in some of the photos, you will see nine French horns; most full orchestras might have four or five.
"Everyone just wanted to be a part of Mr. Brady's world," said Bill Schroeder, who played first clarinet in Mr. Brady's orchestra in the late 1950s. "He made you want to be better."
Brady's award-winning bands included students who went on to careers on Broadway (Harvey Hohnecker, who later went by Harvey Evan, tap danced in the Bandwagon and appeared in the original Broadway production of West Side Story), taught music themselves, or played in professional orchestras. Bill Schroeder's big brother, Ray, played in New York's Chautauqua Symphony Orchestra for more than 40 years.
For years, Brady took music beyond the high school walls and into parks around Cincinnati, with outdoor summer concerts.
His influence was felt equally by those who pursued music and those who didn't.
"He was a moral and ethical role model—probably the best in the entire school," Schroeder, a Cincinnati attorney said. "You didn't horse around in that class. Not just because of Mr. Brady, but the other students respected him so much that they wouldn't let you get away with it."
Wilson said that in the seventh grade she tried out for the choir and within one minute it was clear that she couldn't carry a tune. "They sent me across the hall to Mr. Brady's room. He came out with his old metal beat up clarinet that I knew nothing about. He never lost his cool no matter how bad we all were. And somehow, he got me playing so well that I was in the band." Wilson played the clarinet through high school and for four years in the marching band at the University of Cincinnati. While she never picked it up again, it remains in her closet as a reminder of the good times, "and I might just need to find someone to give it to." Wilson said she loves that the music center was named after a simple and humble man whose talents touched so many students. What seemed to please Brady most was simple: seeing music become part of everyone's life.
Brady continued to play music, especially the piano, into his retirement at the home where he lived with his wife. He died in 2004, a week after his 89th birthday.
"It was a different world when he taught, but you had to have inspiration—he was certainly an inspiration to all of us," Schroeder said. "We needed role models and we still do. Now, the music venue named for Mr. Brady and his story will inspire another generation of music lovers and fans of truly memorable characters in our lives."
The inaugural Brady Block Parties dates are slated for Sunday, June 19 in Westwood; Thursday, July 14 in Bond Hill; Saturday July 16 in West End; and Saturday, August 6 in Evanston. Stay tuned for details!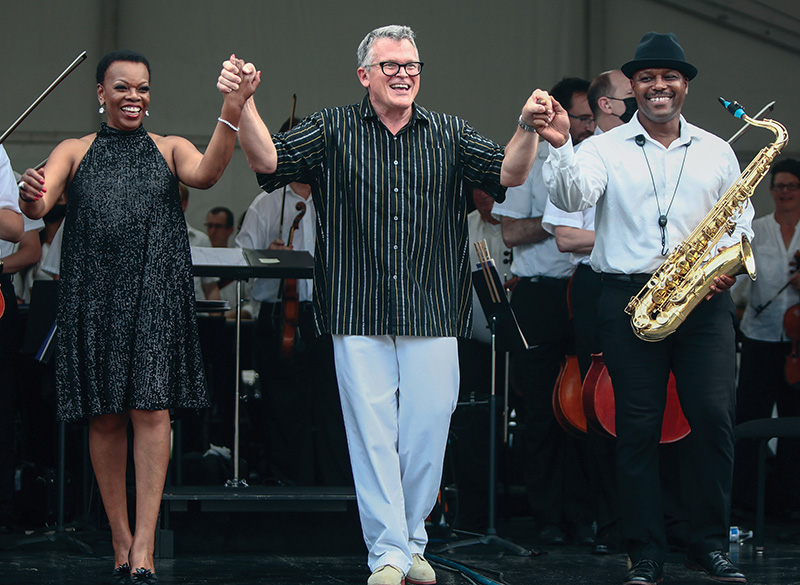 The Andrew J. Brady Internship Program
Welcomes its 2021–22 Class
When looking at the employee roster of a typical American symphony orchestra, it's not unusual to observe a sea of predominantly white faces.
"There's no doubt that our Eurocentric heritage has contributed to the impression that classical music administration is not an inclusive endeavor. But just as our Diversity Fellowship in partnership with CCM aims to level the playing field on stage, to be truly reflective of the greater world around us, we also need to address this issue behind the scenes," says CSO President & CEO Jonathan Martin.
The Andrew J. Brady Internship Program is tackling that challenge head-on, providing hands-on experience, dedicated mentorship, and skills training to students over the course of a full academic cycle. The idea is to build a pipeline of young workers who can take what they're learning at the CSO and apply it in the workforce.
"We started a prototype of the program last season," says Martin, "and it was so successful we ended up hiring two of our interns to our full-time staff—Kelly Barefield is our Orchestra Personnel and Operations Manager, and Amanda Franklin is our Community Engagement Manager. We couldn't be more proud of their contributions to the Orchestra."
The Orchestra just welcomed its 2021–22 class of interns: