Three Modern-Day Muses and the Composers They've Inspired
by Ken Smith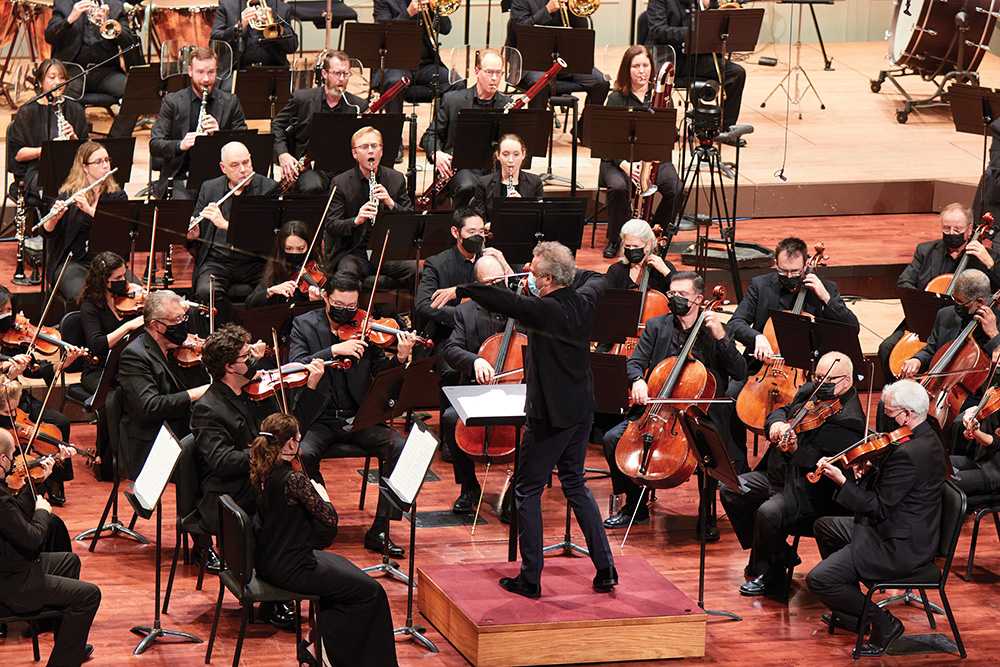 First of all, says CSO Music Director Louis Langrée, there was never a grand plan to turn this season into a mini showcase for contemporary violin concertos. It all started with a single (if much-anticipated) event: the world premiere of CSO Creative Partner Matthias Pintscher's Assonaza, written for violinist Leila Josefowicz.
But then came composer Mark Simpson, who'd made a big impression at the 2019 May Festival with the U.S. premiere of his oratorio The Immortal. In early 2020, while concert halls in the U.K. were still shuttered, the one-time BBC Young Musician of the Year made yet another splash with his Violin Concerto, a monumental five-movement work premiered by Nicola Benedetti and the London Symphony Orchestra (LSO). "During Mark's time in Cincinnati, the orchestra, the audience and the whole administration team just fell in love with him," Langrée admits. "The opportunity to present another U.S. premiere of his music was too good to pass up."
And then came violinist Jennifer Koh, another longtime Langrée collaborator with a large Cincinnati presence, who'd spent much of her pandemic time in the company of composers generating new works. Her reunion with Langrée this spring will feature a highlight of Koh's New American Concerto project: a new Violin Concerto by Musical America 2022 Composer of the Year (and Koh's sometime recital partner) Missy Mazzoli, co-commissioned by the CSO.
"So that's how we wound up with these three amazing women—each of whom we would love to invite back under any circumstances—all performing music written during the challenges of Covid," says Langrée. "It's so inspiring to see such wonderful performers dedicating so much of their time and energy to promote the music of today. Instead of putting music in the museum box of tradition, they are active in creating the repertoire of the future."
Josefowicz, who last appeared in Cincinnati with Langrée in Thomas Adès's Violin Concerto, Concentric Paths, in 2019, is also no stranger to working directly with composers, having also come to the CSO in 2015 with John Adams' "dramatic symphony" Scheherazade.2 for violin and orchestra with Adams himself on the podium. Her appearance at Music Hall on January 28 and 29 will feature Pintscher conducting the premiere of his Assonaza along with the Symphonic Dances of Rachmaninoff.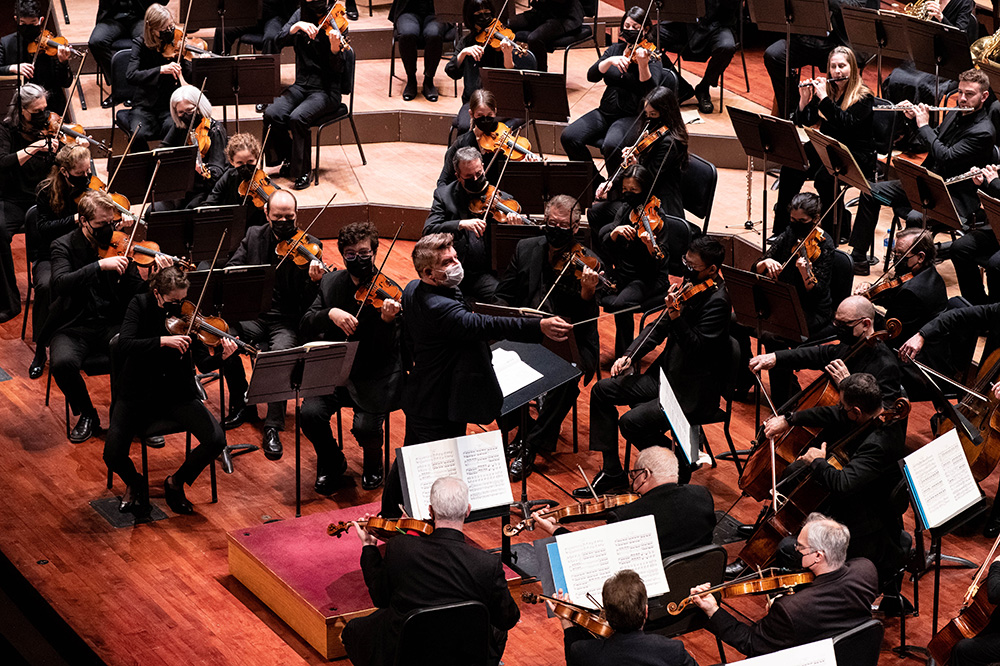 "Matthias is more than just a composer who conducts," says Langrée. "He's an amazing conductor in his own right, who also happens to be a superb composer and teacher. Whether he's conducting a new piece or a classic, the results are on another level entirely."
Pintscher, for his part, throws credit back to the orchestra. "Ever since I first came here five years ago, I've found the CSO to have an incredibly open mind," he says. "They tackle a Bach orchestral suite with the same energy they give to Ligeti, or a world premiere. As a collaborator, it's hard not to be inspired. They're always willing to take a fresh look at pieces they've played a hundred times, which is just as important as paying attention to new music—and new music has been part of their history for more than a century."
Much of that character has come from the list of "hyphenated" musical figures who've appeared with the orchestra almost since its inception. Though Rachmaninoff himself never conducted the CSO (despite performing his Second Piano Concerto and Rhapsody on a Theme of Paganini with the orchestra), composer-conductors who have led their own pieces at Music Hall include Aaron Copland and Krzysztof Penderecki, as well as Igor Stravinsky and Richard Strauss—each of whom bore considerable responsibility for shepherding music of their time into established repertory.
Some works, though, need much less time to find their place. When Benedetti and the LSO first premiered Simpson's Violin Concerto (initially recorded in the empty St. Luke's Church for an internet stream, later performed for a live audience), critics called it "extravagant," "expansive," and "monumental." Langrée himself was impressed.
"Some pieces you hear for the first time and they already seem part of the repertoire," he says. "Mark's concerto is incredibly difficult for the soloist, and yet Nicola played everything so intensely and expressively. Emotionally, there was no leash. The difficulty is establishing this liberty, this freedom, while maintaining control over all the changing patterns and tempos. You need the rhythmic precision of a Swiss clock without feeling mechanical. This may be the most challenging piece I will ever conduct in Cincinnati, and it is wonderful that Mark will be there. There are many questions I would love to ask Mozart, but with Mark I can hand him a list."
Sharing the program with Simpson's Violin Concerto on January 14 and 15 will be Strauss's Der Rosenkavalier Suite and Ravel's La valse—the first a nostalgic look backward into musical styles, the second a visionary look ahead. Both of these complement Simpson's sound world in different ways, "highlighting a kaleidoscope between the innovative and the traditional," says Langrée, who has grown increasingly enamored of Simpson's concerto since first encountering it on the LSO's internet stream.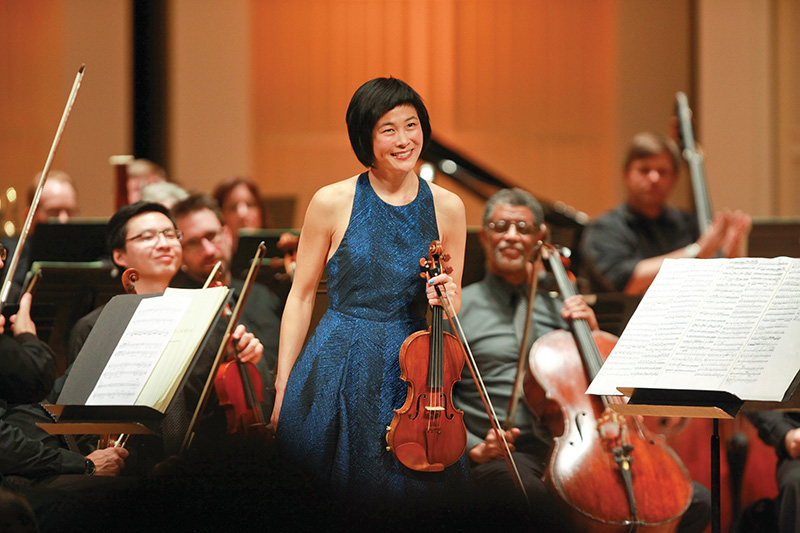 Programming music to appear with Mazzoli's concerto on March 11 and 12 was a bigger challenge. "It is always like this with new works," admits Langrée, who has been making a study of Mazzoli's earlier works, beginning close to home with Fanfare for the Unimpressed for solo violin, commissioned as part of the CSO's pandemic-time Fanfare Project and premiered earlier this year by Concertmaster Stefani Matsuo. Cincinnati audiences may also remember Mazzoli's Song from the Uproar, a monodrama about the Swiss explorer Isabelle Eberhardt produced by Cincinnati Opera in 2017.
Langrée's choice of pairing Mozart's Mass in C Minor came from rather different parameters. "First of all, the Mass is one my 'desert island' pieces," he says. "Second, because of Covid it has been two years since I've conducted the May Festival Chorus, so I wanted a choral piece that is just as beloved for them."
On a musical level, Langrée looks at the two composers and senses a similar spirit at work. "Missy's work is always grounded in musical tradition," he says. "There is always a clear understanding where the roots of her techniques come from, and if you hear her works for voice, you find a wonderful lyricism in the melodic lines. Mozart's C Minor Mass, with its antiphonal chorus, has this wonderful Baroque gesture while clearly projecting into what the music of the future would become.
"In pairing any two pieces like this, you always want the new piece to sound a bit like repertoire, and the classical piece to express some modernity," he continues. "Of course, this is all a guess," he laughs. "None of us has any idea yet what Missy's piece is going to sound like."
The U.S. Premiere of an 'Instant Classic'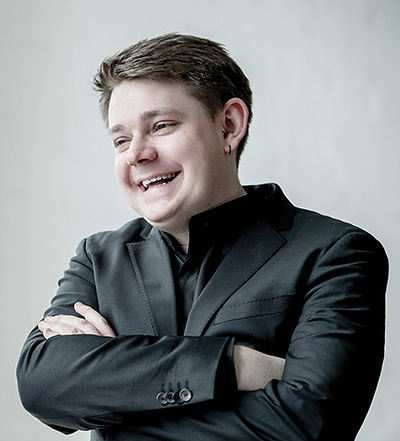 Mark Simpson
When approached by the London Symphony Orchestra (LSO) about writing a new orchestral piece, Mark Simpson immediately knew he wanted to write a violin concerto for Nicola Benedetti. He knew it was going to be a significant piece, and wanted it to be a statement, of sorts. Most of all, he wanted it to be something Benedetti would love to play and that would showcase her brilliance.
The resulting concerto, premiered by Benedetti and the LSO in April 2021, has been called "an instant classic" by Bachtrack reviewer Benjamin Poore, who also called the work "remarkably open-hearted…generous and humane in its communicate impulse, effusive and candid but never sentimental."