When the World Stopped,
These Artists Didn't
by Ken Smith
Leila Josefowicz and Matthias Pintscher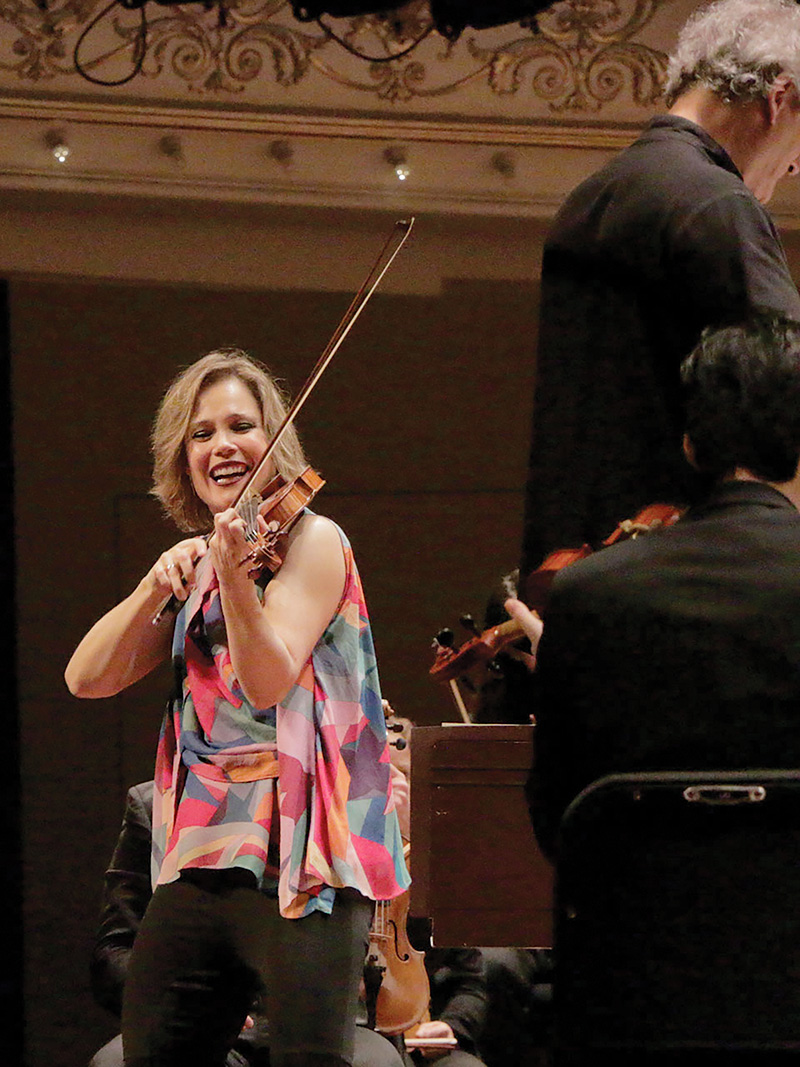 Leila Josefowicz performed Thomas Ades' Violin Concerto, Concentric Paths,
in February 2019 with Louis Langrée conducting. Credit: Lee Snow
For years, Leila Josefowicz had been pursuing Matthias Pintscher for a violin concerto, and for years Pintscher always turned and ran in the opposition direction. "I've always admired Leila, the way she gives everything in the moment," he says. "We can play three shows and each of them will be completely different. I find that very appealing."
But as for composing a piece, Pintscher had written two violin concertos within 10 years and didn't feel he had enough material for a third. Soon, orchestras started calling with the same request. Then Covid hit. He was sitting in his West Village apartment in New York when she called again.
"Leila asked, 'Are you also sitting at home, not doing anything? Why don't you at least write me a solo piece?' I said, 'Honey, I'm going to sit down and write it tonight.'" Josefowicz soon livestreamed the premiere of Pintscher's La Linea Evocativa for solo violin from New York's Hauser & Wirth Gallery, in collaboration with the artist George Condo, whose work was on exhibit. Then she called Pintscher again: "Matthias, don't you think there's enough great material here for your third concerto?"
"She tricked me," Pintscher exclaims, laughing. "But I realized she was absolutely right."
It was the right call, at precisely the right time. After 20 years of being constantly on the road as a conductor and musical curator, Pintscher found his life put abruptly on pause. "After the initial shock, and then several very dark months, this was a lifesaver," he says. "That constant interaction with Leila gave me the structure to stop drowning in anxiety and just get up and write. Alliances like Leila and Cincinnati that reinforce your sanity and trust are always important, but after the past two years they're more valuable than ever."
So how did a solo piece evolve into a work for full orchestra? "Basically by building a resonance chamber around the soloist," the composer explains. "The orchestra doesn't 'accompany' her; it forms an acoustical space that she walks through, sending out signals, colors, timbres, gestures. And the space, as a flexible wall of sound, may accept or reject them. After working with her over the past 10 years, seeing her respond to the moment, I've drawn up materials and textures that allow her to be spontaneous, almost like an opera singer moving freely onstage. I lay out the path, but she is free within certain parameters to make detours and step outside."
The piece, Pintscher says, is filled with a "a new concept of virtuosity" summarized in a single episode: "In one section, the strings of the orchestra calm down and try to completely simulate Leila's playing, aiming for complete unison, shaping the line like a plainchant for orchestra."
It was a moment clearly borne from pandemic lockdown. "You finally have a chance to think about what you do as an artist," he says. "And I think I found a new simplicity, the ability to leave stuff out, all the details and ornaments that you know you don't really need but never had the courage to abandon. We all know intellectually that less is more, but to apply it in art and life is a completely different story."
Jennifer Koh and Missy Mazzoli

Missy Mazzoli, Credit: Marylene Mey
Violinist Jennifer Koh and composer Missy Mazzoli's first meeting in 2009 resulted in Dissolve, O My Heart, a solo riff on a Bach Chaconne that became Mazzoli's first truly high-profile commission (from the Los Angeles Philharmonic) and a cornerstone in Koh's "Bach and Beyond" project. But what both New Yorkers remember most about that night was the food. "Dinner at Grand Sichuan and cupcakes at Billy's Bakery," Koh recalls. "A whole culinary tour of Chelsea," Mazzoli muses.
They also discovered a kindred sense of esthetics and social calling, which later led to compatible non-profit endeavors. Koh created her Arca Collaborative to generate a more inclusive range of new repertory; Mazzoli co-founded the Luna Composition Lab to address gender imbalance among professional composers. "It's always rewarding to work with people with a mission," Koh maintains.
"I should add, we're also great friends and call each other all the time," says Mazzoli. "We gossip, we commiserate. Ideas for projects just come up naturally and organically in conversation." Enough works, in fact, to fill full collaborative evenings (most recently in late October at San Francisco's Herbst Theatre).
So when Koh called to check in with Mazzoli earlier this year in the midst of the pandemic, their chats soon turned to a new collaboration. "I'd already written a violin concerto, a reworking of my double bass concerto," Mazzoli says. "But I really wanted to write a long, meaty work for violin and orchestra, and I wanted it to be for her."
Mazzoli also wanted to embrace the pandemic—or at least deal with the emotional trials of the past year in a healthy and productive way. "I'm interested in how we've reacted emotionally to situations like this historically," she says. "We now have a new and vivid connection to the rituals we've created in the past to ward off, deal with, or accept cataclysmic events."
In her Violin Concerto, Mazzoli positions her soloist as a leader of rituals. Opening with a spiraling processional, the soloist guides the orchestra through an expression of dance mania (the soloist being something of a Pied Piper figure), then a comforting hymn, then a medieval spell intended to cure broken bones.
Mazzoli's major concern, she says, is Koh's technical prowess. "Jenny can play pretty much anything, which is a dangerous situation for a composer," she explains. "I mean, I want my works to be done again and again, by different soloists all over the world. So even if Jenny says a certain passage is fine, I have to ask, 'Yes, but is it possible for normal humans?'"
A chief concern for both composer and soloist is changing the very definition of virtuosity. "Jenny's not looking for the flashy cadenza," Mazzoli says. "Nor am I looking for 'faster-higher-louder.' I love taking certain things from our rich musical tradition, maybe even in a nostalgic way, and then turning them on their head."
One section of Mazzoli's concerto employs natural harmonics in an arpeggiated pattern that accelerates to the brink of playability. Another section is a study in stillness, with prolonged double stops on the violin. "Both of us are working purely in the service of the music," Mazzoli says. "It's not about making us look good at any given time. The music itself makes the rules."