Meet Our New Orchestra Musicians, Part II
by Meghan Isaacs
This season, Fanfare is highlighting the large "class" of musicians who are beginning their tenures with the CSO. In this month's profile, we meet Principal Librarian Christina Eaton, violist Dan Wang, violist Emilio Carlo and cellist Isabel Kwon. Three of these four musicians are familiar faces to CSO audiences: Christina was promoted from her previous role as Associate Principal Librarian, and Emilio and Dan are both alumni of the CSO/CCM Diversity Fellowship. Each of these talented additions to the CSO's roster enjoys a variety of diverse interests outside of their careers, and all are thrilled to be with the CSO this year.
Christina Eaton, Principal Librarian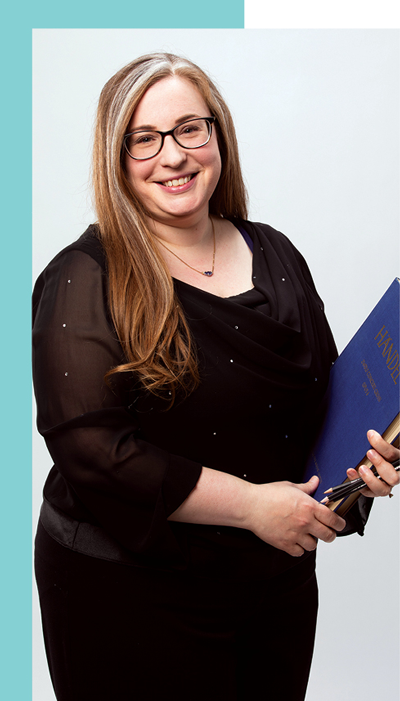 Christina Eaton's career as an orchestra librarian happened almost by chance. Originally from Pittsburgh, Christina (whose parents are both musicians) had a violin in her hands by age three. Although she played all through college at the University of Dayton, she didn't major in music because she did not aspire to a performance career. Instead, she majored in English and, after graduation, landed a job back in Pittsburgh working for an advertising firm—which she hated.
While planning a trip to Washington, D.C., she found herself on the National Symphony Orchestra's (NSO) website buying concert tickets; while browsing, she wandered onto the "Employment Opportunities" page. She applied for a position as an Assistant Librarian. "Six weeks later, I lived there," said Christina. "They knew I was green as grass, but figured I was teachable and treated my position like an internship." She quickly fell in love with the job. Her first two bosses at the NSO, Marcia Farabee and Shelley Friedman, were notable influences for Christina, in the way they modeled orchestra librarianship and maintained work/life balance. After about three years in D.C., she won the job as Head Librarian for the Phoenix Symphony. In 2008, she won the job as Associate Principal Librarian here in Cincinnati, and she embarked on her new role as Principal Librarian at the start of the current season.
For Christina, the excitement of being behind the scenes and working closely with musicians and conductors makes for an engaging career. "It's cliché, but CSO musicians are such a welcoming group and wonderful to work with. They're all experts, so I always have someone to ask very specific questions of," she said.
Another aspect of the job that Christina particularly enjoys is her role as the CSO's unofficial historian. "The CSO's long history is really fascinating. It's amazing to take a step back and see that I'm a link in the chain here. You can pull a set of orchestra parts off the shelf and see the handwriting of a previous librarian or musicians who have been here," she said.
In her spare time, you'll find Christina in her kitchen either baking or canning. A regular Findlay Market shopper, she has standing orders with some of the farmers and merchants to fuel her hobby.
As Christina takes on her new role, she reflects on the team that makes it happen. "We have an outstanding library team here, including the Assistant and Associate Principal librarians, Chorus and Youth Orchestra librarians, and five dedicated volunteers. The library would not be functioning if not for this full team!"
Dan Wang, viola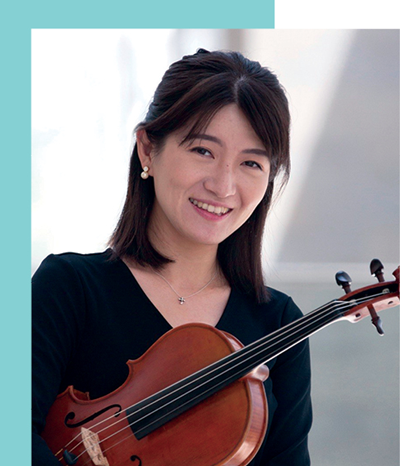 Dan Wang's path to the CSO started with playing the violin in her hometown of Shenyang, China. After studying at the Hong Kong Academy for the Performing Arts, she continued working on her master's degree in violin at CCM. After considering again what she wanted to do, she spent one year on a DMA degree in violin before taking a break. During the break, she made the decision to switch to the viola. "I have always loved the sound of viola. It expresses the feelings of our hearts more directly than any other instrument," Dan said.
In 2017, two years after taking up the viola, she became a CSO/CCM Diversity Fellow. "I think the Fellowship is the best thing that happened to me in my career," said Dan. "[During the Fellowship] I could get a lot of support from mentors in the program and take lessons from different people who gave me valuable suggestions," she said.
The support from the program, especially the mock auditions available to her as part of the Fellowship, strengthened her musicianship. In 2019, she won a job with the Dallas Symphony Orchestra, where she stayed before returning to Cincinnati at the start of the current CSO season.
Dan's biggest cheerleader along the way has been her mom. "She loves music very much. She's the person that guided me into a music career, and she's always supporting me," she said.
While preparing for the pressure of auditions, the best advice Dan received was simple: be yourself. "I'm a person who overthinks a lot, and sometimes it's not good for me. My advice to others is to never give up, and just focus on the audition," she said.
When not working or practicing, Dan enjoys time with her family and her two dogs. She also loves cooking, especially Chinese food and spicy food. She considers Cincinnati her home and is happy to be back.
Emilio Carlo, viola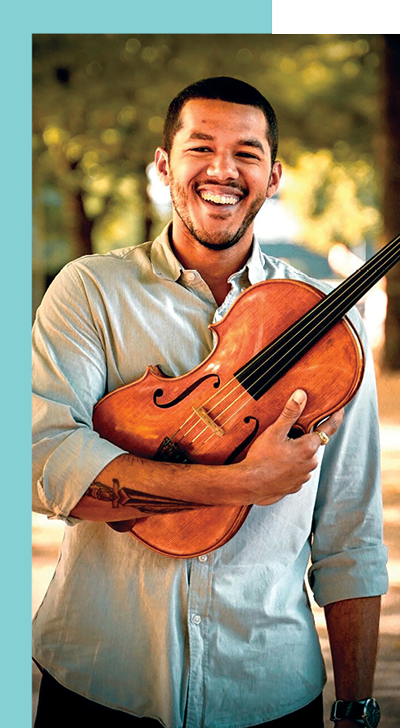 Emilio Carlo grew up in the Bronx, where his grandfather owned a record shop and where Emilio heard and learned to love all kinds of music, particularly R&B and salsa. He learned to play Latin percussion instruments, and his great uncle (who was a famous singer in Puerto Rico) taught Emilio some music as well. Those early influences ensured music would always be part of Emilio's life.
When he was a teenager, Emilio moved to PG County, Maryland (PG is the oft-used short form for Prince George's), where he discovered the viola. He initially wanted to try jazz (his cousin is a jazz trumpeter), but playing brass or wind instruments would have been very difficult since he was about to be fitted for orthodontia; he was also discouraged from his next choice, upright bass, due to its size. "All that was left was viola or violin. It kind of just stuck from there," said Emilio. He earned his undergraduate degree at the University of Cincinnati College-Conservatory of Music (CCM), then became part of the first class of the CSO/CCM Diversity Fellowship.
Emilio says his time as a Fellow propelled his career by helping him learn to function within a section. "It gave me a 'fall on my face free' card," he said. After the Fellowship, he stayed in Cincinnati freelancing for a year, followed by time spent with the Nashville and New World symphony orchestras before returning to Cincinnati.
Emilio's mother has been his strongest influence and cheerleader. "She has always been that voice of reason and encouragement when I felt like everything was falling apart," he said.
He has also found support from his colleagues, particularly Joanne Wojtowicz (his mentor with the Diversity Fellowship), Zoya Leybin (violinist with the Nashville Symphony), and Titus Underwood (Principal Oboist of the Nashville Symphony).
When he's not practicing, you'll find Emilio outside with his dog, Ghost. He's also been building on his grandfather's record collection. And of course, he loves to eat. His current favorite restaurant is Mazunte, though he was also recently introduced to Sebastian Bakehouse. "It was the first time I ate something and literally just stopped what I was doing and screamed, 'This is amazing!'"
Isabel Kwon, cello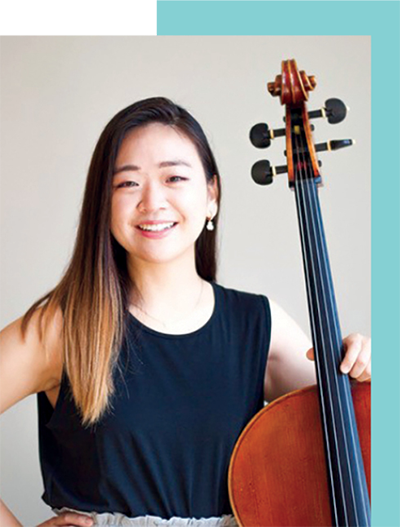 From her early days growing up in Michigan Isabel Kwon shew she "couldn't stop [herself] from going into music." The strong music community in her hometown supported her, and Isabel found herself among cello teachers who all put humanity first. "They emphasized being a good, caring person and a part of the community first, and after that came being a good musician," she said. "That kind of warm environment made me want to continue in music."
In addition to her new position with the CSO, Isabel is also pursuing her doctorate in cello performance (with minors in music theory and arts administration) through Indiana University. Her professor, Eric Kim, is a former Principal Cellist of the CSO. "It's fun to talk to people in the CSO who remember him. I wish I could have seen him in those days!" said Isabel.
Aside from Kim and her other cello teachers, one of the most influential figures in Isabel's life has been her best friend, the violinist, entrepreneur and television commentator Sumire Hirotsuru, whom she met in her days studying at Juilliard. "She taught me not to be afraid to go for goals or dreams, even if there's not always a clear path."
A big part of Isabel's life as a cellist is her passion for tango. A distant relative, who also happens to play cello and went to Juilliard, has a husband who is a bandoneon player. They invited Isabel to the Stowe Tango Music Festival in Vermont, and she fell in love with the genre. She enjoys the excitement and appreciation the audiences show and how they often get up and dance during tango performances. "In the future, I really want to bring tango into the major orchestra scene, while keeping it as authentic as possible to the Argentinian tango," said Isabel.
Besides playing pick-up tango concerts with her friends, Isabel spends her free time cooking, baking and practicing her latte art. She loves living near the natural beauty Cincinnati offers. "I live in Mount Adams, and driving into the city you see the sun hitting the buildings on the hills. You can choose to be both rural and urban depending on where you go."