The Cincinnati Symphony Orchestra Tunes Up for the Next 125 Years
By Gil Kaufman
The haunting echo of a fading gong fills Music Hall, hanging for several seconds before dissipating like a ghost. Cincinnati Symphony Orchestra Music Director Louis Langrée stands at attention with his baton hovering, not quite raised, nor lowered to signal the conclusion. He waits. And waits. A minute of silence stretches into two as the audience shifts and tries to stifle coughs, unsure if they should clap, stand up, or stay seated, some looking around for a hint of the proper decorum. Is this eerie lull the last moment in the premiere of Christopher Rouse's turbulent, emotional final composition, or is there more drama to come?
And then Langrée almost imperceptibly relaxes his shoulders, and the room bursts into exuberant applause, with the longtime CSO board member to my right audibly exhaling in delight. Rouse's Sixth Symphony, a crowning, melancholy work commissioned to celebrate the CSO's 125th anniversary year, is a triumph on this October evening. A review in The New York Times says the piece has "an uncanny timelessness," adding, "hearing it you might know it's from the past 100 years, though you would have a hard time saying exactly when."
That tension—between the traditional and modern, the fast and boldly exuberant piece Langrée expected from one of the most admired contemporary composers and the at-times morose one he received—neatly sums up where the CSO finds itself as it recalibrates in its second century.
"In every city you have a cathedral or palace of justice or city hall that is the main building, but here, in the middle of Over-the-Rhine, you have this temple of music, which actually looks like a cathedral," says Langrée, 59, who can't help but wave his expressive hands through the air as he speaks about his adopted home town and the crown jewel he calls his office. "It's the cement which brings people together. It's a tie to the old Cincinnati, and it's a metaphor about musical language and how society has evolved."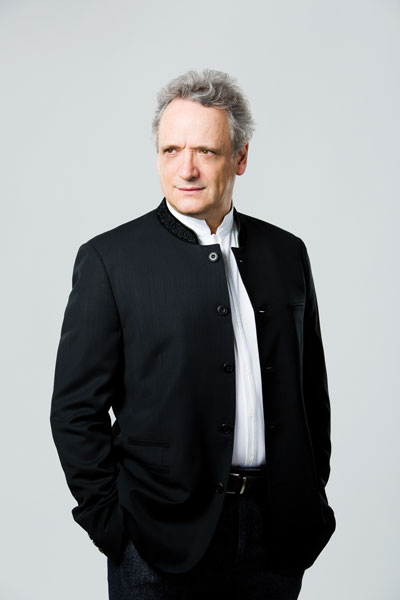 Langrée seems aware that, if you are of a certain age, there's a good chance you were introduced to classical music not by a conductor in a cathedral but by Mickey Mouse or the Looney Tunes gang. Maybe it was Chopin's "Minute Waltz" in D-flat in the 1955 Bugs Bunny classic "Hyde and Hare" or the technicolor trip through Disney's Fantasia with Bach, Tchaikovsky, Stravinsky, and Beethoven guided by Mickey's baton. The manner doesn't matter, he says; the key is that you've experienced the uplift of classical music, and it somehow
touched you and inspired you to seek out more.
Or maybe, like some Cincinnatians, you learned about violins, violas, and concertos while wedged between your parents (or grandparents) at the old Music Hall, counting the bulbs in the grand chandelier while waiting for intermission, trying not to doze off like your dad's best friend further down the aisle. That counts too, Langrée says. "It's important that people bring their grandchildren and dare to enter these buildings and feel excited by Beethoven or a new piece by Christopher Rouse," he says excitedly. "Through that piece you are discovering your own secret garden of colors, flavors, and
emotions you may have forgotten because of the hectic daily life."
In an age when almost every movie ever made is a click away and dozens of delicious locally brewed craft beers and spirits are an Uber ride down the street, Langrée says that convincing kids to put away their screens and watch 90 musicians playing century-old compositions on planks of wood using strands of horse hair can sometimes feel like something people used to do. Which, for 125 years, they have. And for 20 weekends each year, they still do.
If the Cincinnati Symphony has its way—despite all of society's distractions—they'll keep doing it for another 125. Like every arts organization in every city in every state, the CSO knows there are endless options when it comes to your weekends. But the braintrust at the nation's sixth-oldest symphony orchestra thinks it has a solid plan to keep you coming back for more. What might surprise you is that their blueprint reads like the back-of-a-menu pitch from a scrappy tech startup.
"I see it resonate when I go to the grocery store and someone
says, 'I'm so glad to be able to thank you because I've been going to concerts for 25 years," says Langrée with a smile, his lean, slender-fingered hands folded over his heart. "Or after we play Beethoven's Ninth and the police officer helping pedestrians cross is whistling the piece." Langrée puckers up to offer a taste of the iconic symphony's refrain. "It's wonderful."
A Music Mecca
Cincinnati Music Hall is listed on the U.S. National Register of Historic Places and drips with the kind of gold-plated tradition and prestige that, as Langrée says, makes it a shining beacon of the urban core. The CSO's gleaming home opened in 1878 and underwent a $143 million overhaul in 2017 that refreshed the look and feel of Springer Auditorium. The makeover included creating a steeper slope for plusher, wider seats; getting rid of a sound-deadening mezzanine overhang; pushing the stage deeper into the auditorium; and bringing the audience closer to the musicians (and Langrée) in a scaled-down hall with acoustics that give the old room a vibrant, HD sound.
Langrée calls the building reboot a crucial step that's created a "masterpiece" he considers a gift, to himself and to the city. In a neighborhood with the highest concentration of colorful Italianate architecture in the country—drawing Hollywood productions as well as new residents to OTR—Music Hall stands tall amidst the constant buzz of renovation all around as the visual north star of Cincinnati's Brooklyn.
Which is why on that Saturday night in October it doesn't seem out of place to spot a clutch of college-age students lining up to walk through a metal detector in their symphony casual finest: Chuck Taylor sneakers, beanie caps tilted just so above Warby Parker-looking glasses, some wearing hoodies and wild print leggings as they shuffle in beside septuagenarian and octogenarians in suit jackets and going-out-fancy-on-the-town dresses.
They're entering a building that pays homage to Cincinnati's place as one of the early U.S. nerve centers for classical music, according to Joseph Horowitz, a leading authority and historian who authored 2005's Classical Music in America. That distinction had mainly to do with the city's large German-speaking population, as well as the Queen City's place as one of the bases of operation for the "Johnny Appleseed of classical music," Theodore Thomas. Among the most important figures in the history of classical music in America, Thomas traveled with a world-class itinerant orchestra that counted Cincinnati as one of its most important spokes, according to Horowitz.
Thomas, the founding music director of the May Festival Chorus and founding director of the University of Cincinnati's College of Music, was a "man of enormous energy and influence who looms large for both Cincinnati and the nation," Horowitz says of the conductor who helped set the stage for the CSO's formation in 1895 (under its first music director, Frank Van der Stucken). Just as important, though, in looking at his own writing about the gilded age of American classical music in Moral Fire (2012), Horowitz points out that Cincinnati was notable for the growing role of women in classical music.
From its early days, he says, the CSO had an eye on the future thanks to the prominent roles played by women in its creation, even as it was inventing its present. The orchestra was founded by an all-female board of trustees led by Helen Herron Taft, wife of future U.S. President William Howard Taft. Her successor as president of the CSO board, Bettie Fleischmann Holmes—heiress to the Fleisch-mann yeast fortune—took over in 1900 as the CSO quickly established a reputation as an orchestra where both renowned and soon-to-be iconic composers came to premiere their works.
Reading from Fire, Horowitz says, "When Holmes' Cincinnati symphony hosted Richard Strauss, one newspaper said, 'The occasion was notable not so much as a brilliant gathering of the 400—representing the wealth and culture of Cincinnati—but for the significance of the underlying meaning, the epitomizing in a most graceful and unmistakable manner of the fact that women are preserving all the charm that is the birthright of their sex, they exert a powerful influence for good, they mold society as it were, establish standards of right thinking and living by elevating the public tone."
The Future Now
Bryce Dessner has seen the Cincinnati Symphony's power firsthand—from the audience as a child and from the stage as an adult. The acclaimed modern composer and guitarist for the Brooklyn-via-Cincinnati rock band The National recalls attending May Festival and CSO shows as a kid with his parents and siblings, listening to Mahler and Beethoven and Mozart and staring in awe at the majesty of Music Hall.
Dessner, 43, has teamed up with the CSO and Langrée a number of times for MusicNOW, the avant-garde classical-meets-modern festival he founded here in 2006. Traveling the world with The National and his growing portfolio of orchestral works, the further he goes the more he realizes that, for a medium-sized city, Cincinnati has an outsized impact on music, including his own. He ticks off composers such as Mahler, Strauss, and John Adams—some of the many composers who traveled here to premiere their new works—and Langrée's envelope-pushing embrace of commissions and premieres of pieces by today's future legends.
"For me what's amazing about the orchestra is that in a smaller city you can take risks that are harder to take in Boston or New York, where audiences can be very hard. This year's season is as adventurous as anything that's happening in the country or the world," Dessner says of programming decisions such as opening the 2019-20 season with the U.S. premiere of his own Concerto for Two Pianos, which Langrée placed next to Strauss' Don Juan and sprawling An Alpine Symphony—which had its U.S. Premiere in Cincinnati in April 1916.
As an additional example of Langrée's incisive artistic leadership, Dessner points to a 2014 MusicNOW concert during which the CSO performed Radiohead guitarist Jonny Greenwood's "extremely challenging" orchestral piece 48 Responses to Polymorhpia, based on the shape of an oak leaf. "Louis had copies of the score printed out and passed them out to the audience, which felt very punk rock and so untraditional," Dessner recalls. "I've never seen that happen, literally passing out manuscript paper to the audience. It was like when we did the 10th anniversary of MusicNOW and played [The National's] 'Fake Empire' with the orchestra and Louis played piano with us, which is an example of another thing a conductor typically doesn't do."
A Plan for 2145
On that crisp fall night where the competition for eyes and ears is everywhere—from half a dozen rock shows around town to a Golden Girls puppet parody at the Aronoff Center, plus the ever-popular Cincinnati Taco Week and an anniversary party at the Taft Ale House a block away—Rouse's premiere wows the packed house, and Music Hall is the only place Anthony Stanley, 24, wants to be. The third-year CCM student has been playing French horn since sixth grade, and although he occasionally attended the symphony in his native Dallas as a teen, the most vivid early musical impression he can recall is his dad's full-throttle soundtrack of AC/DC, Led Zeppelin and Metallica.
Stanley is one of those who realized classical was "cool" thanks to Fantasia, which is why he now attends as many CSO concerts as he can. "Not to talk bad about Texas, but it kind of gets in a rut of being the 'old dead white guy's club,' and those pieces get people in seats—it's good music—but the CSO does premieres, commissions, and lesser-known pieces," he says, noting that the evening's program lineup perfectly proves his point: a classical chestnut, a lesser-known piece and a brash new commission.
And when he looks around these days, Stanley—dressed business casual in a grey jacket, skinny black slacks, and a blue T-shirt—definitely sees the expected older patrons, mixed in with a number of younger ones, many of whom he recognizes from CCM's campus. "The future is younger generations, so the key is getting us in," he says, pointing to efforts such as the Cincinnati Pops' Harry Potter and Star Wars-themed nights, low-dough tickets for students, and special guests including "symphony cool" violinist/conductor Joshua Bell (from nearby Bloomington, Indiana) and German violinist Anne-Sophie Mutter.
That kind of enthusiasm is music to the ears of CSO Board Chair Rob McDonald, 36, childhood saxophone player turned co-founder of OTR new business accelerator The Brandery and partner at the legal firm of Taft Stettinius & Hollister. McDonald is proud to be one of the new-generation forces helping the CSO think like one of the startup companies The Brandery has mentored.
"When I moved here in 2009, the city was still coming off the era when people talked about the 2001 riots, and the city had this period of stagnation and then we went into a recession," says McDonald, whose globe-hopping childhood as the son of former Procter & Gamble CEO Bob McDonald gave him a broader perspective on the world outside the I-275 beltway. "Now the orchestra is trying to figure out how to get new audiences and play music that's reflective of what our community wants to see."
Part of that path forward is a strategic plan the CSO board has undertaken that builds on the goodwill of the Music Hall facelift, which sent the Orchestra and Pops to the cozy confines of the Taft Theatre downtown for a time. McDonald is working closely on that plan with CSO President Jonathan Martin, who says he immediately sensed when he moved here in 2017 that the CSO was "in a better position than any other large orchestra in America" to respond to the challenging times head-on.
"It's that combination of a city that loves the arts already, the leadership on the board in the past 10 years, a strong balance sheet and, most importantly, a willingness to change," says Martin, who was instrumental in helping the Dallas Symphony Orchestra establish a financial stabilization initiative while shaking up its concert format and expanding its community impact programs around the city. That willingness to change was reinforced by McDonald—the youngest board chair in the organization's history—agreeing to take a leadership role and apply his branding experience and vision for expanding the organization's diversity in front of and behind the stage to better represent the city.
"You can't do incremental changes and expect transformative results," Martin says of a desire to think bigger than the Band-Aid fixes some others have tried—small tweaks to the programming, a shuffling of starting times, cool cocktails in the lobby and amped-up social media. "What we're talking about is fundamentally changing the live concert experience and delivering a more interesting program for younger and underrepresented audiences."
That has meant a rethinking of the length of concerts, how they're delivered, where they're performed, what the musicians wear, and what other genres and sensory experiences can be woven into the CSO's storied fabric. Following up on the break-out success of the first LUMENOCITY experience in 2013 that combined the CSO's music with projection mapping on Music Hall's facade, the CSO scored another success with last summer's CSO Look Around. That one-of-a-kind experience to help kick off the 125th anniversary year brought together more than 600 local artists from 20 musical and dance ensembles and more than 8,000 visitors to Washington and Ziegler Parks for an immersive community experience mixing classical music with African and Latin dance groups, choral and hip-hop, spoken word, street dancers, brass bands and many other genres.
It's this kind of thinking, which capitalizes on the increasing thirst for "experiences" stimulating more than one sense, that will guide the CSO in what Martin and McDonald see as a new, inspired direction. It can be seen in the CSO Proof series, where artists and audience share the Music Hall stage for shorter, more casual performances across genres that feature elements of theater and dance—evidence, Martin says, that the CSO is at the beginning of what he expects to be a long journey of inclusion, inspiration and innovation. You'll also find it in the Symphony's 150-plus Spotify playlists and the "Young People's Concerts," a recurring series that dates back 100 years and will reach an estimated 16,400 students in grades K-12 in the current season.
The CSO also has an ace in its pocket that few other major American orchestras can claim: the offshoot Music & Event Management Inc. (MEMI), one of the region's leading promoters of live entertainment. The company books A-list rock, pop, hip-hop and country talent at the Riverbend Amphitheater and PNC Pavilion, as well as the Taft Theatre.
"MEMI is absolutely crucial to our future plans," says Martin, adding that some newer board members have highlighted the fact that in the long run there will have to be a "bleeding together of what we do with MEMI and Music Hall."
And while he's not suggesting that K-Pop superstars BTS might play with the CSO if they come to town, Martin certainly foresees "a lot more collaboration" across the two businesses in a further effort to widen the CSO's circle of audiences. "We are six months into a long-range plan, and one of the challenges is we have this set of beliefs and expectations, but haven't run the race yet," he says. "I grew up in a risk-averse industry, but Rob [McDonald] is from a risk-taking industry, so we're a good complement to each other."
And, luckily for both, you'd be hard-pressed to find a better artistic leader to delve into that unknown than Langrée. The French native has led the CSO since 2013 and worked with dozens of top-flight orchestras around the globe—from the Berlin Philharmoniker, Wiener Philharmoniker, and London Philharmonic to the Orchestre de Paris, Gewandhaus Leipzig, and The Philadelphia Orchestra. A major focus in Cincinnati is to firmly challenge the expected. He points to the CSO's most recent recording, the GRAMMY®-nominated Transatlantic, in which he brought together three composers with French-American connections. On the recording are George Gershwin (An American in Paris), Edgard Varèse (Amériques), and Igor Stravinsky (Symphony in C), in which Gershwin gave his take on the hustle and bustle of Paris, Varèse sampled the sounds of New York, and Stravinsky worked to straddle two continents.
"Here we have an American orchestra conducted by an ex-Parisian who now lives in America," Langrée says with a smile, his eyes bright behind tortoise-shell glasses, hands in a prayerful triangle pose near his mouth. "What comes from this collaboration? It's not my interpretation, but how together we make something unique. The conductor is the only person on stage who doesn't produce a sound. But the influence he can bring to the sound and how the musicians influence his vision and perception of the sounds makes something absolutely exceptional. It's not me or them, it's not me and them. It's us."
That "us" must always include the audience. Asked to fast-forward a decade, Langrée hopes that the diversity he sees in the city around him will be reflected in the audience in Music Hall thanks to the CSO's educational outreach efforts to local schools, the increasingly diverse offerings, and the desire to challenge, comfort, and constantly surprise. "Music cannot be separated from history and vice versa," he says in his gently rolling French-accented English.
Acknowledging there is more work to be done, the CSO does have a head start in the area of inclusion. For three decades, the institution has been addressing that particular challenge through the Multicultural Awareness Council (MAC), a group of community volunteers whose mission is to provide leadership, fundraising and guidance for CSO diversity, equity and inclusion initiatives. MAC celebrated its 30th anniversary this past November by honoring the acclaimed, yet rarely performed, composer Florence Price with an "American Life" concert featuring all African-American composers.
In a video tribute, former MAC Chair Aurelia "Candie" Simmons said she was proud of the organization's work focused on one goal, "to increase the diversity [and] participation in the audience and on the stage."
Over the years, the CSO Basic Black series (later renamed "Open Door" and now MAC) has featured an array of musicians and composers—including pianist André Watts, Broadway star Leslie Odom Jr. and the singer and actress Audra McDonald—whose artistry defies genre—as well as an annual Classical Roots concert with the CSO's Classical Roots Community Choir.
A Night to Remember
Perrin and Matt Gordon, both 26, are gearing up for an exciting Saturday CSO date night on that same October evening. Matt, a trombone player who teaches general music and strings at Taylor Elementary in Colerain, turned musical theater fan Perrin onto classical music when they started dating. They're at Music Hall to celebrate his birthday with what Perrin hopes will be a romantic, surprise "Bolero" moment.
Relatively new Cincinnati residents, the Texas transplants come to Music Hall at least once a month and say the revived building makes their date nights a "special" event that typically also includes grabbing a bite somewhere in OTR. "Sometimes going to a symphony concert seems like a really pretentious ordeal—you have to get dressed up for it—but it doesn't really feel like that here," says Matt. "It's a nice space, really beautiful, and feels like a nice, unpretentious way to spend your evening."
Though the CSO has performed Bolero more than 100 times over the years, the piece feels fresh and alive in Langrée's baton-free hands, his left-swooning in wide figure eights as if painting a 3D VR masterpiece in the air with a Google Tilt Brush, as his right hand stabs to accentuate the horn blasts.
With the velvety notes of that favorite still floating around on a warm gust, Langrée invites the orchestra's artist-in-residence, violinist Guy Braunstein, out to wow the audience with a muscular run through Lalo's Symphonie espangnole, during which the German wunderkind plucks, bows and hammers his instrument with Jimi Hendrix-like passion. Braunstein ends the program's first half with an encore—his own six-pack of variations on The Beatles' Blackbird, swinging from Tchaikovsky-like elegance to rock and roll swagger, bringing smiles and bravos from the near-capacity audience.
A short time later, as that final note of the Rouse symphony lingers in the air during Langrée's pregnant applause break, the CSO board member seated next to me turns with a smile and adds an extra clap for the future. "I love to see the guys with the mohawks and the purple hair out there," she says.
Who knows how the grandchildren and great-grandchildren of today's CSO audiences will experience the symphony in the next 125 years to come— maybe through VR headsets, a computer chip implanted behind their ears? Regardless of the medium, the message remains the same: Music brings the people together.
Learn more about the history of the CSO and view our digital timeline.
125th Anniversary Concert
Jan 18-19 | Music Hall
Celebrate with us as the CSO ignites the spark of creativity. Gershwin's Rhapsody rolls out like never before and Music Hall gets loud with color.