Film + Live Orchestra: A New Concert Experience
by Steven Rosen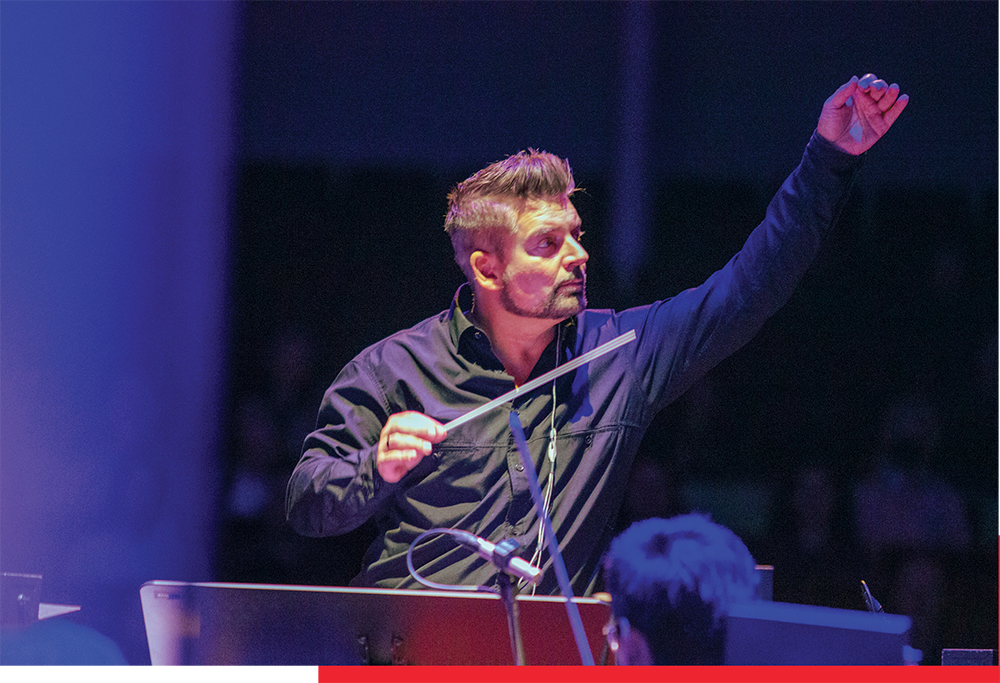 At a Cincinnati Pops concert in late December 2022, Justin and Amanda Eckstein of Bridgetown were sitting at the middle of a center row in the packed gallery section of Music Hall's Springer Auditorium with a superb view of all the multi-media activity before them. A huge, suspended movie screen was showing Star Wars: The Force Awakens while the Orchestra on the stage below was playing the film's rousing, exciting score with flair and in sync with the cinematic action.
When the movie's involving narrative was over and the extensive credits began to scroll on the screen, the young couple didn't leave. Neither, unusually, did most others in the sold-out concert hall. They were waiting to applaud the Orchestra when the credits ended. "Usually people never sit through the end credits of a movie," Justin said. "But they absolutely do here."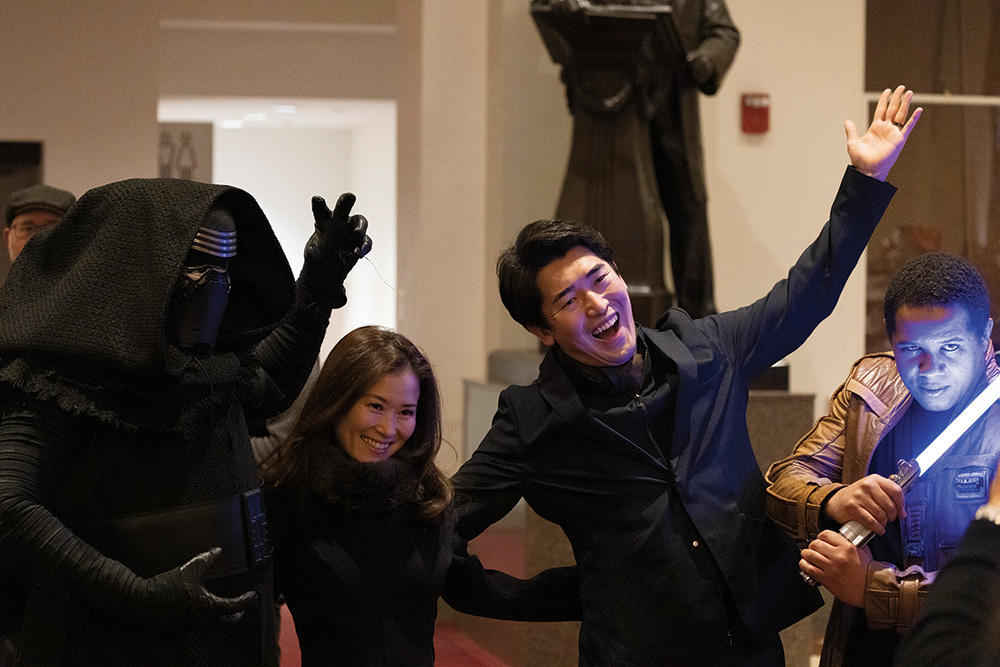 One reason is that the night's guest conductor, Keitaro Harada, had earlier told the crowd, which included many young adults and parents with children in tow, to sit patiently so they could heartily applaud the credit for the film's esteemed composer, John Williams. And they did! But they also stayed seated even after that, until the Orchestra ceased playing. Then the crowd erupted with the biggest cheering and clapping of the night. The Pops was anything but, excuse the term, "second fiddle" to the movie.
"The live music aspect adds so much to it," Justin said. "There's so much to see."
Told later about that comment, Harada—an Associate Conductor of the Cincinnati Symphony Orchestra from 2015 to 2019 and current Music and Artistic Director of the Savannah Philharmonic—wasn't surprised. "I think everyone has different reasons for attending, but the common denominator is they want to hear their orchestra play live to a film they love," he said. "You can't get that in the movie theater and you can't get that in your house, no matter how great your sound system is. It's so different hearing a great orchestra play in front of you. That's what the draw is."
The Force Awakens was a smashingly successful example of the Pops' ongoing presentation of what's been called "film with live orchestra" locally and "movies in concert" by a website that's been tracking such events worldwide since 2010. This season, in the months before The Force Awakens, the Pops also presented Disney's revered 1991 animated Beauty and the Beast in concert. Among the movies in concert that the Pops has previously presented have been Return of the Jedi, The Empire Strikes Back, Coco, Home Alone, Harry Potter and the Sorcerer's Stone, Harry Potter and the Prisoner of Azkaban and West Side Story (the 1961 film).
The next similar Pops presentation will take place March 10–12, when concertgoers can see Black Panther, 2018's smash hit from Disney and Marvel Studios, while the Orchestra performs the film's Academy Award-winning score by Swedish composer Ludwig Göransson. Damon Gupton, Pops Principal Guest Conductor, is scheduled to conduct this concert.
"There are so many amazing composers out there, and he's one for sure," said Cincinnati Pops Conductor John Morris Russell of Black Panther's Göransson. "So much of the score is based on African drumming. Göransson collaborated with one of the great masters of African percussive arts, Massamba Diop, to record this fantastic score."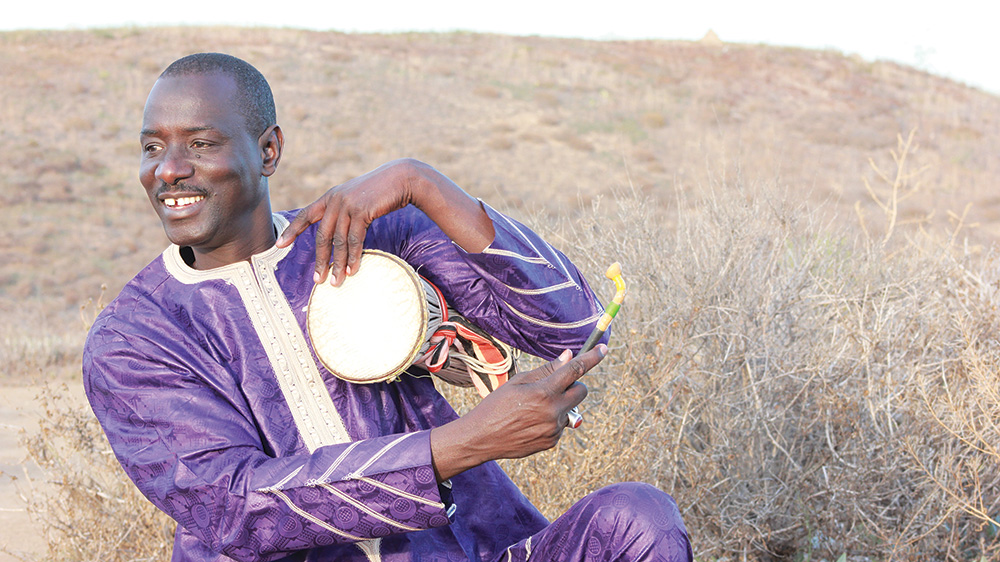 In a thrilling move, Diop, a virtuoso of the tama, a Senegalese talking drum, will be performing with the Pops for the Black Panther screenings.
As Russell explains it, pairing movies with live orchestral music goes back to the silent era, but has really taken off in recent years due to John Williams. "Williams' music is so brilliantly crafted to make the most of the drama inherent in an orchestra," he said. "So it's been very exciting to see how this whole genre of concerts has blossomed.''
Williams, a prolific film composer for decades and still active at age 91 (he wrote the score for Steven Spielberg's recent The Fabelmans), became widely celebrated in the 1970s and early 1980s for his rousing scores for the first Star Wars movies. Among his many accomplishments, he has continued to pen music for not only Star Wars films, but also other box office hit film series such as Harry Potter and Indiana Jones.
Williams also served as principal conductor for the Boston Pops from 1980 to 1993, where he was an early adopter of playing film scores and showing film clips. As Cary O'Dell wrote on a 2022 Library of Congress blog celebrating Williams' first Star Wars score in 1977, "Williams's 14-year tenure in Boston was seminal in bringing the best of the film-music repertoire to the concert hall."
Film distributors now have special digital "prints" with the recorded scores removed. Some of those distributors then send technicians on-site to aid an orchestra's technicians with a presentation. And orchestra conductors receive special monitors that help them keep track of a score's cues, measures and tempos. (They can also use audio click tracks.) As a result, film scores not originally meant to be performed live from start to finish now have worldwide bookings, just like the biggest classical music soloists.

"There's so much responsibility in keeping the orchestra together, making sure they sound great and then coordinating with the film at the same time," Russell said of an orchestra conductor's responsibilities at a film with live orchestra concert. "You're always on high alert. It's kind of ironic because, although this is very complicated to conduct, if you do your job exceedingly well with utmost accuracy and upmost artistry, no one notices what you're doing."
The audience, however, may indeed notice how well the film they're watching looks and its dialogue and special effects sound. That's important, and the CSO has invested in equipment to make the best impression possible. The orchestra rents two projectors (one is for emergency back-up) and a screen for each film engagement. Depending on the aspect ratio of the film, the screen is either 17-by-30 feet or 15-by-35 feet. Speakers are installed on the sides of the stage, under the balcony, and also on the balcony and gallery levels. "Currently, we do not have a permanently installed screen or projector for our film concerts because renting always ensures we have the most up-to-date technology for these films," said Director of Operations Laura Bordner Adams.
The pairing of film with live orchestra in Cincinnati isn't just a Pops thing. Back in 1991, Jesús López Cobos conducted the CSO during a performance at Riverbend, where the Orchestra performed Sergei Prokofiev's score for Sergei Eisenstein's 1938 Alexander Nevsky while the film was shown without its recorded score.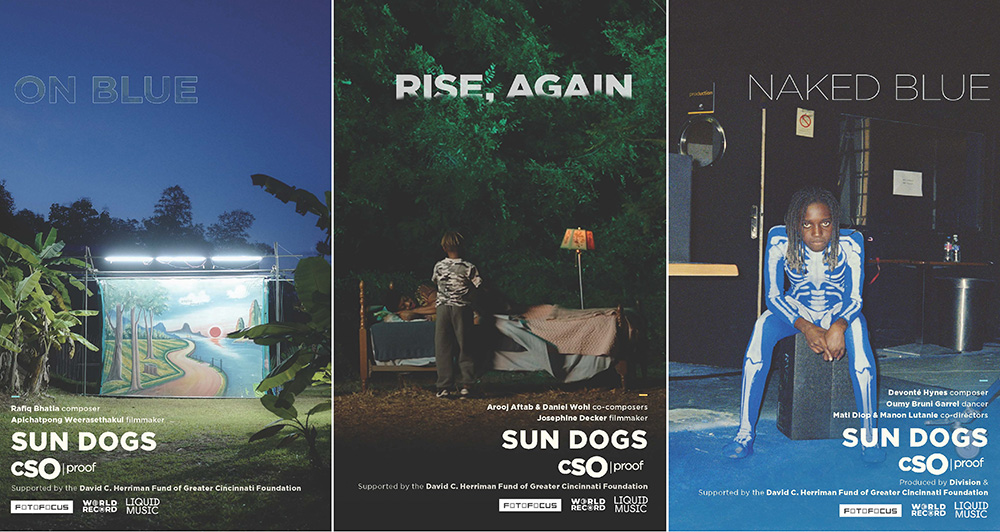 And, last October, the CSO offered three nights of a daring experiment known as Sun Dogs—part of the Orchestra's risk-taking CSO Proof programming. Working with Minnesota's Liquid Music, the Orchestra commissioned several respected, artful filmmakers to work with contemporary composers on three short, adventurous films with music. As the films were projected at Springer Auditorium, the Orchestra under conductor Matthias Pintscher played the composed music. The American director Josephine Decker (Shirley) worked with co-composers Arooj Aftab and Daniel Wohl on Rise, Again; composer Rafiq Bhatia collaborated with Thai director Apichatpong Weerasethakul (Memoria) for On Blue; and French/Senegalese filmmaker Mati Diop (Atlantics) and her collaborator, French filmmaker/publisher Manon Lutanie, worked with composer Devonté Hynes on Naked Blue.
"Anything that extends the realm of possibilities that we have is very welcome," said Pintscher, who holds the position of CSO Creative Partner with the Orchestra. "These are times of innovation, so naturally it's a requirement that institutions like a symphonic orchestra have a response to that. I think it's an exciting, beautiful challenge. It keeps us on our toes, keeps us moving forward, keeps our minds fresh and makes us think. I think that's a most crucial requirement of this art form."