Meet Our New Orchestra Musicians, Part III
by Meghan Isaacs
In this final installment of articles profiling the CSO's new class of musicians in the 2022–23 season, we meet three string players who all seemed destined to become professional musicians. Not only are bassist Luis Celis, cellist Daniel Kaler and violist Gabe Napoli all just beginning their professional careers, they have each already found a wealth of inspiration during their first few months with the CSO. And, like many of their colleagues, for these three musicians the strong presence of music by Gustav Mahler on the Orchestra's season programming only sweetens the deal.
Luis Celis, bass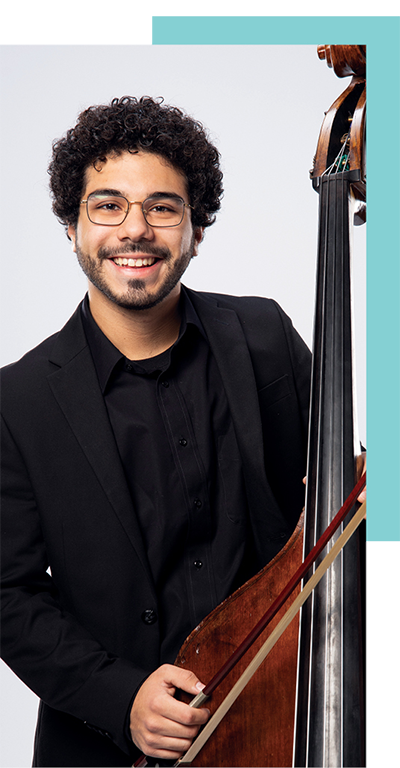 Born and raised in Venezuela, Luis Celis started his journey as a musician in utero, when his father would put headphones on his mother's belly. Luis started at the local conservatory when he was four years old. At 15, he picked up the bass, knowing he wanted to play in an orchestra as well as have opportunities with other types of music. Luis earned a full scholarship to Berklee College of Music in Boston.
He followed his studies at Berklee with a year as a CSO-CCM Diversity Fellow. He also enjoyed a summer fellowship with the Boston Symphony Orchestra (BSO) at Tanglewood, working with BSO musicians and conductors like Andris Nelsons, John Williams and Thomas Adès. One of the perks for bass fellows is getting to sit in for one week with the BSO. Lucky for Luis, his week of playing coincided with the BSO's performance of Debussy's La Mer and the Elgar Cello Concerto with Yo-Yo Ma.
In the BSO audience that night was CSO Principal Bass Owen Lee, who has become one of Luis' most important mentors. Another mentor has been Benjamin Zander, who conducted an orchestra with which Luis played in Boston. "[Zander] gives assignments at the end of rehearsal, but they are connected with music in ways you wouldn't normally expect. One was to 'stand up for something you believe in and be vocal about it.' Another was 'Be ambassadors for what the world needs—beauty, civility and connection.' So we'd be busy getting music ready but, more importantly, we had life lessons," said Luis. Zander crystalized these concepts in his book The Art of Possibility, of which Luis is a fan.
Another lesson from Zander was to be on the lookout for "shining eyes." "There's a look in someone's eyes after you play something transformational—you can see in their eyes whether they are 'shining' or not. So, I keep as many shining eyes as I can in my life," said Luis.
Luis enjoyed a serendipitous first concert as a member of the CSO, as the program included Mahler's Second Symphony. Luis recalled the first time he performed the work, as a student in Venezuela.
Throughout the months of rehearsal, the country was having electrical problems, so the orchestra members kept fingers crossed that the power would stay on for the performance. "We started playing and the lights went off, so we wondered what we were going to do. The conductor just turned to the audience and said, 'We're going to play this piece from memory.' So we played Mahler 2 in a full cathedral from memory," he said.
When he's not rehearsing or performing, Luis is likely spending time with his family. He also likes to check out new restaurants (his favorite so far is Pepp & Delores), try new recipes, and keep up with the Venezuelan recipes from his mom. He's enjoyed the warm welcome from his colleagues and other Cincinnatians: "Coming from Boston, Cincinnati was a downgrade in size, but not in terms of people's hearts," he said.
Daniel Kaler, cello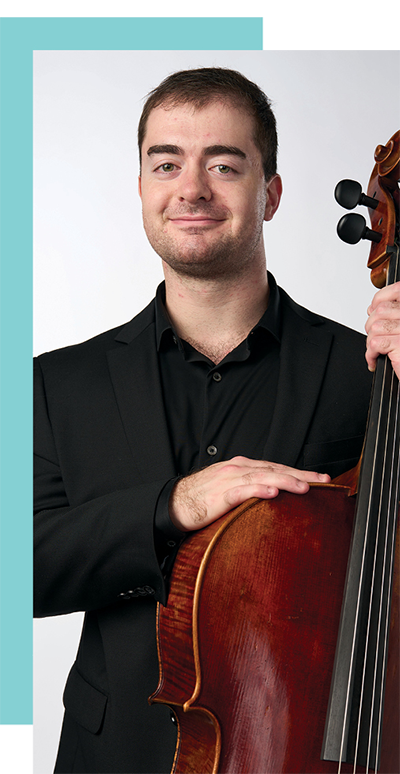 Daniel Kaler was born in Rochester, New York. Both of his parents are violinists, and they started him on violin at the age of three. At the time, Daniel decided he disliked the E-string since it did not correspond to the kind of sound he imagined himself producing. Just before the age of four, Daniel recalls listening to a recording of Jacqueline du Pré performing the Elgar Cello Concerto under the baton of Daniel Barenboim, which sealed his fate: "It took my breath away. I was so amazed at how human du Pré made the cello sound."
The family eventually moved to Chicago, where Daniel studied for three years with Gilda Barston, Stephen Balderston and Hans Jensen. After graduating a year early from New Trier High School, Daniel continued his education at the Cleveland Institute of Music, where he studied with Mark Kosower. He completed master's degree work under Brinton Smith at Rice University's Shepherd School of Music. Winning an audition for the Cincinnati Symphony Orchestra immediately after his graduation from Rice University felt like a crowning achievement after many years of hard work.
Daniel's parents have been some of his strongest supporters along the way, offering specialized insight as fellow musicians. "They've given me so much advice that is timeless, no matter the situation. When I'm 40 or 50 years old, it will be as relevant as when I was 20," he said.
When not engrossed in music, Daniel loves bodybuilding. "I try to train several times a week to build some good muscle," he said. He finds that weightlifting helps him strengthen the muscles he uses to play cello every day, thus helping him avoid injury. It also has taught him a lot about the importance of consistency, discipline, and having a growth mindset. Daniel relaxes with tea, movies, jigsaw puzzles, and playing with his two cats when he's at home with his family.
One of Daniel's mantras comes from Stephen Covey's The 7 Habits of Highly Successful People: "Covey said, 'Begin with the end in mind.' I think about that particular habit a lot. When I think of my future, I try to work on building a life with long-term goals in mind," Daniel said.
Gabe Napoli, viola
Growing up just up the road in Cleveland, Gabe Napoli started playing violin when he was four years old. He played violin throughout his college years at Northwestern, where, at a certain point, he wanted to start a string quartet with his friends. "One of us had to play the viola, and that was me," he said. Through his love of chamber music, Gabe grew to appreciate the instrument and, thankfully, his teachers Almita Vamos and Robert Hanford were supportive (in part because of his large hands and arms!). While he finished his violin degree, he decided to take the viola seriously, and he returned to the Cleveland Institute of Music for master's degree studies in viola with Robert Vernon and Mark Jackobs. After graduate school, Gabe spent three seasons with the New World Symphony before winning the audition here in Cincinnati.
Along the way, Gabe has been fortunate enough to work with many strong mentors, from his youth orchestra coaches all the way through colleagues at the New World Symphony. One of his teachers from his youth, Dr. Stephen Sims, taught Gabe from the time he was nine years old through his formative teenage years. "He devoted so much time to me and gave me multiple lessons a week. I did a lot of growing up during that time," said Gabe.
Gabe makes time for other art forms as well. "Film, theater and visual art are also hugely inspirational to me as a musician. I love going to museums or going to theaters and seeing actors and different kinds of performers," he said. Aside from music and the arts, Gabe is working on his cooking skills, and he considers himself an "armchair philosophy student" through reading and taking in podcasts and other media.
While there are several pieces Gabe looks forward to performing one day (including Mahler's Das Lied von der Erde ["The Song of the Earth"], he has also discovered that playing familiar music in a new environment can be just as exciting. "I'm surprised by how I'm never bored by performing, even when it's the same music. I don't think that will go away any time soon," he said.