Women Who Inspire:
Heroes, Legends and Storytellers
by David Lyman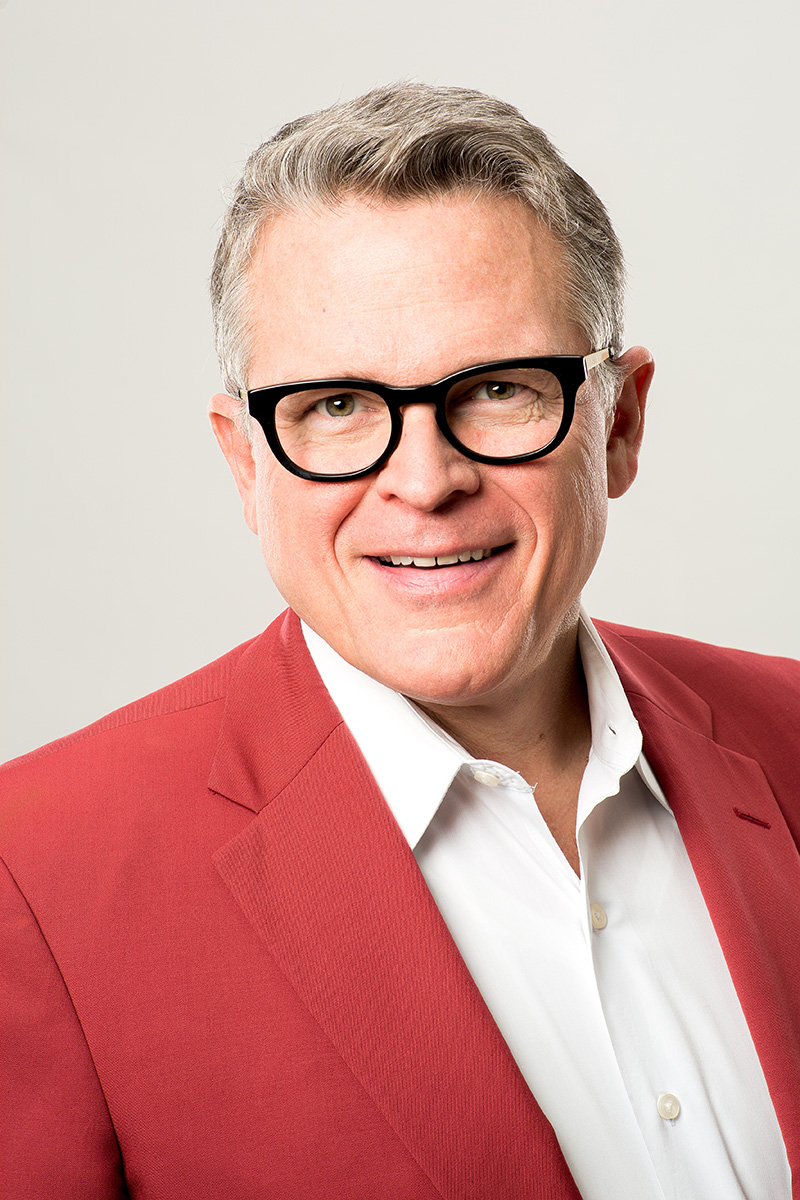 John Morris Russell
"I'll tell you my Aretha story," said Cincinnati Pops conductor John Morris Russell. He and I were supposed to be talking about the Pops' March 18–20 concerts called "RESPECT: A Tribute to Aretha Franklin." If you know anything about JMR, he just has to tell this story. And it's always a good one.
It was July 2016. He was scheduled to conduct Franklin—the "Queen of Soul"—in a Riverbend Pops concert. It was a sweltering night, with temps in the 90s all afternoon. But that wasn't the worst of it.
"We were worried she was going to pull out at the last minute," he says, recalling how health issues had caused her to bail on several other concerts in recent years. "But she so much wanted to come down to Cincinnati. It was an easy trip for her. She traveled in a tour bus, and it's a straight shot from her home in Detroit." (For the record, Russell pronounces it DEE troit.)
She would go on to cancel important concerts later that summer: in New York, Washington DC, St. Louis and Detroit. But on that night, July 24, 2016, she showed up. There was a short rehearsal with Aretha's music director. But Russell didn't have a chance to speak directly with her.
"Just before the show started, her manager shouts down the backstage hallway, 'Make Way for the Queen of Soul.' The sea parted as she walked along in her full-length fur coat. I just kind of shuffled along behind her."

Aretha Franklin with the Cincinnati Pops at Riverbend, July 2016.
The concert? "Remarkable," said Russell. "The crowd went crazy."
But the best came later, after the massive crowd of autograph-seekers had finally made their way back to their cars.
"Her manager came up to me and said, 'do you want to meet Aretha?' I had all these things I wanted to say to her, like 'I listened to you as a kid' and 'I thought your Nessun dorma was fabulous.' But when I walked into her dressing room, her feet were up on a coffee table and she was drinking an ice cold can of Vernors."
They didn't talk music. Instead, the Queen regaled the Maestro with directions for her glazed ham recipe. [Find the recipe online here.]
"I still remember it," said JMR. "It had a can of Vernors, a dollop of French's yellow mustard, some maraschino cherry juice, a half cup of brown sugar…she talked about cooking food for the family. On the one hand, she was the Queen of Soul. And yet, she was also as down home as your mom or aunt."
When you think about it, that same amalgam of qualities is what made Franklin such a formidable star. Her music managed to be raw and transcendent at the same time. Even as she grew frail during her last years—she passed away in August 2018—her performances were breathtaking. When she started to sing, the music imbued her with monumental strength and left audiences inspired and wanting more.
It's the enormity of Aretha's musical impact that inspired JMR to create the tribute concerts. Working with a trio of vocalists—Blaine Krauss, Tamika Lawrence and CoCo Smith—JMR and co-producer Scott Coulter have created a show that demonstrates the enormous range of Aretha's talent.
"She was able to do extraordinary things with her voice," said JMR. "And we're hoping to capture some of that with this show. We can't imitate her. Even if we wanted to, it would be impossible. This is—as the title says—a tribute."

Cynthia Erivo performs alongside John Morris Russell and the CSO
in the 2017 Classical Roots program at the Cincinnati Crossroads Church.
A week later, on March 29, JMR and the Pops will collaborate with Emmy, Grammy and Tony Award-winning singer/actress Cynthia Erivo in a one-night-only performance that pays homage to a handful of legendary divas, from Nina Simone and Billie Holiday to Gladys Knight, Etta James and Mahalia Jackson. And, of course, Aretha, who Erivo portrayed in the much-lauded anthology series, Genius: Aretha.
"I remember watching that series," says Russell. "I was glued to the set. She gave an incredibly electric performance. And then I saw her Oscar-nominated role as Harriet Tubman. And…she was remarkable."
What's most impressive about Erivo, says JMR, is her ability to invest a role with authenticity, whether she is acting or singing.
"Her performances have such an absolute genuine quality—you believe her," he said. "Cynthia sang at our Classical Roots concert in 2017. And of course her singing was brilliant. But she also turned out to be such an amazing actress. When you're performing music, you're telling a story. And the best performers are the ones who are able tell that story, to live in someone else's shoes. That's Cynthia."
Lollipops Concerts Return—Live!
Michelle Merrill has been talking with Sam Strater, senior advisor for Cincinnati Pops planning, about conducting here in Cincinnati for ages. But, like so many good ideas, conflicts and a pandemic kept it from happening. Until now.

Michelle Merrill
Merrill is music director of the Coastal Symphony of Georgia and spent four years as the associate conductor of the Detroit Symphony Orchestra under vaunted music director Leonard Slatkin.
Many up-and-coming conductors consider concerts for young people to be "lesser" engagements. The audiences are young and sometimes the musical repertoire isn't regarded as serious.
Not Merrill. Perhaps it's because she has two young sons. Or possibly it's that, under the tutelage of Slatkin, she grew to understand the importance of all music in building audiences.
"Concerts like this might be some of these children's first opportunity to see a symphony orchestra," said Merrill. "Being in the concert hall with the music is so different from hearing it on a television or some other recording. In a concert hall you can actually feel the walls pulsing with the sound. Children might not be able to explain that difference. But they know it. They can feel it. And they will never, ever forget it."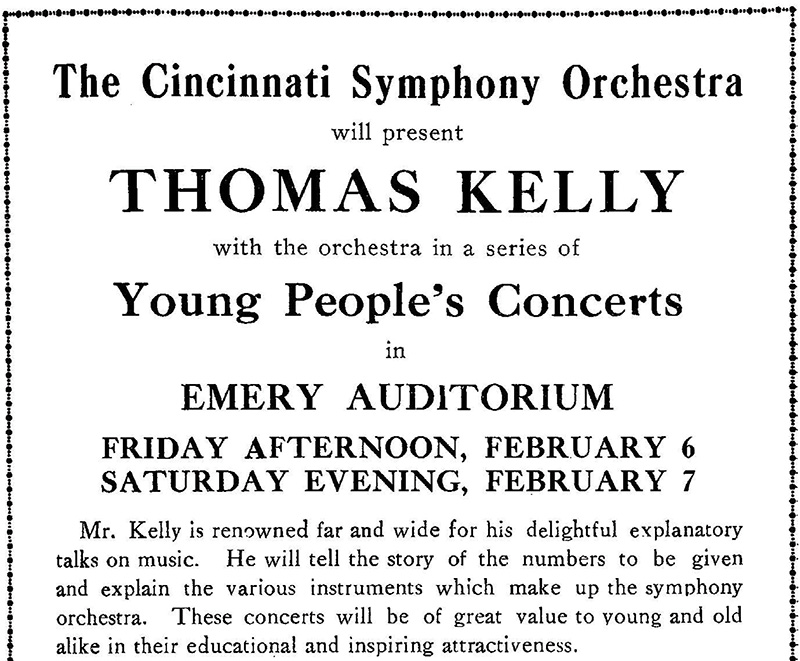 A 1920s advertisement in the CSO program book
for the first Young People's Concert.
Cincinnati, she knows, has a long history of performing for young audience members. Indeed, the orchestra's first Young People's Concerts took place more than a century ago. Since then, the orchestra expanded the Young People's Concerts, added a pair of youth orchestras, and launched the Lollipops series—the program that will bring Merrill to Cincinnati.
"Last August, Sam and I started talking about what we wanted this concert to be, said Merrill. "We wanted it to be joyful. And entertaining. And, to a certain extent, to touch on current events. Finally, we came up with this—Girls Rock."
For this Lollipops program, the girls who "rock" are female heroes. Some are mythological, like the Valkyrie warriors of Norse mythology. Others aren't even human, like the snowy owl Hedwig, Harry Potter's loyal protector. Others have their own, real-world musical yarns to spin, like composer Jennifer Higdon and singer Aretha Franklin.
It will be Merrill's first time hearing Cincinnati's orchestra.
"I know the reputation, of course," she said. "I worked with one of my dear friends, Damon Gupton (the Pops' Principal Guest Conductor), in Detroit. He always talked of loving to go back to Cincinnati to work with the orchestra. I guess I'm about to find out for myself. I can't wait."