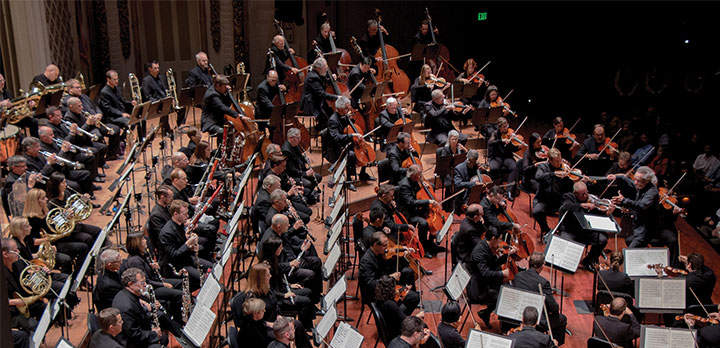 By Franck Mercurio and Chris Pinelo
The Cincinnati Symphony Orchestra's season finale is nearly here! On May 10 and 11 the Orchestra will conclude its 2018–19 season with Louis Conducts Mahler 5.
It's a fitting finish to the Orchestra's 124th year, given that the CSO presented the U.S. premiere of this powerful work in 1905, just five months after its European premiere. Then as now, the CSO played not just the "classics," but also new works created by contemporary composers.
The CSO's upcoming 125th Anniversary season promises to bring even more. Celebrating the past while keenly anticipating the future, Music Director Louis Langrée and the Orchestra will perform classic compositions (including Beethoven's Symphonies 5, 6 and 8, completing the three-year Beethoven Revolution cycle) while presenting newly commissioned works and world premieres—all brought to life by a diverse array of star performers.
"This coming season reflects the Orchestra's artistry as well as a commitment to pulling the art form forward, fulfilling our mission to seek and share inspiration, and advancing our vision to better engage broader audiences and our wider community," said CSO President Jonathan Martin.
The 2019–20 season will welcome acclaimed guest artists Renée Fleming and Anne-Sophie Mutter, accomplished guest conductors Xian Zhang and Thomas Wilkins, Artist-in-Residence Guy Braunstein, and Grammy winner Isabel Leonard, among many others. The season will include performances of Beethoven's legendary Akademie program, a fully staged production of Ravel's opera L'Enfant et les sortilèges, seven CSO commissions, five world premieres, three U.S. premieres, as well as an experimental new concert series titled CSO Proof.
Leading up to the season, the Orchestra will present CSO Look Around, a first-of-its-kind event celebrating community, diversity and inclusivity on August 3 in Washington Park. Featuring the Orchestra as its centerpiece, the event will culminate in a new musical work created by Shara Nova and Mark DeChiazza with collaborators Siri Imani and 30 artists and groups from the Cincinnati region. So far, the project involves 30 different community organizations.
"I can think of no better way to kick off this celebratory season than to bring people together through music in the spirit of seeking and sharing inspiration," said Music Director Louis Langrée.
The official 125th Anniversary season commences September 20 and 21 at Music Hall with At the Summit: Strauss + Dessner. Langrée will open the program with Richard Strauss' Don Juan—which Strauss himself conducted during his first visit to Cincinnati in 1904—and closes with the composer's An Alpine Symphony, a massive symphonic work that had its U.S. premiere with the CSO in 1916. In between the two Strauss pieces, guest soloists Katia and Marielle Labèque will perform the U.S. premiere of Cincinnati native Bryce Dessner's Concerto for Two Pianos.
For the CSO's actual 125th birthday weekend (January 18 and 19, 2020), Langrée will conduct a concert program honoring the Orchestra's legacy of music-making. The 125th Anniversary Celebration opens with a world premiere commission by retired CSO Principal Bassoon William Winstead, who performed in the Orchestra for 31 years. Next is Exil!, composed by legendary violinist Eugène Ysaÿe, who served as CSO Music Director from 1918 to 1922. That work leads to Duke Ellington's New World A-Comin', which the CSO recorded with Mr. Ellington in 1970. Pianist Aaron Diehl will make his CSO debut in the Ellington work.
George Gershwin last performed live with the CSO in 1929, but thanks to a piano roll he created in 1925, the CSO will again accompany the late composer and pianist in his iconic Rhapsody in Blue, using that captured performance for the 125th Anniversary Celebration weekend concerts.
In the final season of the CSO's three-year Beethoven Revolution, exploring all nine of the composer's symphonies, Langrée will lead the CSO in a recreation of the legendary Akademie concert held in Vienna in December 1808. The most important performance in Beethoven's lifetime, the concert featured the premieres of his Fifth and Sixth symphonies, the Choral Fantasy, and the Fourth Piano Concerto with the composer himself at the keyboard. On February 29 and March 1 of 2020, the Orchestra will perform the Akademie concert program in its entirety. Each performance will be divided by a dinner break in the Music Hall Ballroom, which will be transformed into a Viennese Biergarten.
The CSO has always drawn inspiration by commissioning and performing new music. In its first 125 years, the Orchestra gave 325 works their U.S. or world premieres. For the 125th anniversary season, the CSO performs commissions from a diverse array of composers including Christopher Rouse, Julia Wolfe, Gabriella Smith, Sebastian Currier, Julia Adolphe, Caroline Shaw and William Winstead.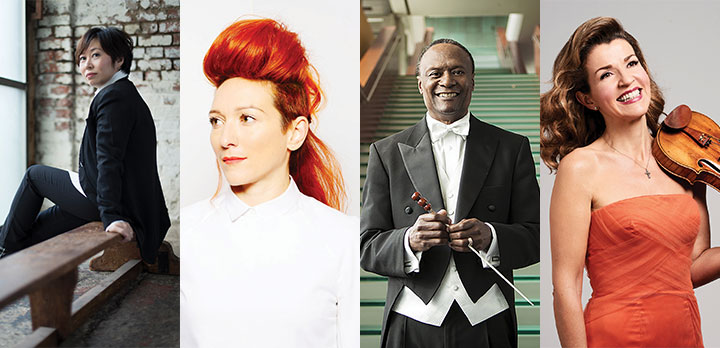 "For an orchestra to evolve, it must innovate," said Martin. "That doesn't mean we cease performing timeless masterpieces of the orchestral canon; that music is fundamental to what we do and who we are, yet at the same time, we must take advantage of the extraordinary breadth of new, eclectic artistic talent and deploy it in a way that better engages the community we serve, and in doing that, draw inspiration from that community."
"The Cincinnati Symphony Orchestra is proud of its history and extraordinary 125-year legacy," said Langrée. "We are fortunate to be able to draw on this history for inspiration as we work to create the future of music in Cincinnati and continue looking forward to the next 125 years."
And what's on tap for the 125th Anniversary's Season Finale in May 2020? The CSO will perform Mahler's Symphony No. 3 along with a newly commissioned work by composer Julia Adolphe. Again, past meets present—and anticipates the future—at the Cincinnati Symphony Orchestra.