Spotlight on Timothy Lees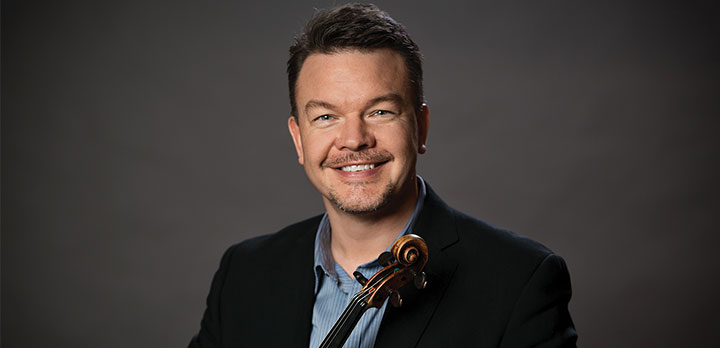 by Kayla Moore
Tim Lees has been an integral part of the CSO family for 20 years. As the Orchestra's Concertmaster, he has served not only as the leader of the violin section, but also as a voice for the Orchestra. He has also been a familiar, friendly face to audience members and a symbol of the musical excellence the Orchestra projects year in and year out. Lees, who has retired from the Orchestra, shared highlights and fond memories of his incredible tenure with the CSO and provided insights into his life as a performer.
Tell us the story of how you came to find your instrument.
All of the children in my family grew up playing some kind of musical instrument. I was the only one to choose a stringed instrument and to ultimately pursue music as a career. When I was in first grade, my school presented a string quartet at an event where they introduced everyone to the various instruments of the string family. I was particularly drawn to the violin and immediately went home and told my parents that I wanted to play the violin. I began taking lessons at my school and then about a year later transitioned to private lessons. The first years of my study weren't particularly productive and it wasn't until I was 12 years old that I switched teachers and everything changed for me.... I learned a more balanced approach to the instrument with solid musical and technical foundations. I credit this teacher with being the one who helped instill a real love and passion for music and the violin in me.
What has been your favorite part of performing with the CSO?
I think simply being a part of something much bigger than myself. A symphony orchestra is a complex organism, and yet it is also absolutely gorgeous and breathtaking when everyone is able to come together and perform some of the most stunning and captivating music ever composed as one voice. I never have and never will take for granted the wonderful privilege it has been to be part of such a world-class organization. I particularly enjoyed the immense pleasure that our many performances would bring to our audiences...the many smiles, looks of amazement and sheer joy after a great performance from our listeners is something I will never forget.
What are some memories you're particularly fond of from your tenure with the CSO?
One of the first pieces I ever performed and recorded with the CSO was Mahler's Third Symphony. To this day it is my favorite Mahler Symphony and might even be my favorite overall.
Perhaps one of my most memorable performances was with the CSO when we were on tour at Carnegie Hall performing Strauss' Ein Heldenleben. This piece has some of the most prominent violin solos in all of the orchestral literature, and I vividly remember the excitement of being able to take this piece on the road to Carnegie Hall. It was a great thrill to have performed well and to garner some wonderful reviews for my Carnegie Hall debut with the CSO!
One particularly funny moment I will never forget occurred during a performance of Shostakovich's Symphony No. 9 at Music Hall about 12–13 years ago. The final page of the symphony has some very raucous pizzicati for violins. I was obviously very jacked up, enjoying the crazy ending to this piece, because I somehow managed to grab the strings and pizz with such force that the bridge of my instrument dislodged and collapsed with a loud pop. The force of the tension released on the strings shot my bridge across the stage, where it came to rest at the feet of our Principal Cello, who looked at me with a stunned and almost laughing expression on his face! The strings of my instrument were dangling in the wind and I faked the rest until the end of the piece. Simply unforgettable!
How will you keep music in your life after retirement?
I am currently and will continue to be a very active teacher at CCM. I've gained a lot of appreciation for the incredibly important role a teacher plays in the overall development of young talented musicians and I am eager to continue honing my skills as teacher and mentor. I feel I have a lot to offer when it comes to training young musicians, including young orchestral musicians. My many years of experience in the leadership roles in symphony orchestras has given me a unique insight into the requirements needed and challenges inherent to these positions. I will continue to use this experience to help develop the next generation of young performers. In addition, because of my own dealings with injury and recovery I have a great deal of empathy and compassion for those going through the same kinds of difficult
circumstances. I hope to encourage and help lead others on their own paths of recovery and to also help them prevent injury.
We are so excited for Tim as he ventures into retirement and spends more time with his family and CCM students. It has truly been an honor to have him as part of the CSO family. Congratulations, Tim!