Getting to Know Sammie Hendley, CSO Volunteer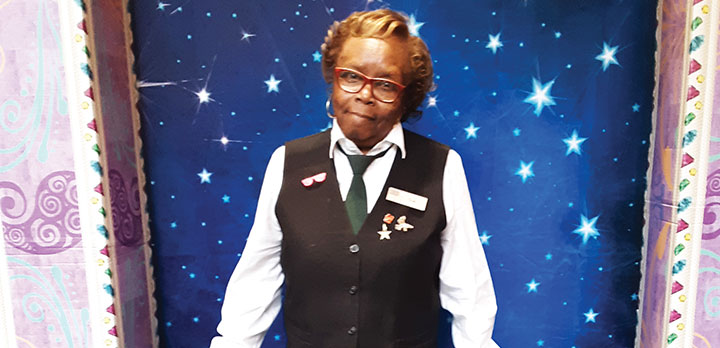 by Franck Mercurio
April is recognized as National Volunteer Month, and the Cincinnati Symphony Orchestra relies on the support of some 170 volunteers who generously donate their time and skills. CSO volunteers work as Bravo Shop Assistants, Concert Concierges and Wayfinders at performances. They also help behind the scenes as researchers and office assistants and as aids for educational initiatives.
You may recognize volunteer Sammie Hendley as one of our volunteer Bravo Shop Assistants. She has been devoting much of her free time to the CSO for the past five years. Fanfare Cincinnati recently reached out to Sammie and asked about her experiences volunteering with the CSO.
When and where did you first start volunteering?
I first started volunteering at the Aronoff about five years ago—where I still volunteer—and then went to Music Hall, which I love. I love working in the Bravo Shop during CSO concerts. I'm doing mostly sales.
What do you love about it?
Well, you know I live on my own, so I have people to talk to [at the Bravo Shop] and engage with. But I'm all about fun, you know? I don't volunteer anywhere where I'm not having a lot of fun. And at the Bravo Shop, I do have fun with the people who come in.
How often do you try to volunteer?
I volunteer quite a bit, and I usually try to be [at Music Hall] at least once a week. Sometimes I'm there a couple of nights a week.
Are you retired now?
Yes, I'm retired. I was a bakery manager at Kroger's.
But in the summer, I work for the Reds—the Cincinnati Reds. Since (the CSO) concerts are generally over in the summer, I work almost every day at Great American Ball Park.
I love baseball. It's so much fun!
So you work at Great American Ballpark?
Yes, I work there in customer service. I have to have money so that I can volunteer! [laughs]
Besides being a Reds fan, you're also a music lover?
Oh yes. That's another reason I volunteer: to hear good music—and not have to pay to do so. [laughs] So, that's particularly why I volunteer: I enjoy the concerts, and I enjoy being with the people.
Volunteering at the CSO and working for the Reds, do you get any really hard customer service questions?
No, not really, because…well, first of all, my mother owned a grocery store, and she always said to me, "Give good customer service" and remember that "I'm no better than anyone else, and no one else is better than me." And, so, I had that from Day 1.
So you were raised that way.
Yeah, I got that from my mom. But I didn't like it when I was young. [laughs]
Are you a lifelong Cincinnatian?
I was born in Atlanta, but I'm a longtime Cincinnatian. I came up here when I was two, and I've been here ever since. So yeah, I'm a Cincinnatian. I'm a Buckeye—not a Georgia Peach!
Anything else you want to tell us about your volunteer experience here?
I really enjoy the people. It's always a lot of fun—and they seem to enjoy me, too. When they come to the concerts, they're ready for a good time, and I, in my little ways, try to help them have a good time.
So, you know, my whole thing I believe in is that old saying, "Sing as if no one's listening and dance like no one's watching!" That's my motto. Yeah, that's my whole thing.