Meet Our New Orchestra Musicians, Part I
by Meghan Isaacs
The Cincinnati Symphony Orchestra welcomes several new faces to the stage this season. Over the next few issues of Fanfare Magazine, we'll learn more about each of these talented new members of the Orchestra. While each musician of course pursues his or her own hobbies and interests, it's clear they are all highly passionate about every facet of their lives—from the music they make with their colleagues to community engagement and their relationships with the people around them. All have remarked on how welcoming Cincinnati has been, and they are thrilled to be performing some big orchestral standards on the program this season, particularly Mahler's Second Symphony, Strauss' Also Sprach Zarathustra, and Bartók's Concerto for Orchestra.
Felicity James, Associate Concertmaster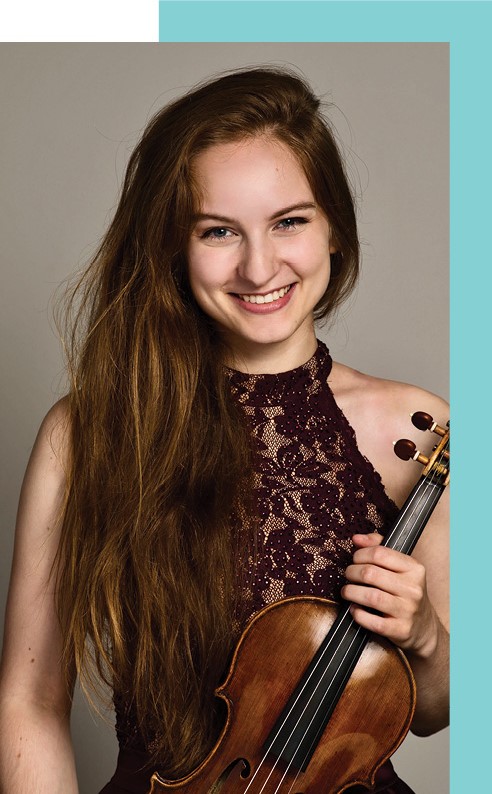 Having grown up watching her father perform in the Seattle Symphony, playing the violin was a natural progression for Felicity James. "I couldn't imagine life without it," she says. Felicity earned her bachelor's degree from the Colburn Conservatory of Music in Los Angeles and has enjoyed a busy career since then. She has performed as concertmaster, guest musician and soloist around the country, and she most recently was Associate Concertmaster of the Minnesota Orchestra.
While her dad is the first source of inspiration in her musical career, Felicity is also grateful to her teacher Robert Lipsett and many other colleagues she's encountered along the way. "I'm able to learn something from everyone. It's one of the beautiful things about being in this business," she says.
While still settling into life in Cincinnati, Felicity has started to discover what the city offers, including the zoo, the art museum and the National Underground Railroad Freedom Center. "It seems like there are a lot of amazing places to discover," she says. "One place I've really wanted to go to is the American Sign Museum. It seems really quirky and fun."
When not rehearsing and performing, Felicity loves to travel every chance she gets. Next on her bucket list is New Zealand. "I'm a dual citizen of Australia, so I've been there several times, but never to New Zealand. So I'm dying to go!" She also enjoys reading, watching a good documentary, and learning languages. Felicity particularly enjoys listening to vocal music, and one of her favorite ensembles is Voces8. "I'm always on the lookout for the next thing they're up to."
Joseph Bricker, Associate Principal Timpani/Section Percussion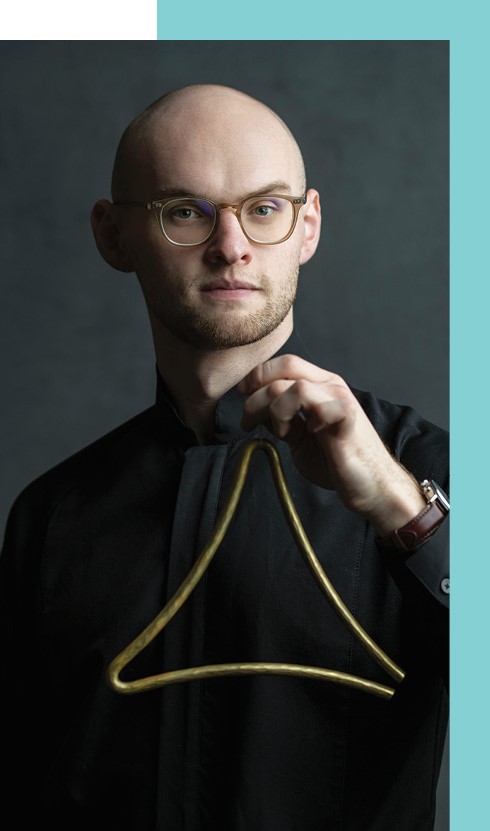 Hailing from Evanston, IL, Joseph Bricker wanted to play saxophone in the band in fourth grade. The band director gave him a mouthpiece, and when Joe couldn't figure out how to make a sound, he handed Joe drumsticks instead. His high school band director, Dr. David Fodor, mentored and challenged Joe, opening his mind to what orchestral playing could be. Joe's master's degree teacher, Cynthia Yeh, later told him that, "As percussionists, we don't get enough notes for any of them to not matter"—a mantra that sums up what has always kept Joe fascinated with percussion. After earning his bachelor's degree from Juilliard, Joe returned to Chicago and eventually took a fellowship with the Civic Orchestra of Chicago before winning the audition in Cincinnati.
Joe focuses most of his spare energy on community engagement initiatives. "In modern life we can all be so detached from each other, but that one note of the triangle could be the thing to forge a connection with a complete stranger," he said. Although Joe has taken part in such initiatives since high school, one passion project in particular stands out: Chicago, From Scratch, which he launched with violinist Hannah Christiansen. The project gives creative license to students, providing them with a "contemporary musical starter pack" that includes composition workshops and an invitation for the students to write anything they want for any combination of violin and percussion. Joe and Hannah then learn the compositions under the students' guidance. Next comes a performance event at which professional musicians premiere the students' music, as well as recording sessions engineered by the students themselves. "We just try to empower these students. The most satisfying thing for me musically is to see someone else's brain light up," said Joe.
While Chicago, From Scratch takes up most of Joe's free time, he makes time for his cats, Jacie and Fitzgerald, as well as cooking, pottery and running.
Stephen Jones, Assistant Principal Bass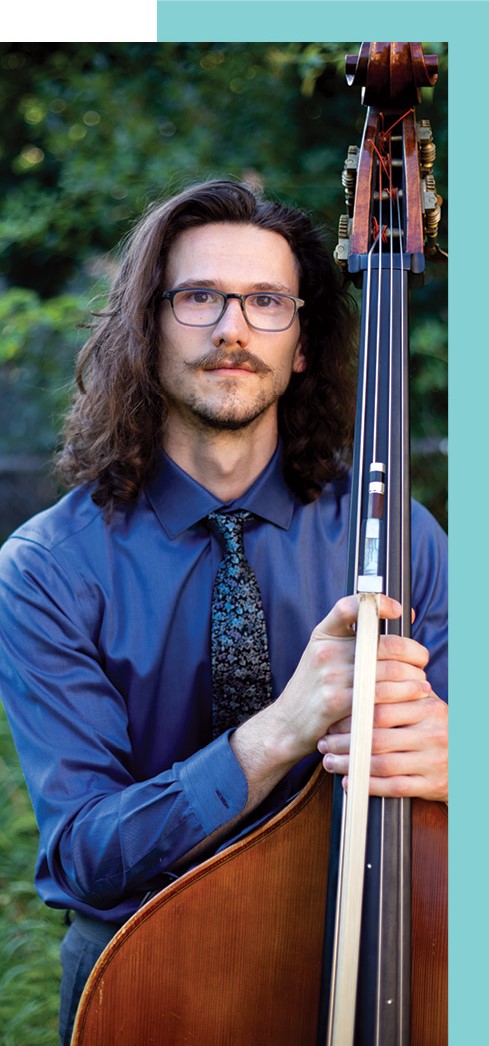 Born and raised in Myrtle Beach, SC, Stephen Jones first started playing the bass at age 13, mostly as a result of his older sister's cajoling. In high school, his interest in playing bass grew, eventually leading him to Eastman School of Music, where he studied bass with James VanDemark. He then continued his studies at Bard College with Leigh Mesh, and spent his first summer at Chautauqua Institute, where he met CSO Principal Bass Owen Lee. The two hit it off, and Stephen eventually auditioned for the University of Cincinnati College-Conservatory of Music (CCM) to study with Owen. During his CCM program, he took advantage of opportunities to substitute with the CSO. "I would think, 'this is it. This is all I can imagine,'" said Stephen, reflecting on the joys of biking to Music Hall and making music with a high level ensemble.
Stephen's and Owen's shared interests go far beyond classical music. "One of the first things we bonded over was metal," said Stephen. "I was in a metal band in middle school. I love going to see Electric Citizen [the local metal rock band of which Owen is a member]."
Another major influence in Stephen's life has been composer Joan Tower, with whom he lived for a time. He reflected on that short but potent time, in which she imparted not just musical wisdom. "One day I was kind of complaining about everything I had to do, and she stopped me and said, 'Where's your room for love?' Those reality checks, those guides show you that you can have both things—a successful career and a balanced life—and they aren't mutually exclusive."
Coffee is Stephen's other great passion, and he's found a hospitable coffee scene in Cincinnati. He spends as much of his free time outside as possible, particularly biking and climbing. Aside from the music he's performing on stage or listening to around town, Stephen also enjoys Ensemble intercontemporain, Ensemble Modern, and similar experimental music. "I love whatever is weird," said Stephen.
Rebecca Tutunick, piccolo
From the beginning, Rebecca Tutunick's parents instilled the arts as a big part of her life. Her mother played classical music for her while she was still in the womb. While she was in grade school, her grandmother bought her a book about the instruments of the orchestra, and she fell in love with the piccolo. "I love that, despite its tiny size, it can almost always be heard." She started playing the flute at age ten and knew by middle school that music would be her profession. At the University of Miami, Rebecca double-majored in music therapy and flute performance. Her flute professor Trudy Kane, formerly of The Metropolitan Opera Orchestra, helped her believe in herself, which allowed her to see that flute performance could be her career. Rebecca then pursued her master's degree in flute performance at Indiana University, where she studied with Thomas Robertello. Afterward, she was a fellow with The Orchestra Now in New York prior to winning the audition here in Cincinnati.
Rebecca holds a special passion for community engagement. When she was in high school, her grandfather suffered a stroke and developed dementia, eventually losing his sense of self; but when her grandmother would play familiar music and dance with him, Rebecca felt like she saw "him" again. This experience inspired her interest in music therapy. During her undergraduate studies, she did clinical rotations in hospitals, hospice centers and schools, discovering different scenarios where music was especially impactful. "Music can break through walls and accomplish goals that would be nearly impossible otherwise," she said. Since then, Rebecca has vowed to make service a big part of her life and career, participating in school programs, sensory-friendly concerts, and other volunteer and educational opportunities.
Rebecca finds inspiration in her fiancé, family and close friends, as well as her colleagues and mentors. "When I make music, I try to outwardly express what's already inside. These people, and the experiences I've had, have influenced who I am—and who I am influences how I play."
Rebecca's other interests include crafts and DIY projects—a hobby that's coming in handy as she prepares for her upcoming wedding. She enjoys baking, reading, traveling and hiking. "I'll try just about anything once. Except skydiving—that's never going to happen!"