The CSO's First Radio Broadcast
by RaeNosa Onwumelu
During its 125-year history, the Cincinnati Symphony Orchestra (CSO) has afforded audiences worldwide the opportunity to witness many great performances and memorable debuts. These include the CSO's debut at New York's Carnegie Hall in 1917 (when reviewers raved about Music Director Ernst Kunwald's interpretation of Beethoven's 6th Symphony) and vocalist Marian Anderson's first perfor-mance with the Orchestra in 1952 during the height of her groundbreaking career. But one moment was magical enough to mesmerize the public at large and become part of the fabric of the American cultural landscape: the CSO's first radio broadcast.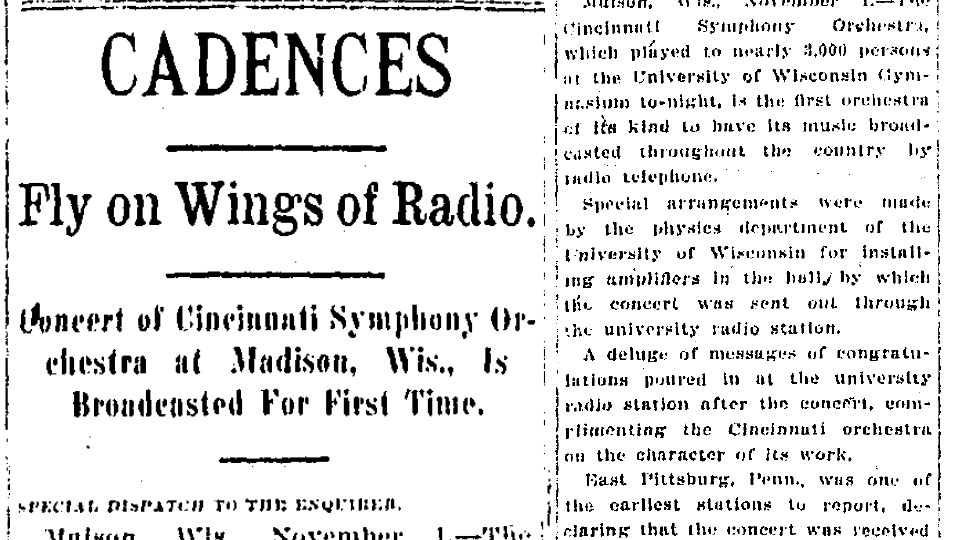 On November 1, 1921, during a tour of Midwestern states, Music Director Eugène Ysaÿe led the Orchestra in a performance at the University of Wisconsin—Madison (UW–Madison), which became the first classical concert to be broadcast live over the air waves—anywhere. Wisconsin Radio Station 9XM transmitted the performance from the UW Armory in Madison using a single microphone after the University's Physics Department installed amplifiers in the makeshift concert hall.
It was the first time a radio station had broadcast live orchestral music, and 9XM declared that the uniform volume of music and tone made the experiment a success. Professor Charles H. Mills, then head of the University of Wisconsin's School of Music said, "The string playing was most excellent. The deluge [of messages of congratulations] and the solo work was especially fine, as was the entire string work in Ysaÿe's own composition."
More than 3,000 people attended the concert inside the Armory, but the radio broadcast expanded the listening audience nationwide. The CSO concert was transmitted across the university campus and well beyond, throughout Wisconsin and to Pennsylvania, Minnesota, North Dakota, Illinois, Iowa, New York, and even the White House, where President Warren G. Harding—an Ohioan—reportedly tuned in to hear the Orchestra.
CSO Concertmaster Emil Heermann later recounted the musicians' excitement about this important first, saying "It was a new experience for all of them."
The success of the broadcast furthered orchestral music's access through mainstream platforms. Today, the CSO reaches millions of listeners, both nationwide and international, though radio and streaming services. That reach is a legacy of the pioneering efforts of these early 20th-century CSO musicians and UW–Madison engineers.