Julia Wolfe discusses inspiration, Fountain of Youth
by Meghan Berneking Isaacs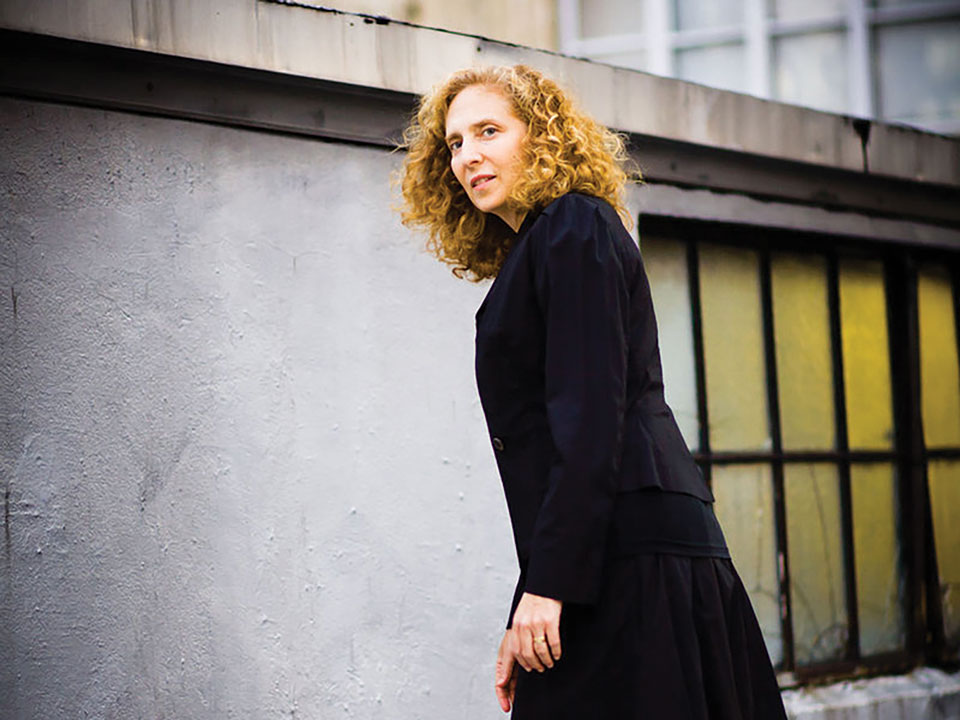 Composer Julia Wolfe has never been one to settle in any particular genre of music. Classical, folk, minimalism, rock—however one describes her style, it has resonated with critics and audiences enough to earn her a Pulitzer Prize and a MacArthur Fellowship, among other prestigious awards. These accolades are a dream for any aspiring composer, but it wasn't until college that Wolfe discovered her passion for composition. While she showed strong interest in music and the arts throughout childhood, she started her undergraduate days at the University of Michigan pursuing political and social studies. That is, until by happenstance she found herself in a music class taught by a woman who would become her mentor and who encouraged her students to write music. "I thought, 'How is this even possible?'" said Wolfe. She caught the composing bug and eventually enrolled in graduate studies at the Yale School of Music, thus launching her career as a composer.
Along the way, she has explored music from various genres, collaborated with other art forms, and managed to reimagine the typical sounds of a concert hall. This diversity of sources of inspiration has yielded works ranging from small chamber ensembles to "100+ musicians of any type" as is the case for her 2009 piece Traveling Music. Recently, several of Wolfe's works have focused on the history of American labor, reflecting her interest in social issues. One of these works, Fire in my mouth, was based on the experience of female garment workers in New York City at the turn of the century. Anthracite Fields, for which she won the 2014 Pulitzer Prize, honors Pennsylvania coal miners.
Following these and other works involving choral forces and other artistic collaborations, Fountain of Youth (co-commissioned by the CSO), marks a return to instrumental music. While Fire in my mouth involved researching historic newspapers, speeches, etc. (from which the lyrics were drawn), Fountain of Youth allowed for exploring instrumental and sonic elements. Throughout thousands of years, people have been searching for the mythical (or perhaps existential) Fountain of Youth, but as Wolfe explains, "The search is what's interesting." The young players of the New World Symphony, the prestigious training orchestra who premiered the work at Carnegie Hall in April under the direction of Michael Tilson Thomas, inspired the theme for the work. "I was thinking about what keeps us young, in a positive sense, and music certainly does this," said Wolfe. "It's a youthful piece—lively, rhythmic and crunchy—with some unexpected sounds to play with."
Julia Wolfe believes that now "is a very happy time to be a composer." She delights in the overall sense of openness in music today that allows for new expressions, sounds, and even new ways of playing an instrument. She also appreciates the new wave of self-starting groups of musicians who form ensembles, festivals and record labels on their own initiative and not necessarily under the auspices of an established institution. She knows firsthand the importance of such collectives—she co-founded the now-legendary Bang on a Can with David Lang and Michael Gordon, and the group has been making waves in the music scene since 1987. "Bang on a Can started because we saw there was a vacuum and a space to fill. We weren't even sure if there was anyone else interested," she said.
This broad spectrum of musical experiences is what new music brings to the stage of Music Hall as well. The CSO now boasts 125 years of commissioning and performing new music—the fruits of which will continue to emerge as new generations of composers explore their own sound worlds.