Lise de la Salle: Embracing Schumann at Last
by Jacob Martin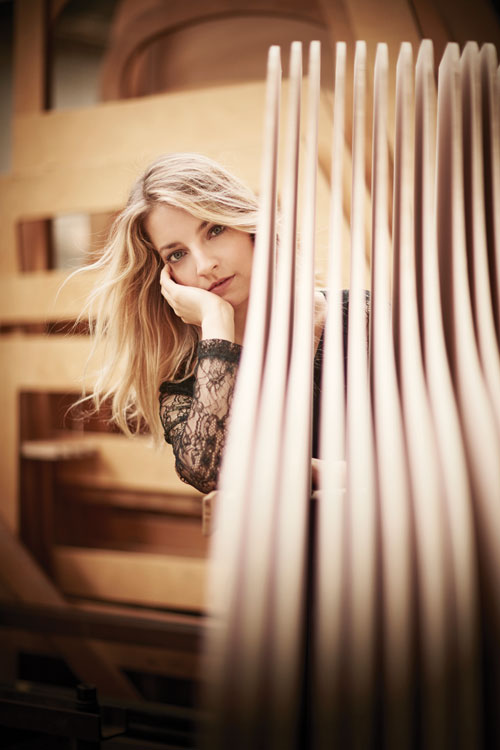 "I've always listened to a lot of Schumann," writes pianist Lise de la Salle in the program notes of her 2014 recording Schumann. "I've always been attracted by the manic side of him, his very individual 'touch'; and I've always loved surrendering myself in his music."
This month, de la Salle will surround Cincinnati audiences with the music of Schumann as she plays the composer's Piano Concerto in A Minor with the CSO. It might be surprising, then, to learn that, earlier in her career, the young pianist was reluctant to perform Schumann publicly.
"Although Schumann is one of the composers I get the most out of, I waited a long time before I played him 'seriously,'" confesses de la Salle. "I think I didn't want to risk being disappointed by myself. I couldn't bring myself to imagine that everything I had dreamt about this music might not take shape exactly as I wanted."
Born in Cherbourg, France, de la Salle began studying piano at the age of four. Progressing quickly, she gave her first recital at age nine in a live performance broadcast throughout France. The young musician entered the Paris Conservatoire Supérieur de Musique at age 11, where she studied with mentors Pierre Reach and Bruno Rigutto. At age 13, de la Salle made her concerto debut in Avignon, stepping in last-minute to play Beethoven's Piano Concerto No. 2.
She soon became a highly sought-after concert artist. At the time, critics noted her sophistication and musical maturity. "Transcendent agility, staggering power," wrote France's Classica-Repertoire magazine. "This is not a young prodigy, but a true artist."
By her early 20s, de la Salle had claimed numerous competition victories and residencies and had made appearances throughout Europe, Asia and the United States. Today, the French pianist boasts a wide repertoire that she curates with special care.
"I force myself to jump around from Bach to Ravel to Chopin to Gershwin to Rachmaninoff," says de la Salle. "It's wild, I love so many amazing composers."
But while enthusiastically applying herself to various composers of all eras and styles, for a long time she shied away from programming Schumann's works due to a certain reverence.
"Despite her innate, seemingly boundless musicality," wrote International Piano magazine in a feature article, "she still avoided performing Schumann's music until its crazy passion became something with which she felt she could identify."
When that moment finally came in 2014, de la Salle celebrated by releasing an all-Schumann recording, featuring the Abegg Variations and Kinderszenen with the extravagant C Major Fantasie as its centerpiece. Around the same time, she added Schumann's A Minor Concerto—the composer's only completed concerto—to her repertoire.
Since then, de la Salle has shared her passion for Schumann's works with audiences around the world, both in recital and with orchestras. De la Salle's performances of the Schumann Concerto with the CSO Nov. 30–Dec. 1 mark her first return to the Music Hall stage since her 2012 debut. She and James Conlon, Music Director Laureate of the May Festival, have been regular collaborators for over a decade, having performed with the National and Chicago symphony orchestras, as well as the Los Angeles Philharmonic, among others. This month's performances will be the first for the two together at Music Hall.