by Meghan Berneking Isaacs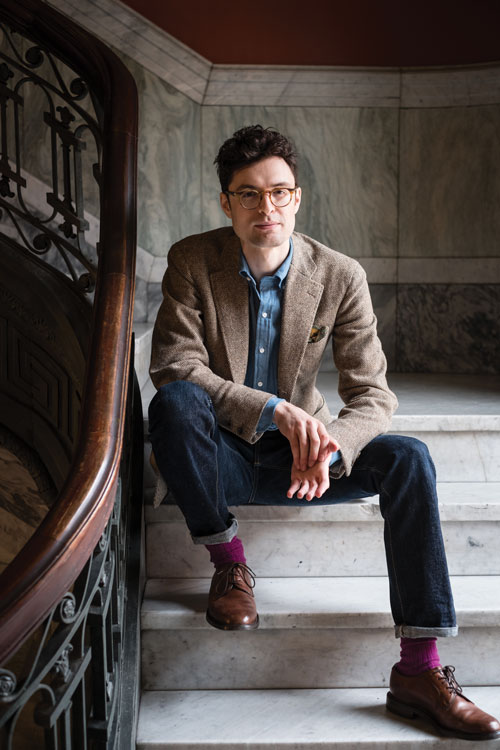 As a seven-year-old boy learning to play the piano from a computer program, Timo Andres already had a knack for composition and an early desire to write down the music he would make up while practicing. "This feedback loop between writing and playing continues to be an animating force; I learn best by doing," said the award-winning composer and pianist. "Practicing music that I love is the best way for me to figure out what's going on inside it, how it works."
Andres' experience as both performer and composer will come into play tonight for the CSO's "American Perspective" concert, which he has carefully curated. "American Perspective" is the first in the new CSO Proof series, which brings audiences to the stage of Music Hall and invites them to explore new music as well as familiar works in perhaps an unfamiliar way. "What I hope to accomplish in this show is to heighten that experience, to make it more visceral and personal, by showing some of the scaffolding and hiding some of the seams," said Andres.
The concert's theme—American musical identity—may seem impossibly broad, but it's one Andres embraces, "insofar as it reflects the ideals and realities of American society. My favorite American music is that which seeks to constantly broaden its influences, embracing the vernacular, the academic, the sacred and secular, without value judgements. American modernism is not a 'melting pot,' though—it's more of a salad, in that each element remains recognizable."
Considering that Andres lists, among others, Pete Seeger, Leonard Bernstein, Johannes Brahms, Charles Ives and John Adams as sources of inspiration, audiences can expect a concert that reveals some of the component parts of that great American musical salad. "It's all things that are part of my own personal canon, and each of those things is connected to a thousand other things, and each other, by a thick web of lines—they feel like friends of friends," he said.
CSO audiences will recognize Timo Andres from his participation in the 2017 MusicNOW Festival collaboration. For the program, he performed his own piano concerto, The Blind Banister, which was a finalist for the 2016 Pulitzer Prize. Critics, including The New Yorker's Alex Ross, have long praised Andres for achieving his own musical voice—no small feat for any composer, especially one still in the early years of his career. For "American Perspectives," audiences will hear that voice expressed through Andres' cello concerto, Upstate Obscura, with soloist Inbal Segev. "It's about a painter named John Vanderlyn, and his massive 360-degree panoramic painting of the palace and gardens of Versailles. It's the most European subject, but seen through a distinctly New York gaze (something I feel familiar with, as an American composer writing for traditional orchestras!). The music I wrote tries to capture the mood of the painting—complex subjects rendered simply, geometrically, with an objective realism. But a distinctly modern loneliness pervades—that of an invisible spectator, an outsider."
Choreography also plays an important role in this program, as the dancers of Dance Heginbotham will perform during works by Charles Ives (a composer Andres frequently cites as one of his biggest influences). "I asked [choreographer John Heginbotham] to be a part of the show because of how deeply he thinks about and understands music. I knew that his contributions would heighten the emotional punch of the evening, rather than merely adding spectacle."
The collaboration promises to create a true collective experience for audiences. "John's ideas will give form to the entire staging of the concert. We wanted it to feel both open and enclosed, like a town square—as a pedestrian, you can be both participant and spectator."