Pops: Celebrating Women in Song
by David Lyman
"This is music that really resonates with me," says conductor John Morris Russell. Now, JMR loves LOTS of music. But when he talks about these concerts—"Hear Me Roar: A Celebration of Women in Song"—he sounds more pensive than usual. "This is music that meant a lot to me growing up."
As he starts to describe the concert, it is clear that he feels a very personal connection to this music.
"I grew up among strong women," he says, recounting how his father died when he was just 15 and his mother was left to raise John and his four siblings alone.
"It was a remarkable burden that she took on. And, by God, she did it. So when we talk about celebrating women with music, my mother is the first person who comes to mind."
It's no coincidence that much of the music in this program, which was originated by the likes of Aretha Franklin, Carole King, Dolly Parton, Whitney Houston and others, is the music that dominated the airwaves during the mid-'70s, the time that JMR is so poignantly recalling.
"There was a great awakening during that time," he says. "Remember, this was during the women's power movement that began in the '60s. So, was it political? You bet. But it was wrapped up in some of the most powerful and memorable music we've ever heard."
For these concerts, JMR will again be surrounded by some very strong women.
"We have these three fantastic artists joining us," he says. "There's Mandy Gonzalez, who is one of the great Latina stars of her generation. She originated the role of Nina in Lin Manuel Miranda's In the Heights. She was also in Hamilton on Broadway. She's the real deal."
So are the other two performers.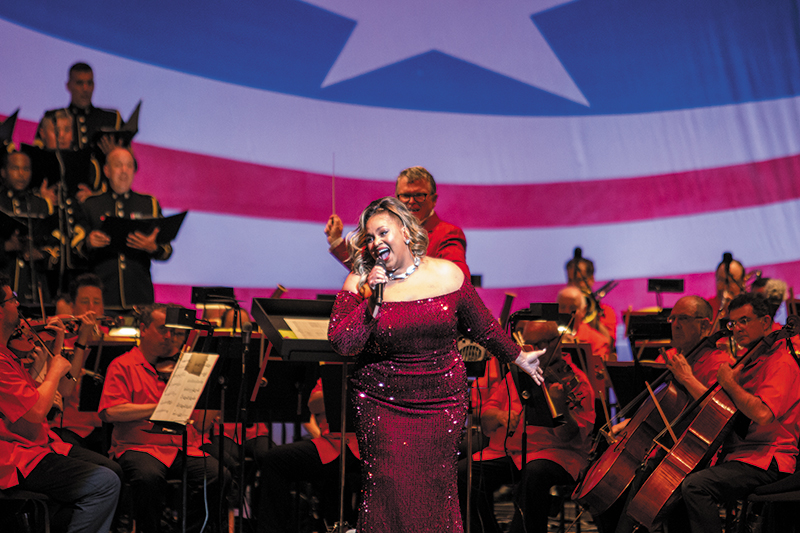 "Aubrey Logan is an incredible jazz singer. You probably remember her from last year's Holiday Pops. And did I say that she is a great trombonist, too? And then there's Erica Gabriel, who sings gospel as easily as she does opera and who recently joined us for our July Fourth concert and blew us away with her vocals. We have these three singers from very different lines of musical work. But for three nights in Music Hall, they'll all be singing from the same hymnal."