Brady Block Parties Celebrate our Community and Inspire our Next Generation of Musicians
By Laura Trujillo
The moment the Cincinnati Symphony Orchestra and Cincinnati Pops took the stage at the Maple Ridge Lodge in Westwood for the first Brady Block Party this summer, it transported the audience and some of the musicians to another time.
For many, it reminded them of the original free summer concerts in the park led by Western Hills High School's longtime band and orchestra director Andrew J. Brady in the 1950s, 60s and 70s.
That's exactly the nostalgia and spirit that Cincinnati Pops Conductor John Morris Russell was hoping for with the inaugural Brady Block Parties.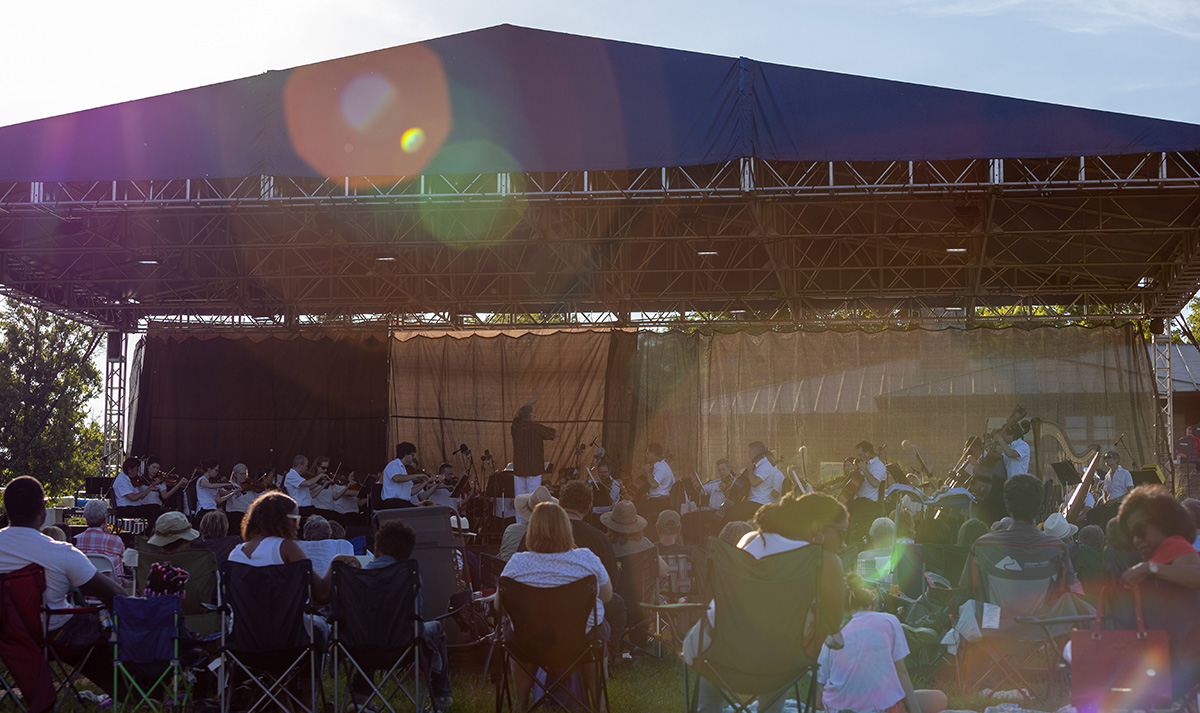 "Cincinnati's musical heritage goes far beyond the walls of Music Hall – musical traditions in our neighborhoods have shaped the ethos of our city, and that's what Andrew Brady inspired," said Russell, who led three of the concerts and will lead the final show of the summer in August. "Our summer series is inspiring a new generation. We have such a vibrant city because we have great teachers, music teachers, who are prized in our schools."
The Brady Block Parties were developed to honor Brady's contributions to Cincinnati. The shows have been more than concerts – they are a celebration of neighborhoods and Cincinnati history, and the start of a new summer tradition.
The shows have featured everything from R&B to jazz, Latin to soul. Families have spread out blankets and lined up lawn chairs in the sun, enjoyed face painting and popcorn and other art projects, and stopped by food trucks for barbecue and free popsicles. They've watched the Golden Gloves Boxers perform two-minute drills to the Theme from Rocky and danced along with the Q-KIDZ Dance Studio to "Happy." And most important, they've created a sense of community.




The series has featured shows in Westwood, Price Hill, Bond Hill and the West End.
The final concert will be held at Owl's Nest Park in Evanston and will pay tribute to the legacy of King Records, celebrating legendary names such as James Brown, Otis Williams and the Isley Brothers, on August 6.
The concert is a special one – connected with William Owen Menefield, a native Cincinnatian raised in Evanston who, Russell says, as a teenager studying at the School for the Creative and Performing Arts watched the CSO, later played with them, and was the CSO's 2021 MAC Music Innovator. Now the Orchestra will play Nyomi's "Masks" Aria from Menefield's opera Fierce, which he composed and debuted with Cincinnati Opera earlier this summer.
"This is how we roll in Cincinnati, always energizing the next generation and doing it through music. It makes us unique," Russell said. "This is so important that we are going to neighborhoods the Orchestra hasn't gone to. There is this sense of closeness, deeply rooted in the community."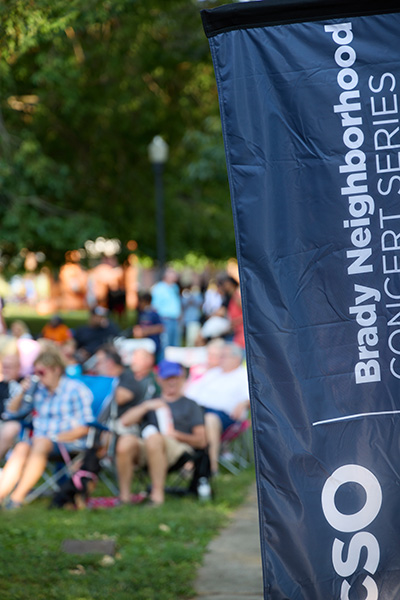 At the inaugural show in Westwood, Russell asked those who played or watched Brady's summer shows to stand up.
Russell said about a dozen stood up, including a few on stage, which surprised him. One of them was Stacey Woolley, a member of the CSO's second violin section, who remembers playing in a summer concert at the YMCA as a 13-year-old with Brady as the conductor. Woolley had taken a workshop from Brady and later attended his summer parks concerts.
Woolley remembers his parents taking him and his older brother to see the symphony at Mt. Airy Forest, among other places.
"That was my exposure to live music – the price was right," Woolley laughed. "We grew up hearing so many bands, including some of whom I have worked with after becoming a professional musician myself."
Woolley is in his 34th year with the CSO and says he loves the new concert series. "It's wonderful to see how the community is engaged, and there is nothing like live music."
Russell said looking out into the audience and watching kids dance or play while listening to the music makes him think: "Where are these kids going to go? And how might this affect their lives?"
"Brady provided not only an opportunity for people to play music, but also to play for the people. From one generation to the next, we're seeing this dedication and this tradition continuing."
The pre-concert activities, including community art and music labs, begin at 5 pm and the concert goes from 7 pm to 9 pm at Owl's Nest Park, 1984 Madison Rd., Cincinnati, OH 45208. The show is free. Food and beverages from vendors will be available for purchase and concertgoers can also bring outside food and beverage to the park.
Full concert information here.