Spotlight on Fluke Skywalker
Fluke Skywalker Bringing 'The Force' to Star Wars Fans
at Music Hall and Beyond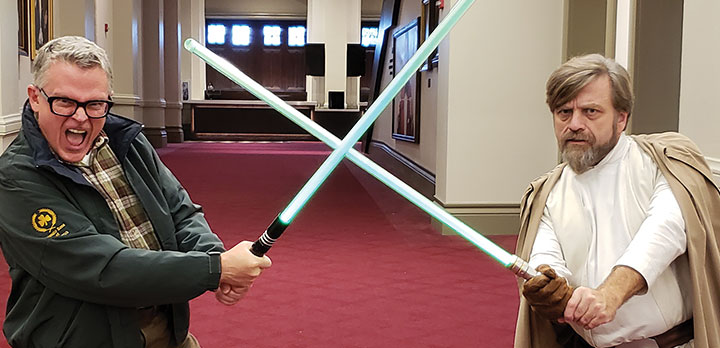 by Kayla Moore
If you've been to a Pops Star Wars concert, you may have noticed a Luke Skywalker look-alike in the Foyer before the performance. Fanfare Cincinnati wanted to learn a little more about Mark Hamill's doppelgänger and the work he's doing in our local community.
How did this start for you? Tell us about your journey to becoming Fluke Skywalker.
My family and I have been volunteers at the Ronald McDonald house since around 2006. When my kids were old enough to flip pancakes, we volunteered with other families to make breakfast about four or five Sundays over the course of the year for the families staying at the Ronald McDonald House. About two years ago they hired a professional chef to help improve nutrition for everyone, so that opportunity kind of disappeared. At the same time I lost 90 lbs. and I had short hair and no beard. I walked into a Lowe's hardware store and the guy there asked me if anybody had ever told me I look like Mark Hamill. That was the first time anybody ever made the reference to me about looking like Mark Hamill/Luke Skywalker.
After hearing it several more times after that, totally unsolicited, I asked my wife to buy me the costume from the latest movie. I decided to take some toys to the Ronald McDonald House for Christmas and volunteered to do that as Luke Skywalker. It was kind of a big hit, and I decided to do it some more. I started thinking of ways to do events where I could raise money and donate 100% of it to the family staying at the Ronald McDonald House. That way I can help by giving the kids some Star Wars toys and the families by donating funds to help pay their bills. I'm just trying to help these families through this crisis in their lives by using this "fluke" appearance. That's why I go by the name "Fluke Skywalker," because it truly is just a fluke that I look a little like Mark Hamill.
You donate 100% of the funds raised from each appearance to children's charities. Which charities do you work with, and why did you choose these in particular?
I donate to Ronald McDonald house because I started volunteering there for about 11 years before I started doing the Skywalker impersonation for charity. My wife, who is the one that really got the family started at Ronald McDonald House, also volunteered with her friend to do an event for the Dragonfly Foundation. They work with kids and families dealing with pediatric cancer, and I am privileged to volunteer to help there because the volunteers and staff are amazing. I've done other events with WGRR for the Leukemia and Lymphoma society, so I've done things for that group as well. As is the case with each event I do, all funds that I raise from those events go to charity.
When you're at a concert or guest appearance, how do you channel Luke and interact with guests? What's your favorite part of playing this role?
I just go by the rule, WWMHD? That is, What Would Mark Hamill Do? He is very quick and witty, and I try to do the best impression I can for the fans. At no time do I ever say that I am Mark Hamill if I'm asked, because, hey, I'm not Mark Hamill. However, I do admit to playing coy when people think that the real Mark Hamill is standing in front of them—it happens more often than you can imagine. I really don't want to hurt their feelings, but I don't want to be dishonest either. I've learned to give them a business card and ask them to send me our picture together to my Facebook page under Fluke Skywalker–movie character.
If I can do some good with this fluke appearance as Hamill's doppelgänger and help them at the same time, I figure that's what the Jedi would do, and answers the question WWMHD.