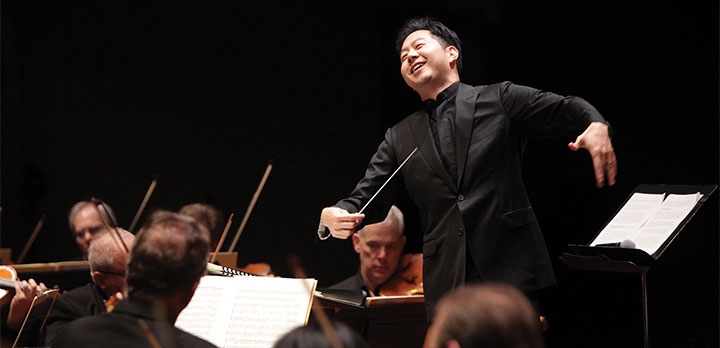 by Kayla Moore and Franck Mercurio
Fanfare Cincinnati recently spoke with Associate Conductor Gene Chang and asked him about his four-year term with the Cincinnati Symphony Orchestra (which concludes in August) and his term as Music Director of the Cincinnati Symphony Youth Orchestras. Here's what he had to say:
Can you share special memories or stories from your time here with the Cincinnati Symphony Orchestra?
It is so hard to choose just one special moment. I feel so fortunate to have been here with the CSO during what might be one of the most exciting four-year stretches in the history of the Orchestra: preparing to move out of Music Hall, spending a season at the Taft Theatre—while keeping close tabs on the renovations—and moving back into the gorgeous, newly restored Hall, which itself was at least a two-season process. The first season back was literally an entire year of acoustical testing and adjustments and fine tuning of the Hall in real time with the Orchestra on stage (and with sometimes drastically different acoustical results from one week to the next!). Finally, I think by the end of this past season there was a sense of settling in and comfort, and the results have been a series of spectacular performances by the CSO. And, yes, it's true—a part of my job is to listen to a great orchestra perform great music in a glorious new Hall.
And your work as Music Director of the Cincinnati Symphony Youth Orchestras?
Again, another instance of fortunate timing. I was just recalling with Ahmad Mayes [Director of Education and Community Outreach] and Carol Dunevant [Instructional Programs Manager] that we all started at the CSO more or less within a year of each other, and we all developed the same vision for the CSYO once we saw what an incredibly strong foundation the program was built upon. There is such a deep love of music in this community, with so many unbelievably talented and passionate students with dedicated parents and teachers, and the commitment the musicians of the CSO have and the sheer joy they take in working with and mentoring CSYO students is so wonderfully special. So with those pillars in place, these have also been four years of tremendous growth for the CSYO: more concerts, bigger repertoire and, above all, the CSYO now has a permanent concert home in Music Hall. But more than anything else, the level of talent in the students of this orchestra is just mind-boggling; they are determined to play at the highest level, they insist on big programs and getting to know all the great pieces, and they take such joy and such pride in making really great music together. So it has been an absolute thrill working with these incredible students and being part of such an amazing team running these education programs at the CSO.
After your time with the CSO is finished, what new ventures are on the horizon?
First thing first is a summer rejoining my family back in Los Angeles and raising a two-year-old while dreaming of resuscitating a dead golf game, and then back to work! I have a handful of guest conducting appearances scheduled for next season and then we'll see where they lead!