Program Notes
American in Paris + Amériques
FRI MAR 15, 11 am | SAT MAR 16, 8 pm
LOUIS LANGRÉE conductor | AUGUSTIN HADELICH violin
GERSHWIN (1898–1937)
ed. Clague
An American in Paris
BARBER (1910–1981)
Concerto for Violin and Orchestra, Op. 14
Allegro
Andante
Presto in moto perpetuo
INTERMISSION
RAVEL (1875–1937)
Tzigane, Concert Rhapsody for Violin and Orchestra
VARÈSE (1883–1965)
Amériques
THIS WEEK WE EXPLORE the works of two great American composers alongside two great French composers, who inspired and influenced one another during the 19th century. We are thrilled to present the first performance of the unabridged version of Gershwin's iconic tone poem, An American in Paris. Barber's Concerto for Violin is one of the most beloved violin concertos of the 20th century, and we are honored to welcome back the brilliant violinist Augustin Hadelich, who will also perform Ravel's virtuosic and hypnotizing Tzigane. In 1918, Edgard Varèse came to Cincinnati to conduct the Cincinnati Symphony Orchestra and this weekend we will perform the original 1922 version of his unique work Amériques, which will utilize 141 musicians.
—LOUIS LANGRÉE
Born: September 26, 1898, Brooklyn, New York
Died: July 11, 1937, New York
Known for:
Rhapsody in Blue (1924)
An American in Paris (1928)
I Got Rhythm (1930)
the opera Porgy and Bess (1935) which spawned the hit Summertime
An American in Paris
Work composed: early 1928–November 18, 1928
Premiere: December 28, 1928, New York Philharmonic, Walter Damrosch conducting
Instrumentation: 3 flutes (incl. piccolo), 2 oboes, English horn, 2 clarinets, bass clarinet, 3 saxophones doubling on soprano, alto, tenor and baritone sax, 2 bassoons, 4 horns, 3 trumpets, 3 trombones, tuba, timpani, snare drum, crash cymbals, triangle, xylophone, glockenspiel, ratchet, suspended cymbals, tenor drum, wood block, bass drum, 2 tom-toms, 4 taxi horns of different pitches, celeste, strings
CSO notable performances: These performances are the world premiere of the critical edition of the unabridged work. The CSO previously performed the 2017 Clague critical edition in March 2017, Louis Langrée conducting | Also under Louis Langrée, the CSO performed the 2017 critical edition on its 2017 Asian (China) and European (Belgium and France) tours. In previous editions, CSO performances date back to 1929.
Duration: approx. 20 minutes
Like André Previn but more than half a century earlier, George Gershwin was equally attracted to and accomplished in popular and classical music. Despite his enormous success as a creator of popular songs and musical comedies, and the popularity of the symphonic works Rhapsody in Blue and Piano Concerto in F, Gershwin was unsure of his abilities as a classical composer. His music had received some criticism for looseness of form, and he was sufficiently insecure at orchestration that he often sought outside advice. He felt what he truly needed was a teacher.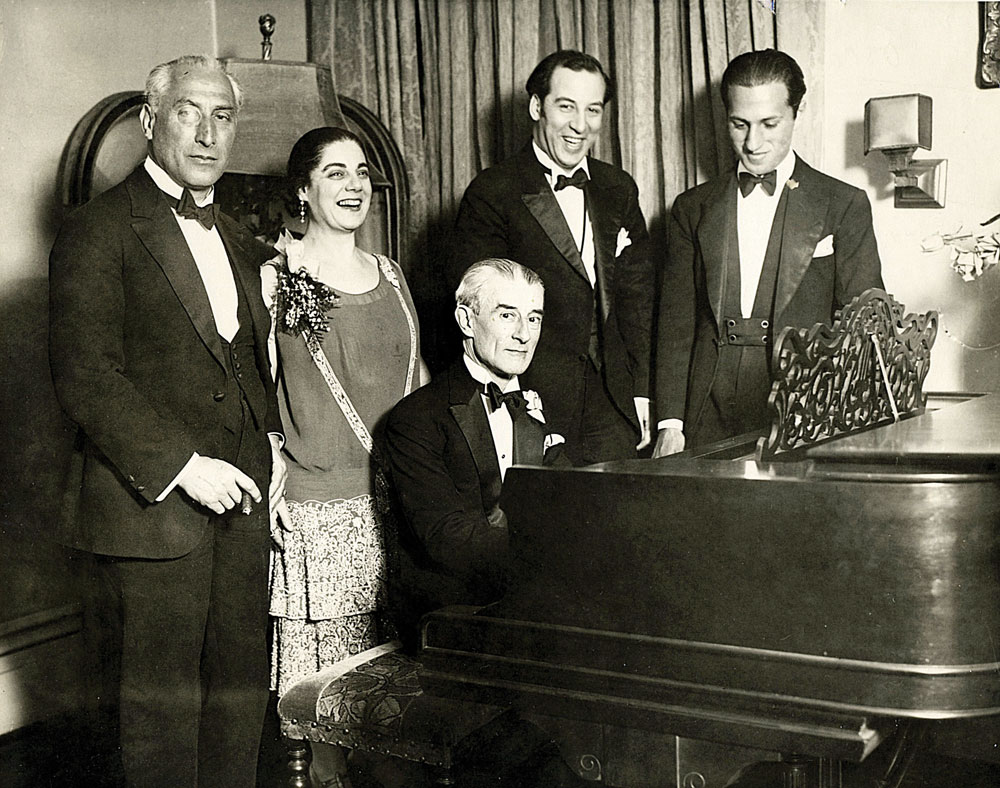 Birthday party honoring Maurice Ravel in New York City, March 8, 1928. From left: conductor and composer Oska Fried, mezzo-soprano Éva Gauthier, Maurice Ravel at piano, conductor Manoah Leide-Tedesco and George Gershwin.
He thought he found the perfect instructor when he met Maurice Ravel, who was in New York at the beginning of a four-month concert tour of the U.S. Ravel had been impressed by Gershwin's musical Funny Face and wanted to meet the talented American. The two men became acquainted in 1928 at a party in honor of Ravel's 53rd birthday. Gershwin entertained the party guests by playing his own piano pieces. Ravel was astonished at Gershwin's technical prowess, artistry and ability to project complex jazz-inspired rhythms with ease.
The two composers became friends. Gershwin took Ravel to Harlem nightclubs to hear authentic jazz, which made a considerable impact on the Frenchman. Gershwin finally screwed up his courage and asked Ravel to give him some composition lessons. Ravel refused, saying that he would just end up writing "bad Ravel" instead of his own spontaneously melodious music. The French composer did, however, offer a letter of introduction to Nadia Boulanger, the great French pedagogue who taught many of America's most promising composers, including Aaron Copland, Roy Harris, Virgil Thomson, David Diamond and Walter Piston.
As Gershwin was planning a trip to Paris, he looked forward to meeting Boulanger. In March he set sail first for England, where his show Oh, Kay! was playing in London, and then to Paris. This was the third and, as it turned out, last time Gershwin visited France. He had two specific goals: he wanted to compose an orchestral work called An American in Paris, inspired during his first trip to France, and he wanted to find a composition teacher—preferably Boulanger. As soon as he arrived in Paris, Gershwin had a piano moved into his hotel suite, so that he could compose. Then he set off to see Boulanger, armed with the letter from Ravel.
He played some of his piano compositions for the master teacher, whose reaction was similar to Ravel's. Not easy to impress, Boulanger was overwhelmed by Gershwin's natural lyricism. She felt that her academic approach to composition instruction might hamper his effusive talents. She too declined to teach him.
Gershwin next hoped to find a teacher in Stravinsky. When he met the Russian composer at a party, he asked him directly. Stravinsky replied, "How much money do you make in a year, Mr. Gershwin?" Taken aback, the American replied that the sum ran to six figures. "In that case," Stravinsky replied, "I should study with you!" Stravinsky's witty refusal marked the end of Gershwin's search for a teacher in Paris, although he did later try to work with Arnold Schoenberg, who also refused to teach him.
In the meantime, Gershwin was making progress on An American in Paris. One day, he asked his friend Mabel Schirmer where he could purchase some taxi horns like those heard throughout Paris. She took him to some automobile parts shops, where he listened carefully to every available horn. He bought several and brought them back to his hotel room. He planned to use them in his new work, in order to invoke the sounds of Paris in a literal way.
After three months, Gershwin began his journey back to New York—loaded down with mementos of Paris, gifts, the collected piano works of Debussy, two versions of An American in Paris (neither finished), and cartons containing taxi horns. He had by this time received a commitment from conductor Walter Damrosch to premiere An American in Paris with the New York Philharmonic a few months hence. He completed the piano sketch soon after returning home, and the orchestration a few weeks later. The premiere followed at the end of 1928, with four taxi horns among the percussion instruments.
Although the work was intended as pure concert music, its Charleston-like rhythms, jazz-inspired syncopations, blues-like trumpet melody (complete with saxophone accompaniment), and occasional Gallicisms made it a natural vehicle for the dance. Several choreographies were based on Gershwin's score, most notably in the 1929 Ziegfeld musical Show Girl and in Vincente Minnelli's 1951 Academy Award-winning film An American in Paris, starring Gene Kelly, Leslie Caron and Nina Foch.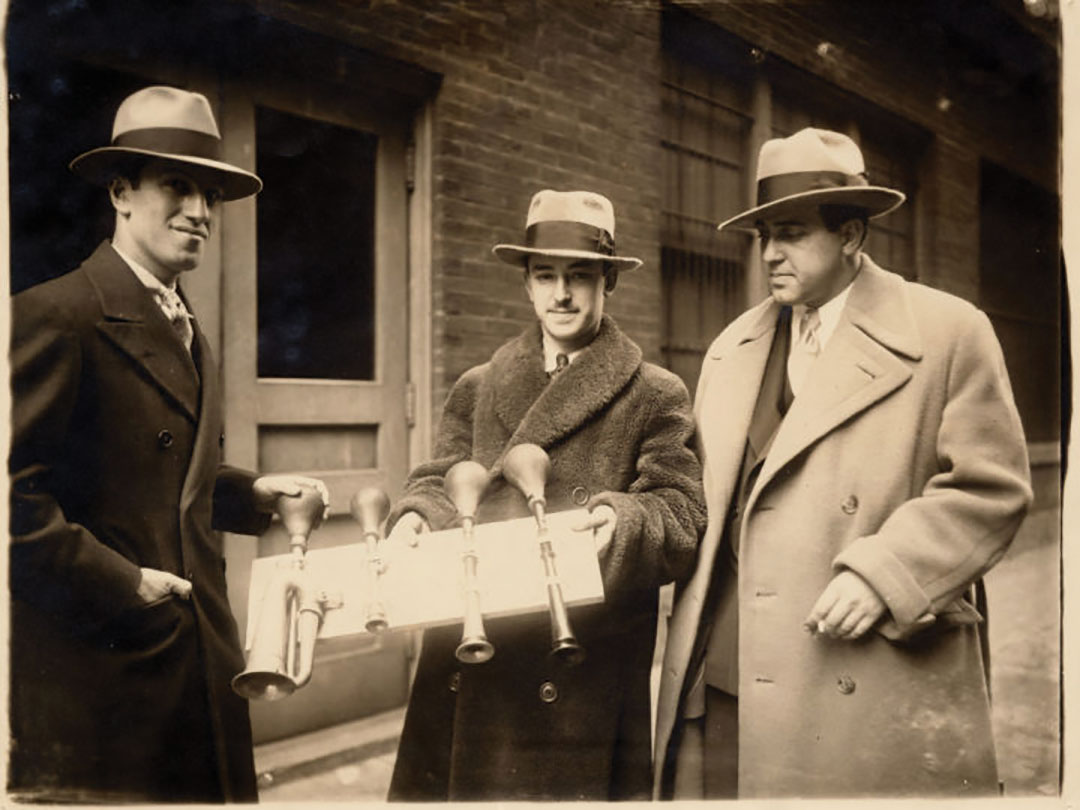 Composer George Gershwin (left) and Cincinnati Symphony Orchestra percussionist James Rosenberg holding the four taxi horns used in the Orchestra's March 1929 performances of An American in Paris; also pictured, tenor Richard Crooks.
For these performances, the CSO will be performing an unabridged version of the critical edition of An American in Paris prepared by the Gershwin Initiative at the University of Michigan in 2017. The most significant update to this edition is the tuning of the taxi horns. The new Critical Edition proposes that the letters (A, B, C, D) on Gershwin's original handwritten score refer to labels of the horns themselves, not their actual pitches. This edition uses A-flat, B-flat, high D and low A, as indicated in a 1929 recording supervised by Gershwin himself. Additional differences can be found in the saxophones, and in the restoration of Gershwin's original, jazzy intentions. 104 measures of music were also recovered and included in this unabridged edition.
KEYNOTE. After completing the sketch but before orchestrating An American in Paris, Gershwin described the work in an interview:
This new piece, really a rhapsodic ballet, is written very freely and is the most modern music I've yet attempted. The opening part will be developed in typical French style, in the manner of Debussy and [the group of composers known as] the Six, though the tunes are all original. My purpose here is to portray the impressions of an American visitor in Paris as he strolls about the city, listens to the various street noises, and absorbs the French atmosphere.
The opening gay section is followed by a rich "blues" with a strong rhythmic undercurrent. Our American friend, perhaps after strolling into a café and having a few drinks, has suddenly succumbed to a spasm of homesickness. The harmony here is both more intense and simple than in the preceding pages.
This "blues" rises to a climax, followed by a coda in which the spirit of this music returns to the vivacity and bubbling exuberance of the opening part with its impressions of Paris. Apparently the homesick American, having left the café and reached the open air, has downed his spell of blues and once again is an alert spectator of Parisian life.
At the conclusion, the street noises and French atmosphere are triumphant.
—Jonathan D. Kramer/Staff
Born: March 9, 1910, West Chester, Pennsylvania
Died: January 23, 1981, New York
Known for:
Adagio for Strings (1936)
Knoxville: Summer of 1915 (1947)
Pulitzer Prize for Music:
Vanessa (1956-57)
Concerto for Piano and Orchestra (1962)
Concerto for Violin and Orchestra, Op. 14
Work composed: 1939–1940
Premiere: February 7, 1941 in Philadelphia, Eugene Ormandy conducting The Philadelphia Orchestra.
Instrumentation: solo violin, 2 flutes (incl. piccolo), 2 oboes, 2 clarinets, 2 bassoons, 2 horns, 2 trumpets, timpani, snare drum, piano, strings
CSO notable performances: 9 previous subscription weekends | Premiere: April 1978, Leonard Slatkin conducting; Jaime Laredo, violin | Most recent: February 2016, Louis Langrée conducting; Simone Porter, violin | The CSO also performed this work under the direction of Jesús López-Cobos on its 1995 tour of Germany, Austria, Switzerland and the Canary Islands, with violinist Alyssa Park.
Duration: approx. 25 minutes
Acknowledgement of Barber's talents began soon after his graduation from the Curtis Institute of Music, which he had entered at the age of 14 to study composition, piano, conducting and voice. Recognition took the form of commissions (such as that from a wealthy businessman for the Violin Concerto), performances (by The Cleveland Orchestra and by Arturo Toscanini) and prizes. The Bearns Prize, the Prix de Rome and the Pulitzer Traveling Scholarship enabled Barber to have several extended residencies in Europe, where he studied and composed intensively.
During one of these periods abroad Barber began the Violin Concerto. It was 1939, and he was spending the summer in the village of Sils-Maria in Switzerland, far from the mounting threat of world war. The concerto had been commissioned for a young violinist by a wealthy merchant from Barber's native Philadelphia. Progress was slow, and thus the composer took his unfinished manuscript with him when he moved to Paris in the fall. No sooner had he arrived in the French capital, however, than all Americans were warned to leave Europe, as German troops were invading Poland. Barber sailed for New York with the concerto still unfinished.
Commissioning of music by wealthy individuals is the modern equivalent of the 18th century's patronage by the aristocracy: someone of means thinks enough of a composer's work to pay for the creation of a new piece. Even the most generous of commissions usually just barely covers the costs of preparing a piece for performance, with a small amount added in for the composer's time. Nonetheless, for a freelance composer (such as Barber was in 1939), commissions are an important source of income. Terms vary, but usually the composer receives a fee and the patron gets first performance rights and usually the dedication, plus of course the satisfaction of knowing that he or she was directly responsible for the creation and performance of what is hoped will be a major work.
Barber entered into a contract for the violin concerto in good faith. The Philadelphia merchant, on the other hand, did not. He acted quite unprofessionally. Barber's biographer Nathan Broder chose to protect the guilty by withholding the names of the merchant and the violinist. Neither deserves the safety of anonymity. In his 1985 bio-bibliography of the composer, musicologist Don A. Hennessee names the culprits: Samuel Fels and Iso Briselli. It would be nice to think that they were ultimately chagrined by their scandalous behavior, since Barber's concerto is an important composition that has been performed successfully by a number of violinists and orchestras.
What happened was this: Barber showed violinist Briselli the first two movements when they were finished. The soloist was disappointed because they were not sufficiently virtuosic. Barber explained that he was reserving the bravura for the finale. When that movement was complete, Briselli pronounced it unplayable. The sponsor, Fels, demanded that the composer return the commissioning fee. Barber replied that he had already spent the money while he was living in Europe without a steady income. Barber then asked another violinist—Herbert Baumel—to play the finale in the presence of Briselli, Fels and several witnesses. Baumel did so after a few hours of practice, readily demonstrating that the work had sufficient virtuosity and was quite within the realm of possibility. Barber and Fels worked out a compromise—the composer returned half of the fee and Briselli relinquished all claims on the right of first performance.
Barber had been treated shabbily. He had worked diligently on the concerto for well over a year, and he had exactly upheld his side of the bargain. When someone commissions a work, he or she chooses a composer whose musical judgment he or she trusts. There is then an implied obligation to accept the work the composer writes as long as it fulfills any mutually agreed upon stipulations. By the time Barber wrote his later concertos (for flute, oboe and trumpet in 1944, for cello in 1945 and for piano in 1962), he was a renowned composer who no longer had to be subjected to the whims of ignorant performers and devious patrons.
KEYNOTE. The concerto was premiered by still another violinist, Albert Spalding. When people heard the work, they were struck by the stylistic differences between the first two and the last movements. The consonant lyricism of the earlier parts is replaced by a more angular dissonance in the finale. It then seemed that Barber was turning away from his conservative tonal style toward a more experimental idiom, but in retrospect it appears more that he was expanding his range of expression to include the aggressive alongside the gentle. He never stopped writing lyrical music.
It was tempting to understand the dissonances in the third movement as a response to the war. Perhaps critics were subliminally influenced by knowledge of Stravinsky's Symphony in C, in which two dissonant movements follow two consonant ones. Stravinsky attributed his symphony's change of style in part to the war. Listening to Barber's concerto today, we hear only an integrated work. The differences between the movements no longer seem enormous, and the idea that the war might have provoked a change of style in the work of a composer who never personally experienced the horrors of armed combat seems naïve.
The first movement is quite traditional. It is unabashedly tonal and thoroughly lyrical. It is cast in a sonata form based on two themes—a long line introduced at the very beginning by the solo instrument and a perky figure first heard in the clarinet. Notice the use of the piano, a rare instrument in the orchestra of a violin concerto. It plays the very first chord and is then silent until the second theme. The biting, non-blending sound of the piano cuts through the orchestra so that we always know whether or not it is playing; it is thus a major source of contrast in the concerto.
The lyricism of the first movement expands in the second, which is based on a beautifully arching long line. The finale, by contrast, is a fast moto perpetuo. For almost the entire movement someone—usually the soloist—plays an unending chain of triplets. Considerable drive and energy are built up in this way. The few places where the triplet obsession is broken are refreshing, if not surprising—the second statement of the second theme (in flute and bassoon, accompanied by snare drum and low piano), the accelerando of the triplets to sixteenth notes in the coda, and the dramatic fermata where, just before the end, the music seems to pause momentarily for a final gasp of breath.
—Jonathan D. Kramer
Born: March 7, 1875, Ciboure, Basses Pyrénées, France
Died: December 28, 1937, Paris
Known for:
Bolero (1928)
Daphnis et Chloé (1912)
1922 arrangement of Mussorgsky's Pictures at an Exhibition
Associated with Impressionism
Tzigane
Work composed: 1922–1924
Premiere: (violin and piano) April 26, 1924 in London, Jelly d'Aranyi, violinist and Henri Gil Marchex, pianist; (violin and orchestra) November 30, 1924 in Paris, Gabriel Pierné conducting the Colonne Orchestra; Jelly d'Aranyi, violinist
Instrumentation: 2 flutes (incl. piccolo), 2 oboes, 2 clarinets, 2 bassoons, 2 horns, trumpet, crash cymbals, orchestra bells, suspended cymbals, triangle, harp, celeste, strings
CSO notable performances: 6 previous subscription weekends | Premiere: January 1929, Fritz Reiner conducting; Jelly d'Aranyi (for whom the work was composed), violin | Most recent: May 2003, Jesús López Cobos conducting; Gil Shaham, violin
Duration: approx. 9 minutes
Ravel's spirit had been shattered by World War I. It was only with great difficulty that he returned to writing music. Painstakingly he completed his one compositional effort of the war years, Le Tombeau de Couperin, which had occupied him from 1914 to 1917. Then for two years he composed nothing substantial. He subsequently came out of his depression only long enough to write a cynical picture of pre-war Europe—La Valse (1919–20). After that it took him two full years to compose the wonderful Sonata for Violin and Cello, which is only 16 pages long.
Ravel was depressed not only because of memories of war horrors but also because his mother, to whom he had been deeply devoted, had died in 1916. The composer never fully accepted her death. Furthermore, Parisian society, which Ravel enjoyed immensely but which had been devastated by the war, returned to its former vitality only after a difficult period of adjustment. Ravel was still at the center of musical activities. He was vice president and then president of the Independent Musical Society, which presented concerts of contemporary music of all countries. But things had changed. He found that he no longer represented the avant garde, as he had before the war. He saw his position as a leader in new music taken over by a new generation—Stravinsky, Schoenberg, Prokofiev, and others. "The new sounds in the air," explains Ravel's biographer Arbie Orenstein, "were those of jazz, polytonality, and atonality, as the lush velvet of impressionism gave way to the hard steel which had been prophesied in The Rite of Spring."
Ravel was an active member of a group of artists and intellectuals that spent countless hours in Parisian cafés, exchanging lively opinions. The composer had a lot to think about: the cultural ramifications of the war, the new music he heard in the concerts his Society put on, the aesthetic implications of the new avant garde style, and the heady ideas picked up in cafés.
With great effort he managed to complete the Sonata for Violin and Cello, which had been "dragging on," as he put it, for a year and a half. After that, he settled into a long period of creative inactivity. He was supposed to be working on an opera, L'Enfant et les sortilèges, but instead he composed nothing other than a few small pieces and orchestrations of other composers' works (including Mussorgsky's Pictures at an Exhibition).
One evening in July 1922, Ravel attended a private concert where he heard the superb Hungarian violinist Jelly d'Aranyi perform his Violin and Cello Sonata. Later that evening Ravel asked d'Aranyi to play some authentic gypsy melodies. She obliged, and he kept asking to hear more. The "evening" continued until 5 a.m. Ravel, like such composers as Liszt, Brahms, and Dvořák before him, was fascinated by both gypsy folk music and the gypsy manner of violin playing. (Coincidentally, it was for d'Aranyi that Bartók was at this time writing his two folk inspired violin sonatas.) The idea for Tzigane was born that night. A few days later Ravel sent a telegram to another violinist, Hélène Jourdan Morhange, who had advised him while he was composing the sonata and who had recently premiered that work: "Come quickly and bring the Paganini Études with you." He wanted to learn as much as he could about violin virtuosity.
Ravel's mental block against composing did not disappear. It was two years before he actually completed his modest gypsy work for violin and piano, and then only two days before its first performance. Thus D'Aranyi had to learn the fiendishly difficult solo part in an amazingly short time, yet she succeeded in dazzling critics and listeners alike at the London premiere. A few months later Ravel orchestrated the work, and d'Aranyi again impressed the audience when she premiered the new version.
Ravel made a third version of Tzigane, for violin and an instrument called a luthéal. This now forgotten instrument was attached to a piano to make it sound like a cimbalom, a Hungarian folk instrument similar to a hammered dulcimer. The luthéal soon lost what small appeal it had had, and this version of Tzigane is no longer played.
Although Ravel never fully recovered from his compositional lethargy, he was finally, after the composition of Tzigane, able to undertake and complete a number of major works.
KEYNOTE. The title Tzigane means "gypsy." It refers both to the work's typically Hungarian rhythms and melodic figures and to its stylization of gypsy violin playing. The extraordinary demands on the soloist far exceed what a folk violinist could manage. Still, the flavor of folk music is always present. Ravel subtitled the piece Rapsodie en Concert, and he described it as "a virtuoso piece in the style of a Hungarian rhapsody."
The piece owes its style equally to its two inspirations: folk music and the spectacular violin writing of Paganini. For example, the opening unaccompanied cadenza, which occupies more than a third of the piece, explores the typically Hungarian harmonic minor scale while it exposes the violinist to ever greater technical demands. The melodic line moves gradually upward, although Ravel directs the soloist to remain on the lowest string (the G string) for a considerable time. Thus the sound gets more and more intense as the melodic line rises. When the other strings are finally used, it is for spectacular multiple stopping (playing several notes at once). After the orchestra enters, the work becomes an incredibly virtuosic concerto, in which all manner of violin tricks—perpetual motion, rapid harmonics, left hand pizzicati in the midst of bowed arpeggios, quadruple stops, extremely high writing—are accompanied by Ravel's typically imaginative orchestration.
—Jonathan D. Kramer
Born: December 22, 1883, Paris
Died: November 6, 1965, New York
Known for:
Amériques
Arcana
Tuning Up
Density 21.5
Amériques
Work composed: 1921 (it is referred to as the 1922 version, however)
Premiere: April 9, 1926 in Philadelphia, Leopold Stokowski [former CSO Music Director] conducting The Philadelphia Orchestra; Varèse revised the work in 1927 and the premiere of the new version occurred May 30, 1929 in Paris, Gaston Poulet conducting the Orchestre des Concerts Poulet
Instrumentation: 4 flutes, 3 piccolos, alto flute, 4 oboes, English horn, heckelphone, 4 clarinets, E-flat clarinet, bass clarinet, contrabass clarinet, 4 bassoons, 2 contrabassoons, 8 horns, 10 trumpets, 8 trombones, 3 tubas, 2 timpani, bass drum, boat whistle, castanets, crow call, crash cymbals, glockenspiel, lion's roar, low rattle, rute, siren, siren whistle, sleigh bells, snare drum, 2 suspended cymbals, tam-tam, tambourine, triangle, whip, xylophone, 2 harps, celeste, strings
CSO notable performances: These are the first CSO performances of the original 1922 version of Amériques; the CSO has performed the 1929 version on four previous subscription weekends between 1982 and 2015 | Varèse conducted the Cincinnati Symphony Orchestra on March 17, 1918 (shortly after he moved to this country), in a program that included Brahms' Symphony No. 2, Glière's The Sirens, Glazunov's A Minor Violin Concerto and Berlioz' "Dance of the Sylphs" and "Rákóczy March" from La damnation de Faust.
Duration: approx. 26 minutes
We all wonder sometimes what it would be like if we could (or had to) start our lives all over. Yet few people—at least, few composers—have ever done so more completely and more uncompromisingly than Edgard Varèse.
Born in France and raised in part in Italy, Varèse studied at the Schola Cantorum in Paris and later at the Conservatoire. As a young man he mingled with such luminaries as Picasso, Max Jacob and Fernand Léger. Among composers, Claude Debussy and Erik Satie noticed his talents and became his friends. In 1908 Varèse went to Berlin where he spent the better part of the next seven years, receiving encouragement from Richard Strauss and Ferruccio Busoni. His orchestral work Bourgogne was performed in Berlin thanks to the personal support of Strauss. Varèse later destroyed the score of Bourgogne; the rest of his works perished in a warehouse fire in Berlin. So when Varèse arrived in New York in December 1915, he quite literally had to start over both personally and professionally. ("He had $90 in his pocket and knew only two words of English," asserts biographer Fernand Ouellette.)
The personal and the professional aspects, of course, were merely reflections of one another. Varèse's move to the United States during World War I was but the outward manifestation of the important intellectual development that had begun during the last European years. In general, Varèse felt that Western music was too restricted by constraints imposed by traditional patterns of form and metric rhythm, as well as the tempered system of twelve chromatic notes. As he put it in a lecture given during the last years of his life, "my aim has always been the liberation of sound—to throw open the whole world of sound to music." His innovations, far more radical than those of Schoenberg, Stravinsky, Ives or Bartók, were aimed at discovering sounds that had not been used in musical works before. He heard these sounds clearly in his head, and strove to realize them with the technical means at his disposal. Many of Varèse's ideas could only materialize after the advent of electronic music. He was in his seventies when he was finally able to write a Poème électronique (1958) for Le Corbusier's Philips pavilion at the World's Fair in Brussels.
Amériques, the first composition Varèse wrote in the United States, and thus his earliest surviving work, embodies the composer's vision with uncommon imaginative power. The orchestral forces are among the largest ever assembled; they allowed Varèse to achieve the variety of timbres as well as the sheer "critical mass" required for a true "liberation of sound." Percussion writing has never been this complex: the polyrhythms are perceived as an intricate tapestry of sound color. Of particular importance is the siren, which Varèse included in several of his scores, not because of any emotional associations but because it provided a continuum of pitch (a glissando of sorts) going beyond the twelve-tone system. The instruments playing regular pitches, dominated by the 21 brass players, project what Varèse called a "pure sound" that "does to harmonies what a crystal prism does to pure light. It scatters it into a thousand varied and unexpected vibrations."
The title Amériques has given rise to many speculations about a possible program behind the piece. Varèse did say that his first impressions of New York were not visual but aural ones:
For the first time with my physical ears I heard a sound that kept returning in my dreams as a boy—a high whistling C-sharp. It came to me as I worked in my West Side apartment where I could hear all the river sounds—the lonely foghorns, the shrill peremptory whistles—the whole wonderful river symphony which moved me more than anything ever had before....
Yet Amériques is not a programmatic piece in the narrow sense. Varèse pointed out that the title, emphatically in plural, had to be understood as "symbolic of discoveries—new worlds on earth, in the sky, or in the minds of men."
KEYNOTE. Varèse's music makes as few references to music from the past as possible. There is, perhaps, only one work by another composer to which Amériques owes a tangible debt: Stravinsky's Rite of Spring. (Varèse was present at the famous scandal during the ballet's 1913 premiere.) The Rite had just begun to make the transition from icon of barbarism to established modern classic when Varèse appropriated certin melodic and rhythmic elements from it and took them to a considerably higher level of abstraction and complexity. The folk melodies that are readily discernible in The Rite are gone in Amériques, but are occasionally alluded to in some melodic fragments and ostinatos (pattern repetitions). Yet Varèse was not writing ballet music and thus could afford to divest himself of the last remnants of any "constraints imposed by the traditional patterns," which are still present in Stravinsky.
Amériques negates the very concept of musical form based on a gradual unfolding of events, in which each section builds upon the previous one either by continuation or by contrast. It is not a "linear" piece but rather one proceeding in complicated zigzags and surprising fits and starts. Yet the work does not lack its internal logic and coherence: the sinuous alto flute solo at the beginning and the violent eruptions at the end make for a compelling structural arc. The framework is not unlike, once more, The Rite of Spring, with its opening bassoon solo and concluding wild "Sacral Dance," but it is filled in quite differently. There are numerous changes of texture and tempo, but one never knows what the next change will be or when it will occur.
Despite all this unpredictability, there are a few constants in the piece. A number of recurrent melodic fragments, heard in different instrumental guises and rhythmic shapes, are always recognizable by a certain succession of intervals. Toward the end of the piece, in a fast and rhythmic section that is the equivalent of the "Sacral Dance," the three piccolos and two flutes play a long theme consisting of repeated notes, scalar segments, and a characteristic formula where a rise of a perfect fifth is immediately followed by a return to the original pitch (D-A-D).
All of these elements, heard separately at different moments earlier, are finally brought together in a configuration that, although lacking the symmetrical shape of a classical melody, is a melody nonetheless. It ushers in a climactic ending that is just about the only traditional feature of the piece.
—Peter Laki