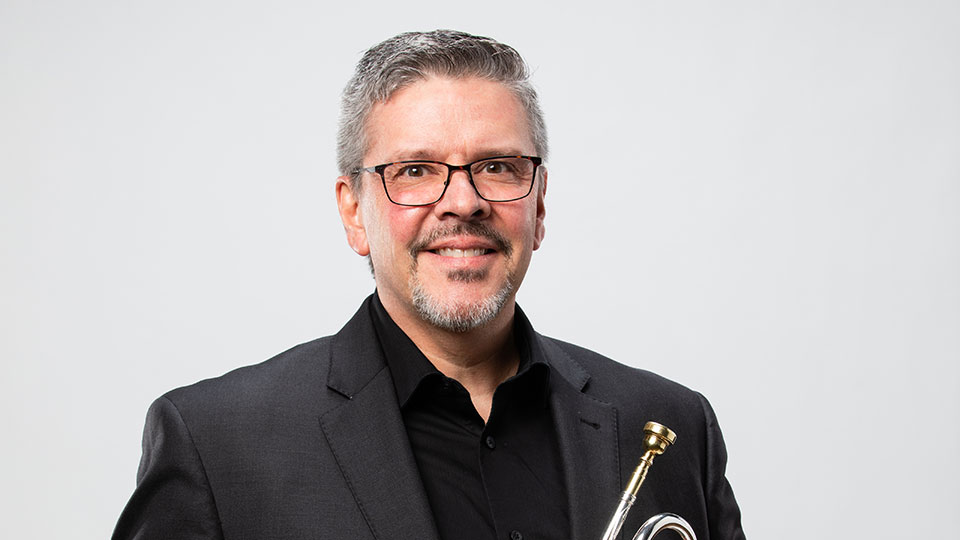 Robert Sullivan has been Principal Trumpet, Rawson Chair, of the Cincinnati Symphony Orchestra since rejoining the ensemble in 2018. During his first stint with the CSO, which began in 2008, he left for five years to serve as Professor of Trumpet at Northwestern University. In 2020, Sullivan joined the faculty of his alma mater, the University of Michigan.
During his years at Northwestern University, Sullivan performed regularly with the Chicago Symphony Orchestra, Chicago Philharmonic, and Lyric Opera of Chicago. Prior to his first tenure in Cincinnati, Sullivan served as Associate Principal Trumpet in the New York Philharmonic for eleven seasons and Assistant Principal Trumpet of The Cleveland Orchestra for five years. He has been on the faculties of the Manhattan School of Music, Mannes College of Music, the Cleveland Institute of Music, Charleston Southern University and the College of Charleston.
Sullivan began playing trumpet at age ten in the Norwood, Massachusetts public school system, and while in high school he became Associate Principal Trumpet in the Massachusetts Youth Wind Ensemble. Later, while a student of Armando Ghitalla at the University of Michigan, where he earned his Bachelor of Music degree, he was featured soloist with many of the University ensembles.
He was winner of the concerto competition at the National Music Camp, Interlochen, Associate First Trumpet with the All-American College Band of Disneyland, and winner of the Armando A. Ghitalla Fellowship to the Berkshire Music Center, Tanglewood. He was later a member and soloist with the U.S. Air Force Band in Washington, D.C., as well as an extra player in the National Symphony. After leaving the Air Force, Sullivan became Solo Trumpet in the Chicago Chamber Brass.
Sullivan is an active recitalist and clinician; he toured the U.S. for two seasons with the trumpet and organ duo "Toccatas and Flourishes," and his recitals as part of the Piccolo Spoleto Festival in Charleston have been recorded and broadcast on National Public Radio's Performance Today. Recent solo performances have included appearances with Chicago Philharmonic, United States Air Force Band, and Hilton Head Symphony under the baton of John Morris Russell and Cincinnati Symphony under the direction of Louis Langrée.
As a member of the Principal Brass of the New York Philharmonic, Sullivan performed recitals throughout Europe, South America and Asia, and collaborated on concerts with Canadian Brass and German Brass. He has also performed and recorded with Summit Brass and Empire Brass, as well as dozens of Hollywood film scores.
Sullivan has two previous recordings with pianist James Rensink, Treasures for Trumpet and Kaleidoscope (Summit Records). A proponent of new music, Sullivan has commissioned works by Eric Ewazen, Joseph Turrin, James Stephenson, Jack Gallagher and others.
In November 2000, Sullivan received a special citation from the Congress of the United States in recognition of his community service.
Robert Sullivan is a Yamaha Artist and collaborated on the design of the Yamaha Artist Model trumpets.