Sound Discoveries at Home
Bring the fun of CSO Sound Discoveries into your home with Teaching Artist Liz Wu. Each week we'll post a new activity video.
Make a double reed-inspired instrument
Using a typical drinking straw, create your own double reed instrument, inspired by the bassoon and oboe in the orchestra!
Play your double reed-inspired instrument
Now play along to the music with your new instrument! Watch through the end for an optional modification to your instrument.
Make your own rainstick at home! Here's the supplies you'll need (and younger crafters may need an adult's help):
Empty paper towel roll
Corn on the cob holder or a nail (ask for adult help!)
Toothpicks
Scissors
Tape
Dry ingredients (rice)
Construction paper & markers (optional)
Play along with your rainstick
Now that you've made your own rainstick, play it with the music!
Using popsicle sticks, construction paper, and rubber bands, make your own kazoo!
Play your kazoo with the Cincinnati Pops
Play along with your newly made kazoo!
Make your own conductor's baton
Follow along to create a baton of your own and become a conductor!
Conduct with the Cincinnati Pops
Use your new baton to conduct along to the Cincinnati Pops!
Find empty, refillable bottles to create a flute-inspired instrument!
Play your bottle flute with the Cincinnati Pops
Play along with your new instrument to "Kangaroos" from The Carnival of the Animals, performed by the Cincinnati Pops.
Make a recycled shaker drum
Celebrate Earth Day by creating your own recycled instrument! Using tin cans, construction paper and filler.
Materials:
Aluminum can(s)
Packing tape and Scotch tape
Filler (such as macaroni, rice, beans, popcorn kernels)
Pencil, dowel or skewer to serve as "drumstick"
Construction Paper and Markers (optional)
Play your recycled drum with the Cincinnati Pops
Play along to "Over There" by George M. Cohan performed by the Cincinnati Pops on American Originals: 1918
Make your own glass xylophone
Experiment with pitch and vibration by creating a DIY glass xylophone using glassware of different sizes and water!
Play your glass xylophone
After determining the pitches in ascending order, improvise and play along on your glass xylophone!
Using an old cardboard box, such as a tissue box, and various sizes of rubber bands, to create your own guitar.
Once you've heard the differences in the "strings" on your guitar, try to play along with Liz to the music!
Create your own "emoticon" cards that you can use to react to music you hear.
Create your own tambourine with common household items.
Materials list:
Two paper plates
Hole punch (or scissors—be careful!)
Fasteners such as pipe cleaners, string, rubber bands, duct tape, etc.
Jingles such as jingle bells, or small dry objects (beads, macaroni, beans)
Markers or crayons to decorate the plates (optional)
After making your tambourine at home, play along to Alberto Ginastera's "Malambo".
Make Your Own Egg Shakers
Create your own egg shakers with common household pantry items.
Materials list:
Plastic eggs
Household items such as dried beans, macaroni, split peas, popcorn kernels, rice
Sharpie marker (optional)
Join Liz Wu and create your own music with her drumming accompaniment.
Sound Discoveries School Music Integration Residency
The Sound Discoveries School Residency program brings weekly music instruction into schools looking for increased arts access and integration. Each residency is customized to address each school's individual learning goals.


Partner School Stories

Hays-Porter School (Residency School since Fall 2016)
Every week at Hays-Porter, fourth, fifth and sixth graders meet with CSO Teaching Artist Liz Wu to explore how music integrates with math and technology. As a CPS Vision 2020 High Tech school, Hays-Porter's Sound Discoveries students use tablets, composition software, video design tools, and audio recording equipment to discover how music and sound is used in various projects, settings and fields. Students in fifth and sixth grade also serve as ambassadors to the 2nd Grade, visiting the classrooms quarterly to teach a lesson from their own learning in Sound Discoveries.
Teachers have indicated overall student improvement in attentiveness, patience, curiosity and excitement to learn. Students also saw an overall improvement in retention of music fundamental skills throughout the residency.
South Avondale Elementary (Residency School since Spring 2019)
On Wednesday mornings, CSO Teaching Artist Liz Wu works with South Avondale Music Teacher Rev. O'Neal to explore how sound is created through instruments from around the world. Students complete hands-on experiments and build projects including individual panpipes, used by students in musical performances.
Listen to Student-Created Ringtones 2019
Oyler CLC (After-school Residency since 2019-2020)
Once a week during the afterschool program at Oyler, students in first and second grade learn about the different instruments through the orchestra, musical elements such as melody and rhythm, and share their own expression through music-making together.
Roberts Academy (After-School Residency since 2019-2020)
In the afterschool program at Roberts Academy, 2nd and 3rd graders learn about musical cultures around the globe and explore their influence on our own music. Students craft their own instruments inspired by world music traditions.
Rothenberg Preparatory Academy (Residency School in 2018-2019)
For the 2018-2019 school year, music classes in grades 2, 4, 5 and 6 joined CSO Teaching Artist, Liz Wu, to explore how sound is created in both music and the world around us. The students learned about instruments and sound production through hands-on activities including making their own craft instruments, completing experiments to witness sound and vibration, and creating music through electronic composition.
Pilot Programs
During Summer 2019, Sound Discoveries had a 4-week pilot in the summer program at Carson School. To inquire about piloting Sound Discoveries, contact us.
Meet Our CSO Sound Discoveries Staff
Liz Wu
CSO Teaching Artist
Liz Wu is a professional musician, CCM graduate, fitness instructor and published children's book author who has combined her love of music, movement and language into fun, engaging programs designed to maximize learning on many fronts. She spends her days teaching fitness for adults and seniors, her mornings and afternoons teaching music to all ages, and her evenings playing in the band Acarya. If she has a spare hour, you might run into her at a farmer's market, hiking in the woods, volunteering in the community, or enjoying the arts!
Carolyn Youngquist
Sound Discoveries Intern
Carolyn Youngquist is a third-year Music Education student at Xavier University. While her primary instrument is voice, she is trained to be knowledgeable in virtually all instruments of the orchestra, and applies this knowledge in the classroom. Her love for teaching is shown through her involvement in Sound Discoveries, as well as her involvement in UC's collegiate show choir, Queen City Sound District, of which she is a vocal and combo director. When not teaching, you may find Carolyn singing with Xavier's Jazz Orchestra in your local coffee shop, volunteering with KCB, or cuddling up with her dog on the couch.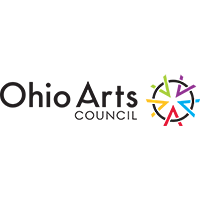 Sound Discoveries is made possible in part by state tax dollars allocated by the Ohio Legislature to the Ohio Arts Council.
Sound Discoveries Gallery