Classical Roots
April 22, 2022 | Music Hall
Program
JOHN MORRIS RUSSELL, conductor
CLASSICAL ROOTS COMMUNITY CHOIR,
William Henry Caldwell, resident conductor
Soloists Ciara Harper, Ron Logan, Timothy Oliver and Noël Walton
TALISE TREVIGNE, soprano
MICHAEL PREACELY, baritone
BENJAMIN PREACELY, baritone
ALTON FITZGERALD WHITE, baritone
MEMBERS OF THE NOUVEAU PROGRAM, Marion Peraza, artistic advisor and coach, and Felipe Morales-Torres, coach
Michael Abels: Outburst
James Weldon Johnson: Lift Ev'ry Voice and Sing
Giuseppe Verdi: "Sempre Libera" from La traviata
Will Marion Cook: In Dahomney Suite
Scott Joplin: Treemonisha Overture, arranged by Rick Benjamin
Scott Joplin: Bowing Music: Themes from Treemonisha in One-Tempo, arranged and orchestrated by Rick Benjamin
Eubie Blake: "I'm Just Wild About Harry" from Shuffle Along
James Cleveland/Charles Fold: Charles Fold Suite
This Too Will Pass • Tell It • May the Lord Bless You Real Good
INTERMISSION
Margaret Allison Bonds: "Alleluia" from The Ballad of the Brown King
Gregory Spears: "Think You Know this Man" from Castor and Patience
Terence Blanchard: "Peculiar Grace" from Fire Shut Up in My Bones
Charlie Smalls: "Home" from The Wiz
Mark Mancina: "He Lives in You" from The Lion King
Alan Menken: "If I Can't Love Her" from Beauty and the Beast
Stephen Flaherty: "Make Them Hear You" from Ragtime
Stephen Flaherty: "The Wheels of a Dream" from Ragtime
Luther Vandross: "Brand New Day" from The Wiz
Lift Ev'ry Voice and Sing
Now in its 31st year, the CSO's Multicultural Awareness Council (MAC) is a group of diverse community volunteers whose mission is to foster and increase awareness of the Orchestra and its activities through diverse music programs, educational and community partnerships, scholarships for talented, underrepresented student musicians and audience development initiatives. MAC volunteers support the work of the CSO in a number of ways, including leadership, fundraising and guidance for CSO diversity, equity and inclusion initiatives; helping increase awareness of CSO and Pops programs; hosting special events and receptions; and volunteering at CSO and Pops concerts and events. The annual MAC Award for Diversity and Leadership in the Arts recognizes local artists, administrators and visionaries who have forged paths for the inclusion of underrepresented communities to participate in the arts, and the MAC Music Innovator program is an annual artist residency for leading African American classical musicians who embody artistry, innovation and commitment to education and community engagement.
---
MAC Music Innovator Concert
June 11, 2022 | 7:00 pm | Word of Deliverance Ministries
Join 2022 MAC Music Innovator, Antoine T. Clark, for an engaging program exploring themes highlighting the Black experience in America from folk music to social justice and spirituality. The concert, which is the culminating event for Clark's residency, will be performed by members of the CSO with a special spoken word performance by Elementz.
---
Andrew J. Brady Neighborhood Concert Series
Join us for music in the community! In partnership with local community organizations, we are pleased to present a series of free public concerts, inspired by the legacy of Andrew J. Brady, beloved Cincinnati music teacher and musician. Bring your family and friends to experience the sights and sounds of the full orchestra in a neighborhood near you.
Artistic Leadership and Orchestra Roster
Sponsors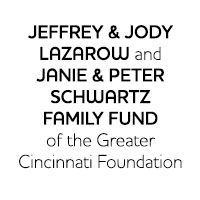 Classical Roots 2022 is made possible in part by the National Endowment for the Arts.