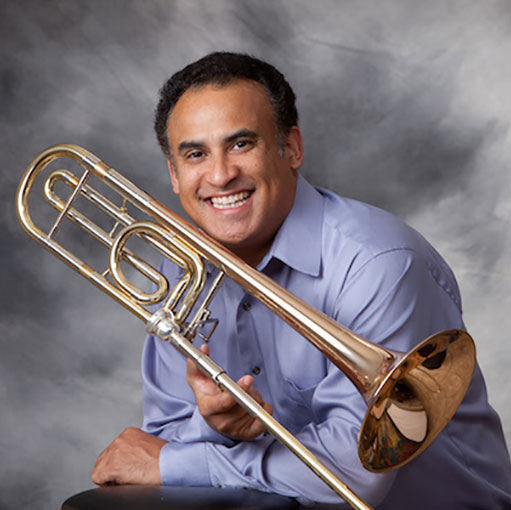 Jaime Morales-Matos, a member of the Miami University brass faculty, has conducted ensembles in the U.S. (Jacksonville Symphony, Columbus Symphony, Dayton Philharmonic, Bangor Symphony, Central Ohio Symphony), Germany (Munich Philharmonic), Spain (Galicia Symphony), Austria (Tokyo Symphony in Tour), Bulgaria (Varna Philharmonic, National Radio Symphony, Sofia), Ecuador (Guayaquil Symphony) and Venezuela (Venezuela Symphony), as well as in his native Puerto Rico (Puerto Rico Symphony). He made his conducting debut in 2003 at the prestigious Casals Festival with members of the New York Philharmonic; the concert was recorded and broadcast on public television. In 2007 he was selected by the American Symphony Orchestra League as one of its most promising young conductors and participated in the Bruno Walter Conductor Preview with the Jacksonville (FL) Symphony. He was appointed Music Director of the Central Ohio Symphony Orchestra in June 2002, and in 2008 he became Music Director of the Clermont Philharmonic.
Morales-Matos has wide-ranging experience as a trombonist, having performed with the Cincinnati Symphony Orchestra, Columbus Symphony, Dayton Philharmonic, Lexington Philharmonic, Casals Festival Orchestra, Florida Music Festival Orchestra, and New World Symphony in the United States, and with the Asturias, Granada and Galicia Symphony Orchestras in Spain. He has performed solos with several orchestras, including the Puerto Rico Symphony (twice), Bangor Symphony, Symphony Orchestra of Southeast Texas, Guayaquil Symphony, Central Ohio Symphony and Clermont Philharmonic. Morales-Matos has extensive cham-ber music experience, including performances with the Gabrieli Brass Quintet, Top Brass, Upbeat Brass and concerts with members of the brass section of the New York Philharmonic and Cleveland Orchestra. He has premiered various concertos and other works written especially for him.
He has taught trombone as a faculty member the Puerto Rico Conservatory of Music, the Conservatorio Superior de Asturias in Spain, and CCM, and he has been involved on the faculties of several summer festivals in the U.S., Puerto Rico and Spain. He also was an assistant instructor at Indiana University. He is very active as a masterclass artist in the U.S. and Latin America. His principal trombone teachers have included Keith Brown, Tony Chipurn, M. Dee Stewart, and John Swallow. He has also studied privately with Joseph Alessi and Arnold Jacobs.
Morales-Matos received the Bachelor of Arts, Performer's Certificate, and Artist Diploma from Indiana University, and a master's degree from the University of Cincinnati College-Conservatory of Music (CCM). His DMA in performance and conducting from CCM is in progress.