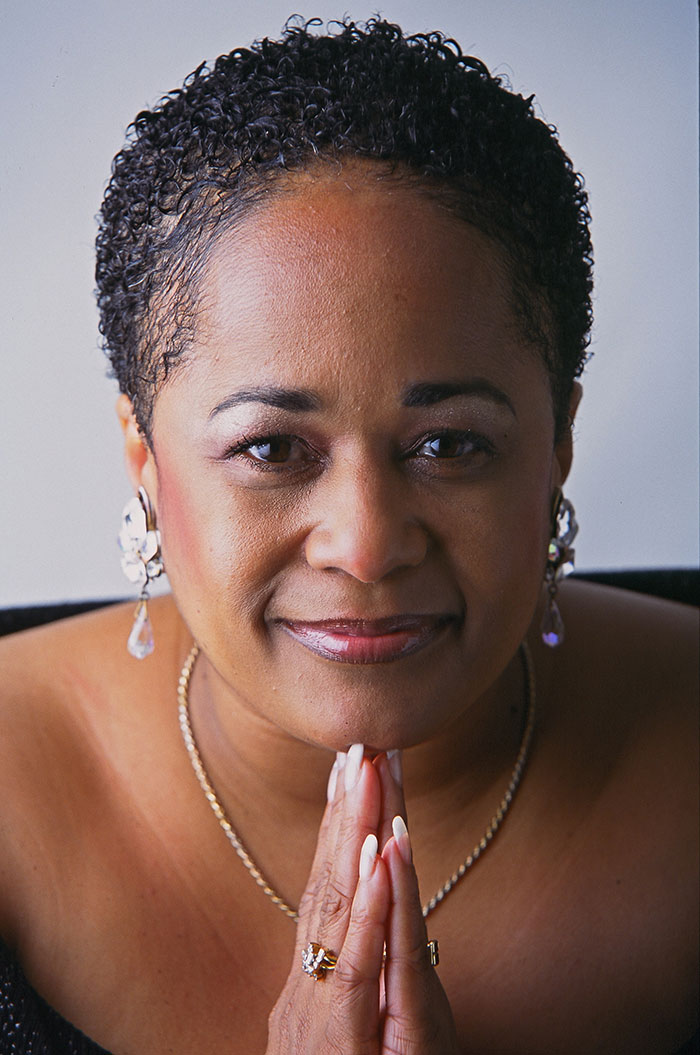 Mandy Gaines, a talented, versatile vocalist and entertainer with more than 30 years of professional experience, entertains and delights audiences throughout the world through her gifted interpretations of Jazz, Pop, R&B and Soul classics, as well as writing and performing her original works.
Mandy began singing at an early age in school and church. She holds a B.A. from The College of Wooster in Speech/Arts and has continued her studies through private vocal instruction and various workshops emphasizing oral interpretation, jazz improvisation and vocal technique, as well as theatre and broadcasting/media studies.
Throughout her career, Mandy has performed with Jazz greats such as Wynton Marsalis, Dany Doriz, Randy Brecker, Scott Hamilton, Eldee Young, Redd Holt, Rhoda Scott, Deborah Brown, Brad Leali, Leroy Jones, Brian Lynch, Keith Loftis, Marcus Printup, Wendell Brunious, Vincent Gardner, Larry Price, Wes "Warmdaddy" Anderson, Michael Stanton and Victor Gaskin.
From 1991 to 1994 Mandy returned to her theatre roots and was hired as featured vocalist at The Oldenberg Dinner Theatre Entertainment Complex and The Star of Cincinnati. In 1995, Mandy began traveling to Europe, where she met local musicians and began to perform regularly throughout Belgium and France in local clubs, concerts and festivals. She continues to be invited back annually.
In the fall of 1996, Mandy was selected to perform in Munich as a member of the Sister City Cultural Exchange Program, and the following year she was selected to perform the same program in Zurich. She was also invited to entertain for the U.S. Ambassador to Belgium, to commemorate the inaugural flight and joint venture of Delta and Sabena airlines.
Once back in Cincinnati, Mandy was chosen to be the opening act for Herbie Hancock and, shortly after that, she was nominated "Best R&B" vocalist in Cincinnati's annual music award show, The Cammys.
Mandy has been a back-up vocalist for Asian artists Harlem Yu and Emil Chau. She has performed for British and American troops at Diego Garcia Military Base, Indian Ocean.
From 1998 to the present, Mandy has performed throughout Asia and Europe in clubs, concerts and festivals, including as Artist-in-Residence at several five-star hotels in Thailand, Singapore, Vietnam, China and Hong Kong and annually for the number one Jazz club in Taipei, Brown Sugar.
The spring of 2006 saw a return to Europe to perform at the April Jazz Festival in Helsinki and "Festival International De Jazz" in Saint-Louis, Senegal. She also had a European release of her CD, With a Song in My Heart and was selected as judge for Sony Jazz Music Competition in Riga, Latvia.
Since 2007, Mandy has held music workshops in France, released her second CD, Taking a Chance, performed at The American Embassy, Thailand, in commemoration of Black History Month, undertook concert tours throughout Russia (2010, 2017 and 2018—the latter two sponsored by the U.S. Department of State), and took on roles in the musicals Smokey Joe's Café and Anything Goes in Taipei, among other performances. She also maintains her schedule of residencies and in several clubs and hotels around the world as well as European concert and festival tours.