Spotlight on Jonathan Bailey Holland, Composer-In-Residence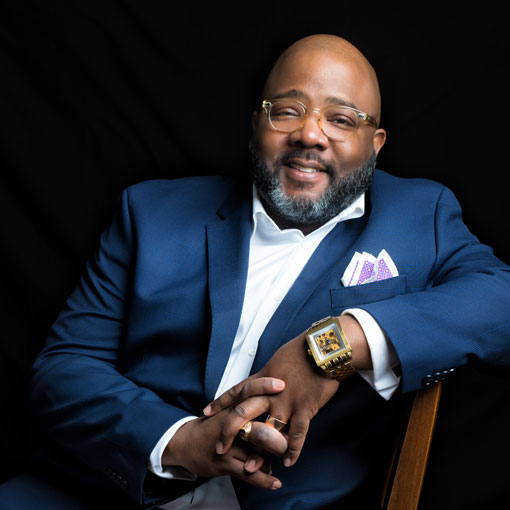 When did you first work with the CSO, and how has that relationship evolved through the years?
My first time working with the CSO was when I was commissioned to write Halcyon Sun in 2003, which the orchestra is performing again in March of this coming year. It was written to commemorate the opening of the National Underground Railroad Freedom Center. Maestro Paavo Järvi was very supportive, and he told me to write whatever kind of work I wanted for this occasion. Interestingly, last season I was asked by the Orchestra to write another work to celebrate a building, but this time it was the re-opening of a very old building—Music Hall. In between, I have written a few shorter works for the Orchestra for various special occasions. There is a comfort and familiarity in getting to work with the Orchestra repeatedly, but also a feeling of honor at being asked to do another work for such a great orchestra.
What are the goals of the Young Composer's Workshop you're leading during the 2018-19 season?
It is so important for composers to hear their music performed by live performers. There are tons of software programs that can reproduce all kinds of sounds, some that even do a decent job of replicating something that almost sounds like an actual person playing, but none that can capture all of the elements of working with people. For a young composer to get to work with a professional musician is also crucial. The craft of composing is often a solitary one, and one that is about translating internal sounds into symbols that can be interpreted by others and realized. Composers need to know how well their thoughts and ideas have been conveyed, while also learning to accept that the performers they work with will also add their interpretation and voice to the composers' ideas. This is sometimes a difficult experience at first.
What is the inspiration behind Ode?
Ode is a "meditation on/conversation with/prelude/postlude/reckoning with" the idea of writing a work to accompany Beethoven's 9th Symphony. Beethoven's work is often the benchmark for the genre of orchestral classical music. But it is also nearly 200 years old, over-used and over-played and completely distorted in some ways, and it is because of all of this that it is hard to know even how to feel about being paired with the work, let alone what to write. I focus on little bits and pieces from the Beethoven, as well as some of the thinking about the Beethoven as impetus for my work.
What goes through your mind when you listen to an orchestra performing one of your pieces for the first time?
Well, that is a different experience each time in some ways, depending on whether it is a new piece or an older work, and whether I feel confident about what I will hear or if I am trying something new. It is always exciting to hear a large group of musicians working together to create something that I have composed. It is also stressful, as I don't always know if something is going to work or not, and it feels extravagant at times to still be working through an idea in rehearsal—even though that is partially what the rehearsal is for, since most of us don't have orchestras sitting around for us to try things out with as we work. Regardless, by the end of the process I am ready to write the next orchestral work, either because I have many new ideas, or because I want another shot at translating my own internal sounds.