Classical Roots: Black Voices and Stories
from American Music and Theater
by Tyler M. Secor
This year's Classical Roots concert explores the music and history of Black theater across different eras and from multiple dramatic forms. With such a broad topic, how did John Morris Russell narrow down the options? He started with inspiration from the rich musical history of Cincinnati.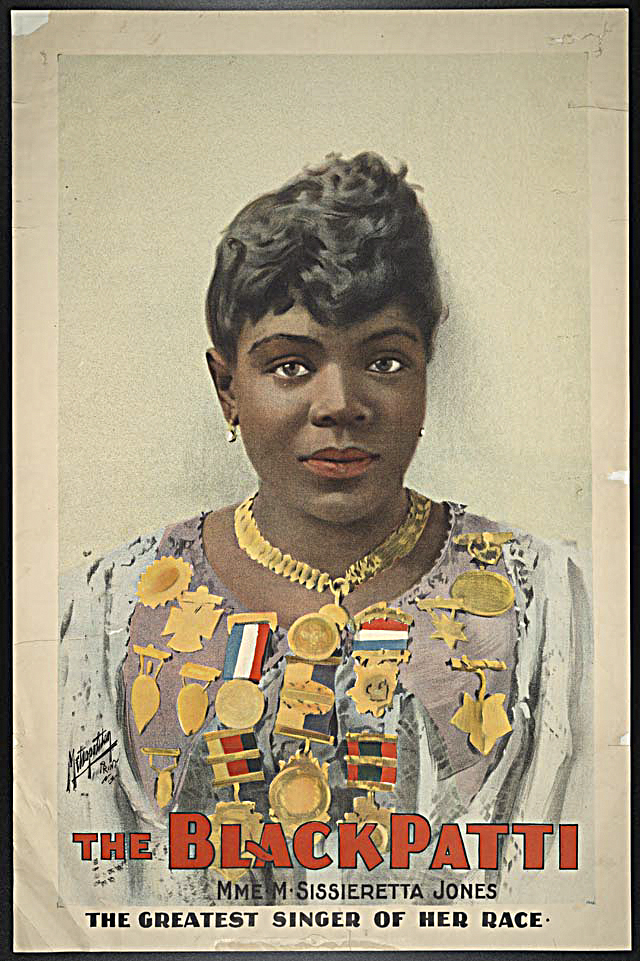 Sissieretta Jones, 1899, Metropolitan Printing Co.,
Library of Congress
Fresh from her Madison Square Garden debut performing to more than 75,000 people, Sissieretta Jones came to Cincinnati in March 1893 to sing at Music Hall. Madame Jones' performance won multiple ovations by the audience, and from a review of that concert, we know that she sang arias from Vincenzo Bellini's Norma and Giacomo Meyerbeer's L'Africaine but other details are unknown. It is quite likely, however, that she performed her signature piece, "Sempre Libera" from Giuseppe Verdi's La traviata. Literally translated as "always free," the aria undoubtedly spoke to her trailblazing career as the first internationally renowned African American operatic soprano. Grammy-nominated soprano Talise Trevigne joins the Orchestra and John Morris Russell on April 22 to recreate that moment. Trevigne also provides a sneak peek of the opera Castor and Patience with libretto by U.S. Poet Laureate Tracy K. Smith, which will have its world premiere this summer with Cincinnati Opera. Trevigne will sing the title role of Patience in this deeply relevant work that probes historical and continuing obstacles to Black land ownership in the U.S.
Nearly 20 years after Madame Jones appeared in Cincinnati, Scott Joplin completed his uniquely American opera, Treemonisha (1910). Gilbert Chase writes in his book America's Music that Joplin's idea was to write "an opera that would be both 'serious' and entertaining, drawing on the ragtime idiom when appropriate…but otherwise adhering to the general style of opera." The opera that emerged is an amalgamation of early 20th-century styles such as Black folk songs and dances, spirituals and Western European opera that teaches a moral within the context of a fantastic tale. Chase goes on to write, "[in] about 1940 Aaron Copland was stating that for a long time there had existed 'a strong desire for somebody to write a real American opera'; by 1910 that desire had already been fulfilled, although only one solitary voice proclaimed it amid a desert of indifference." Joplin passed away before his opera was ever staged, and four years after its first complete performance in 1972 Joplin was awarded a posthumous Pulitzer Prize in music. The Orchestra's performance of selections from the opera will provide just a taste of the opera's mix of styles.
Classical Roots will bring the work of Margaret Bonds (1913–1972) to the Music Hall stage for the very first time with "Alleluia" from the cantata The Ballad of the Brown King. Cantata literally means "sung" and typically refers to a short narrative vocal work in several movements with instrumental accompaniment that often involves choir. Bonds' cantata, with text written by Langston Hughes, was premiered in 1954 and tells the biblical Nativity story through the eyes of the Ethiopian King Balthazar, the Black "Wise Man." After two long years, the Classical Roots Community Choir (CRCC) makes their triumphant return to sing this work.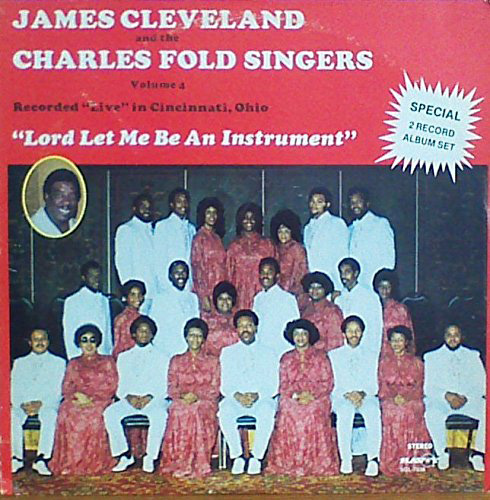 Album cover for the 1981 Grammy Award-winning
record by James Cleveland and the Charles Fold Singers.
The CRCC is also featured in a tribute to Cincinnati's own Charles Fold Singers. The Grammy Award-winning ensemble founded by Cincinnatian Dr. Charles Fold celebrated its 50th anniversary this season, and Classical Roots joins in this celebration with an arrangement of a few of their most popular gospel songs. Dr. Fold, recently inducted into the Cincinnati Black Music Walk of Fame, was music minister at Lincoln Heights Missionary Baptist Church when the very first Classical Roots concert was presented there 21 years ago.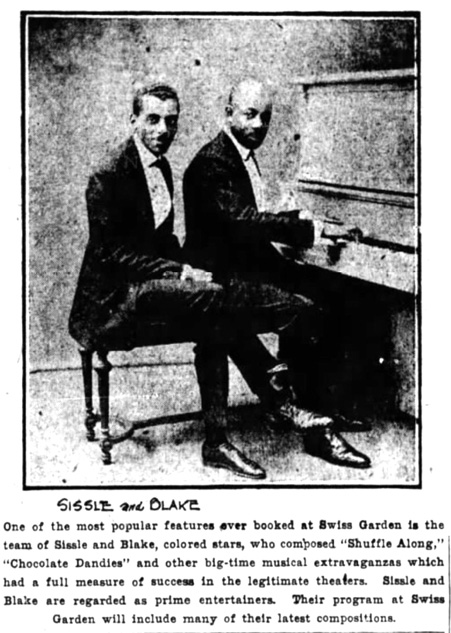 August 1, 1926 advertisement for Eubie Blake
and Noble Sissle.
The remainder of the concert is devoted to works from the Broadway stage, beginning with the first full-length musical written by a Black composer to be performed at a major Broadway theater: Will Marion Cook's In Dahomey from 1903. His collaboration with librettist Paul Lawrence Dunbar (born just up the road in Dayton) opened the door for productions like Eubie Blake and Noble Sissle's 1921 musical Shuffle Along, which ran for 504 performances and is often cited as a touchstone for the Harlem Renaissance. Blake and Sissle were no strangers in Cincinnati; they performed at the Swiss Garden in Bond Hill, the Cox Theatre in downtown Cincinnati and the Music Hall Ballroom numerous times in the 1920s and 30s.
Acclaimed baritone Norm Lewis will share his experiences in film, television and Broadway through song. Lewis' career has spanned over three decades and has included roles such as Phantom in Phantom of the Opera (the first African American actor to play the title role), Javert in Les Misérables (first African American Javert in an English production), King Triton in Broadway's The Little Mermaid, Porgy in Porgy and Bess, Senator Edison Davis in Scandal, and Eddie in Spike Lee's latest film, Da 5 Bloods. Lewis is a founding member of Black Theatre United, whose mission is to inspire reform and combat systemic racism within the theater community and throughout the nation.
"It is always a joy to present our annual Classical Roots program," says John Morris Russell. "The blend of history, storytelling and remarkable music is unique among CSO concerts. There is always something new, profound, eloquent and thrilling we all discover together as we celebrate Black musical traditions, and it is an honor and privilege to share it with everyone."
For more information about the history of the African American experience in Music Hall visit friendsofmusichall.org/blog.
We are grateful to Michael Preacely and Alton Fitzgerald White, who stepped in to perform in place of Norm Lewis for Classical Roots April 22, 2022.