A Taste of the Future: CSYO Alumni Reflect on the Side-By-Side Concert
by Meghan Isaacs
When Stacey Woolley sat as concertmaster for the very first Side-By-Side concert with the Cincinnati Symphony Orchestra and Cincinnati Symphony Youth Orchestra, he had no idea he would eventually spend the majority of his career on the Music Hall stage as a CSO violinist. What he did know at the time, however, was how impressive it was to hear his youth orchestra suddenly augmented by the professional musicians of the CSO. "I will never forget what a thrill it was to have the sound so beefed up," said Woolley. Several of Woolley's colleagues are also CSYO alumni, and all cite their experience in the youth orchestra—and specifically the annual Side-By-Side concert—as one of the most formative experiences in their musical education.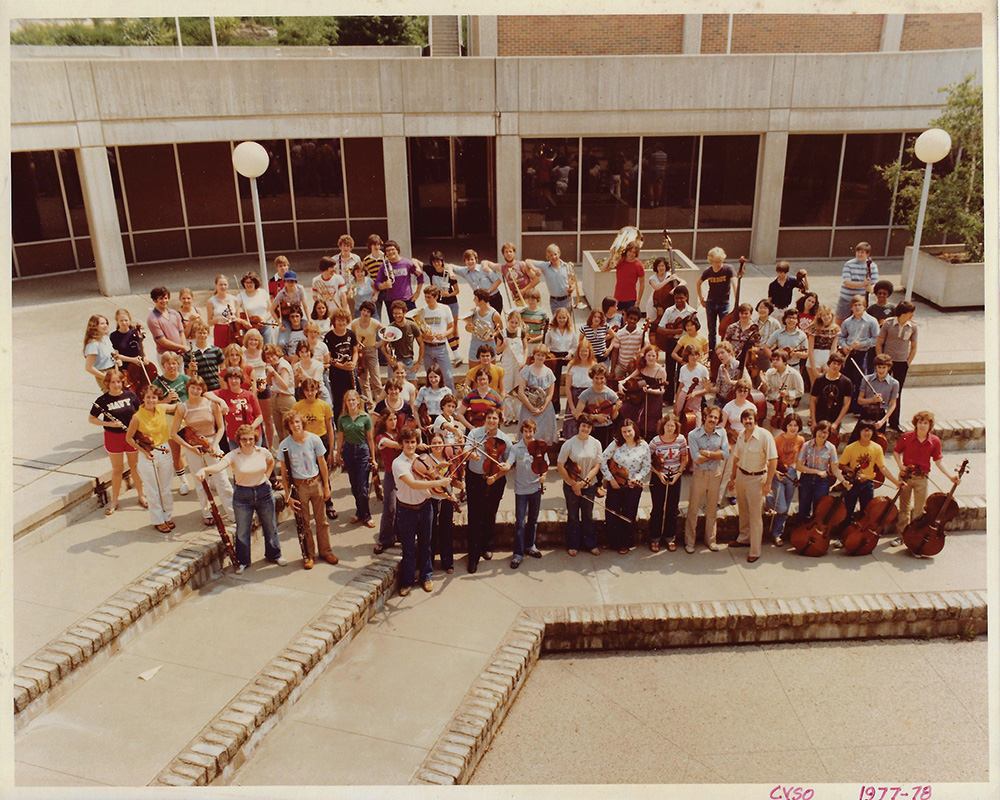 From its founding in 1964, the youth orchestra was participating in all the same activities as a professional symphony orchestra, including recordings, television specials and even international tours. On May 31, 1978, the youth orchestra performed its first joint concert alongside the CSO, to celebrate the 100th anniversary of Music Hall. It has now become an annual highlight of the youth orchestra calendar with the professional CSO musicians serving as stand partners for the students playing the principal roles.
In addition to the invaluable technical and professional skills they learn along the way, the young instrumentalists also benefit from the pure inspiration that comes from sitting beside their mentors.
"The Side-By-Side concert was the highlight of my youth orchestra years," said CSO trumpeter Chris Kiradjieff. "My dad was in the violin section and my trumpet teacher played in the CSO. I still remember today being in such awe of them—how they played and how they encouraged us students sitting next to them." (Kiradjieff ultimately also had the thrill of working with his dad, Conny Kiradjieff, as a peer in the CSO for seven years prior to Conny's retirement.)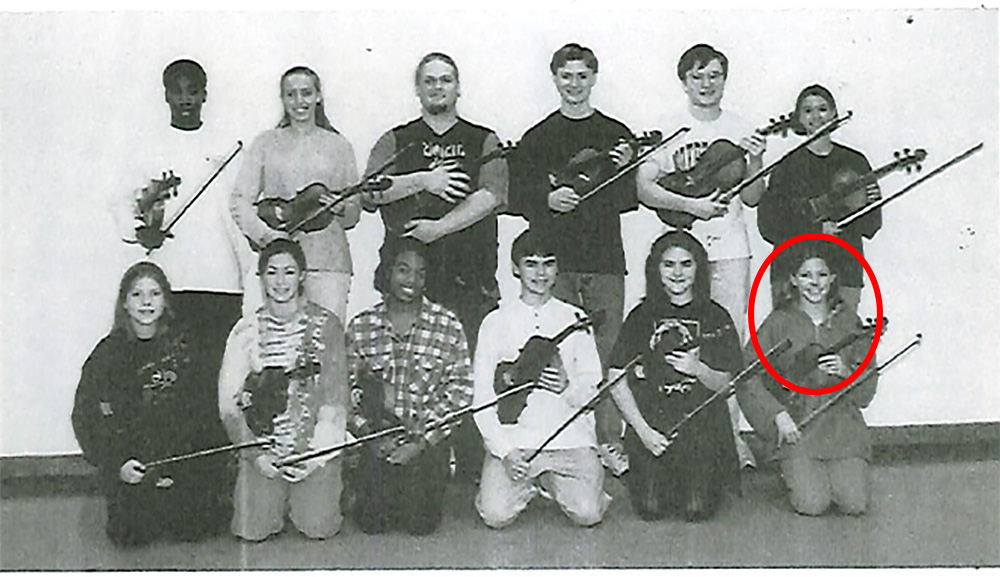 CSO Violist Rebecca Barnes recalls growing up attending CSO concerts, admiring the musicians she saw on stage. "As a student, playing the Side-By-Side made me realize these musicians were real people who were just like me at one time and still practiced and still strived to be better each day," said Barnes. "My teacher in high school was [CSO violist] Julian Wilkison. Just being on the stage with him was all I could really want because he was my biggest inspiration and role model." Barnes played principal viola that year, which meant she actually got to sit ahead of her mentor—a thrill for any student.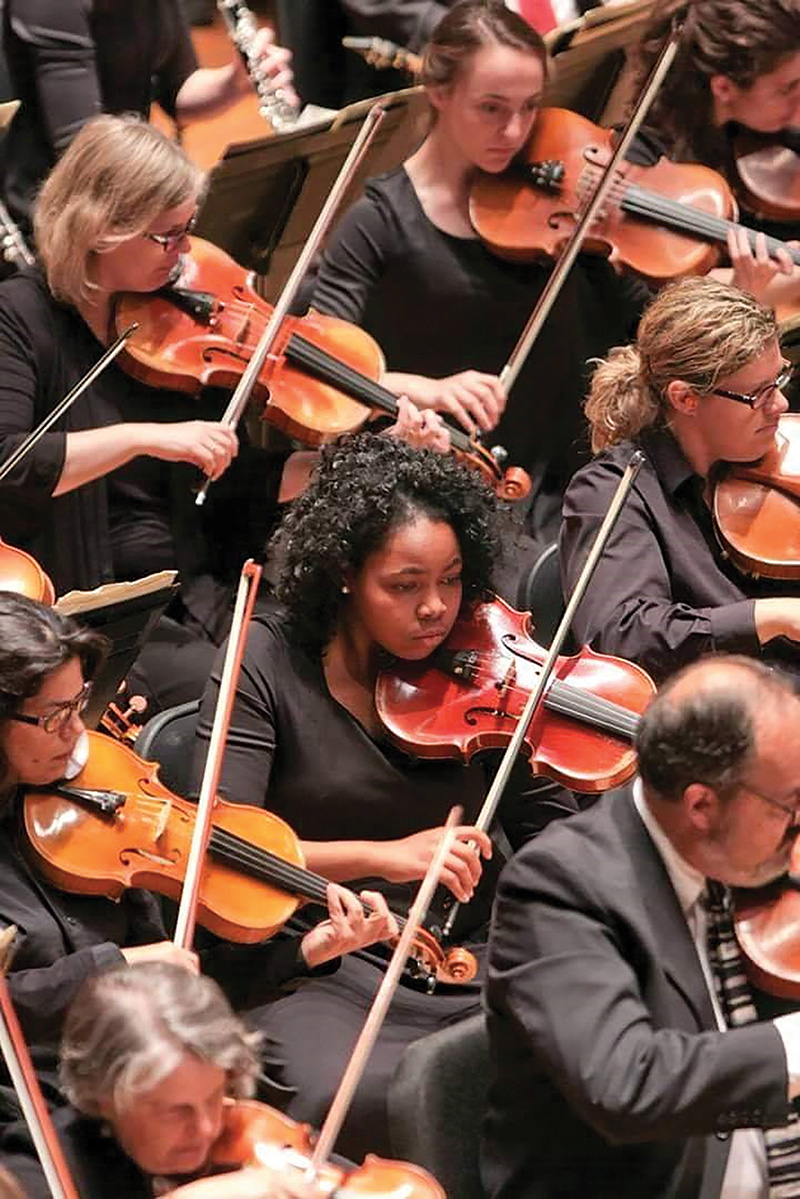 Violist Edna Pierce within the CSO as a CSO/CCM Diversity Fellow.
Edna Pierce also recalls marveling at the talent of the CSO musicians starting from attending her very first Young People's Concerts as a child. Pierce went on to join the CSYO Concert Orchestra, then the Nouveau Chamber Players, and eventually the CSYO Philharmonic. Just a few years later she started performing with the CSO as a CSO/CCM Diversity Fellow. The relationships she built during her formative years, both with her peers who shared her passion for classical music as well as through mentors who inspired and trained her, helped her realize her goals. "To grow up alongside these musicians and eventually join their cohort is an amazing opportunity," she said. "Even for someone who didn't have much but utilized the resources around me and had people inspire me with their passions. I definitely want to be that for someone else someday."
CSYO experiences have a way of coming full circle. CSO Principal Bassoonist Chris Sales performed Ravel's Daphnis et Chloe at his first Side-By-Side concert as a high schooler. Years later, it was also the first piece he played as a member of the CSO. "It was cool to have been there as the last stand in the youth orchestra and play the same piece as the principal bassoonist of the CSO." As a member of Nouveau Chamber Players, Pierce performed at Classical Roots when Marvin Winans was the featured guest artist, and in 2020 she played as a member of the CSO/CCM Diversity Fellowship with CeCe Winans, Marvin's sister.
While many CSYO members go on to pursue other careers, those who do continue in music get a taste of their dreams through the Side-By-Side experience. "I believe it's important as a young student to visualize your goals," said Barnes. "With the Side-By-Side you could step inside your goal and act out your future."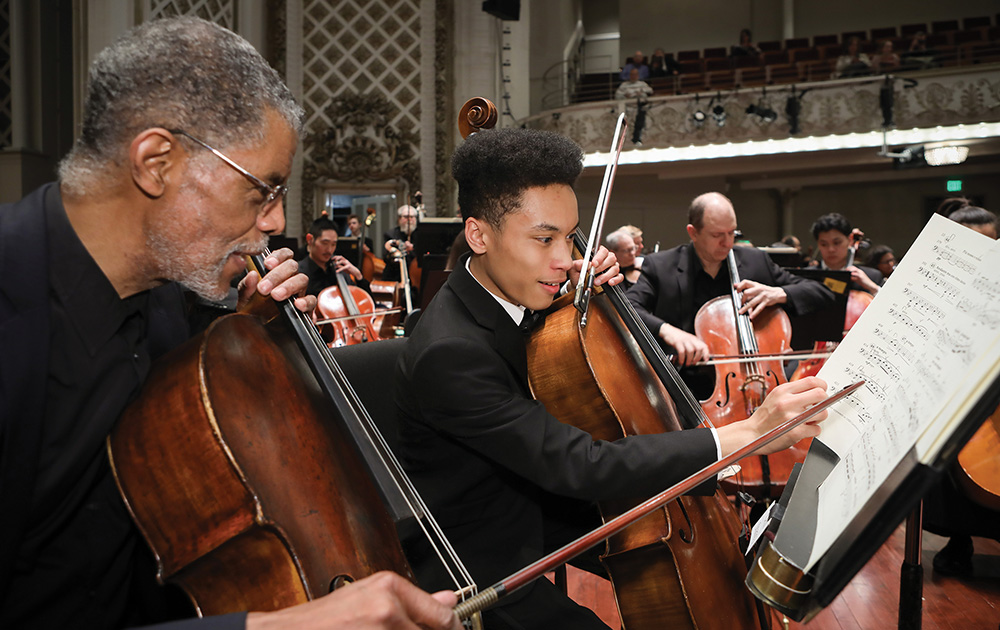 Now as adults, these CSYO alumni look back at their early achievements and not only see the perspective of how beneficial that experience was for them, but also discover a new sense of inspiration as they perform alongside budding musicians.
"The young members inspire us in the orchestra because it takes us back to how hard we worked. These kids inspire because they have worked hard to play at a very high level," said Woolley.
"I probably would not have pursued music if I had not had experiences like [the Side-By-Side concert]," said Sales. "It raises the level of those students and makes them feel special, like they've achieved something. It's a very good educational experience for them and it's very important that we continue it."