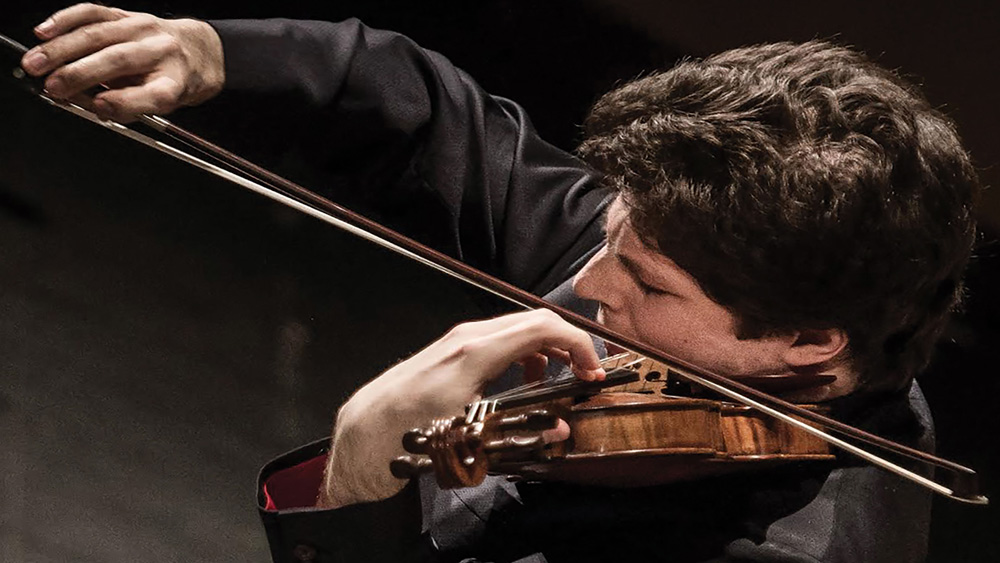 by Kayla Moore
You've been playing the violin for virtually your entire life. How did the violin come into your life, and what do you love about it? Tell us about the instrument you currently play on.
I started playing the violin when I was five years old, and I fell in love with the sound of the violin because it can sound so sweet and so much like a voice. Over the years, I have spent a lot of time trying to get as close to a pure, singing sound as possible. I've been very lucky to play on a violin built in 1723 by Antonio Stradivari (the "ex-Kiesewetter"), which is on loan to me from Clement and Karen Arrison through the Stradivari Society of Chicago. The violin was once played by the 19th-century German violinist Christophe Gottfried Kiesewetter, which is how it got its name. Fun fact: it was first brought to the United States in the early 20th century, and was seized in 1910 and held for years by customs authorities! The owner, Horace Havemeyer, was accused of smuggling it into the country without paying customs tariffs, but he eventually petitioned successfully for it to be returned to him, after pleading the statute of limitations.
It is inspiring to think about the fact that the violin is almost 300 years older than me and will still be around once I'm gone. The greatest strength of this violin is not only that the sound is beautiful and strong, but how versatile it is—I've played everything from solo violin works to concertos with large orchestrations, from baroque to contemporary music, on it. The range of colors and nuances is enormous, and I still discover more after years of playing on it!
You're performing Samuel Barber's violin concerto on a French- and American-oriented program—what's the story behind this program? What should audiences listen for?
I love this program because it explores the mutual admiration and fascination that French and American artists of the first half of the 20th century felt toward each other. The orchestral pieces on the program are Edgar Varèse's Amériques, in which a French composer puts his impressions of America and the chaotic sounds of New York City into music, as well as its counterpart in the other direction, George Gershwin's An American in Paris. We decided it would be perfect to complete the program with two violin pieces, one American and one French!
Samuel Barber's gorgeous and lyrical violin concerto is one of the highlights of the violin repertoire and the greatest of the American violin concertos. It's full of rich, romantic harmonies and lush melodies in the first two movements, while the fast and short last movement is an exciting perpetuum mobile, in which the violin fiddles away and finishes at breakneck speed!
Ravel's concert rhapsody, Tzigane, is a short showpiece (often played as an encore) in the style of a gypsy improvisation. At the beginning of Tzigane, the violinist takes the spotlight and plays alone for several minutes. You feel a little bit like a rockstar when you play that introduction, and that high wailing G all the way up on the G string might remind some people of a climax of an electric guitar solo. Eventually, the harp enters and a series of dance-like sections start chasing each other until reaching a breathtaking czardas-like finale!
What are some fun facts about yourself that fans might not know?
I grew up in Italy, and wherever I go I always scout out the best places to eat pasta, which tends to be my go-to lunch on a concert day! I spend most of the day practicing and studying and thinking about music, so when I'm not working I actually look for silence. I find it annoying, actually, that everywhere we go there is background music playing—too soft to really hear it, but loud enough to intrude.
In my time off I love to play games, which I find relaxing and refreshing—particularly strategy board games and video games when I play with other people, and mind games and puzzles if I play by myself.