Remembering Michael Gielen, former CSO Music Director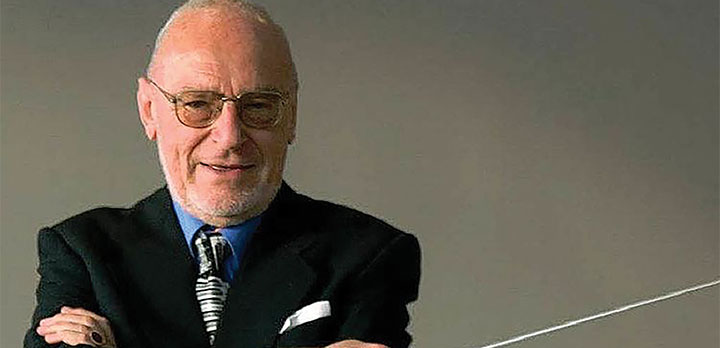 On Friday, March 8, conductor and composer Michael Gielen passed away at age 91, at his home in Mondsee, Austria. Gielen served as the 10th Music Director of the Cincinnati Symphony Orchestra from 1980 to 1986.
Gielen was born in Dresden, Germany, in 1927 into a family heavily involved in music, opera and theater. He fled Nazi Germany with his family in 1940 and settled in Buenos Aires, returning to Europe 10 years later where he made a new home in Vienna. Here, Gielen began his professional music career at the Vienna State Opera as assistant conductor in the 1950s.
From there, Gielen held a number of conducting positions throughout Europe before being hired as Music Director of the Cincinnati Symphony Orchestra.
A champion of modern orchestral music—especially the Second Viennese School—Gielen introduced Cincinnatians to many modernist and contemporary composers and led the Orchestra in several U.S. and world premieres. These included the U.S. premieres of works by Bernd Alois Zimmermann, Mauricio Kagel and Hans Werner Henze, as well as the world premieres of music by Norman Dinnerstein, Jonathan D. Kramer, Earl Kim and Frank Proto.
Gielen was also on board for the inaugural season of Riverbend when it opened in the summer of 1984. He conducted the CSO Inaugural Riverbend Concert in a program of Copland's Fanfare for the Common Man, Ives' Variations on America, and Beethoven's Overture to The Consecration of the House and Symphony No. 9.
The CSO dedicated its March 15 and 16, 2019 concerts in memory of Michael Gielen.