Stephen Schwartz + JMR: Opening Doors
by David Lyman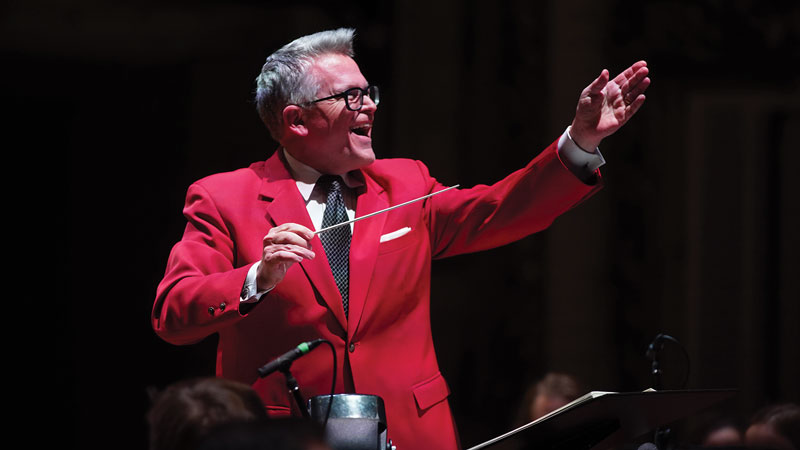 It seems unthinkable, but the first time Pops conductor John Morris Russell encountered composer Stephen Schwartz, he had no idea who Schwartz was. We can probably forgive JMR, though. It was January of 1973 and he was just 12 years old.
A national tour of Schwartz's first big musical, Godspell, was performing at Cleveland's Hanna Theatre, just 20 minutes from JMR's childhood home in Shaker Heights.
Today, we know of Schwartz as one of the most notable—and successful—composer-lyricists in musical theater history, the creative genius behind Wicked and Pippin, as well as a string of movies that includes Enchanted, Pocahontas, The Hunchback of Notre Dame and The Prince of Egypt.
But back in 1973, JMR had no idea of what he was in for.
"It was a Saturday matinee says JMR, "and we all piled into the Plymouth Satellite to go downtown."
This was completely new territory for Russell—his very first live professional theater performance.
"I had no idea what this whole thing was about," recalls Russell. "I had never even heard of Godspell. But I had a funny feeling it was going to be about Jesus."
Well, he was right about that much. Godspell, which began as a student project at Pittsburgh's Carnegie Mellon University, is structured as a series of parables primarily based on the Gospel of Matthew. It was unlike any other show running at the time. There were no big tap numbers or extravagant sets. Instead, the music was decidedly contemporary, with melodies that could have been lifted from Top 40 radio. And the costumes were purposefully raggedy, leaving the actors looking like recent graduates from Clown College.
Godspell had just 10 characters. And although the storyline inevitably ends with the betrayal and crucifixion of the Christ character, it is a supremely joyful show, reveling in the jubilance of its stories.
"I was just weeping at the end," says Russell. "The show opened up this huge door that I never knew existed. In terms of emotional content, it was one of those big moments for me. It took these dusty old stories from thousands of years ago and made them into NOW. It was a real awakening for young me."
Russell stops talking for a moment. The silence stretches on. Clearly, he is moved by the memory of that first Godspell. Finally, he is composed again and continues.
"You can probably tell that I'm getting all choked up about this," he says. "But the thing is, now I'm coming full circle, getting to meet THE guy—Stephen Schwartz. I'm both thrilled and humbled."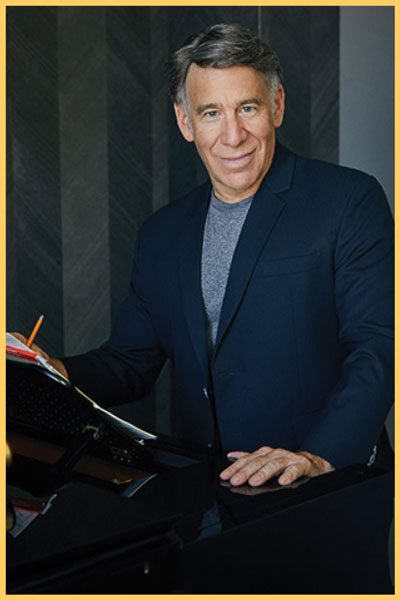 Schwartz will join Russell and the Cincinnati Pops September 22–24, for a trio of Music Hall concerts opening the 2023–24 season.
Schwartz is not usually known as a performer. He's supposed to be the guy behind the piano, nudging singers along as they wow audiences with the songs he has written for the stage, for films and choruses—even one opera. Early in his career, he even wrote most of the lyrics for Leonard Bernstein's MASS. His creative output has been enormous. And enormously successful.
Consider the awards he has collected on his way to becoming one of his generation's most-lauded composer-lyricists: three Academy Awards, four Grammys and four Drama Desk Awards. He's a member of the American Theatre Hall of Fame, as well as the Songwriters Hall of fame.
And he's not done.
"I'm working on two new projects right now," he says. "Both of them have been announced, so I suppose I can say something about them. The first is a musical based on a 2012 documentary called The Queen of Versailles. We've done a couple of workshops already."
Kristin Chenoweth, who starred as Glinda in the original production of Wicked, is slated to star in the title role.
"The other one is about the painter Pablo Picasso and the creation of the painting Guernica," he adds. Actor Antonio Banderas is scheduled to star as Picasso.
But those are for the future. At the time we're speaking by phone, he is sitting in a production trailer in the middle of a huge field on the outskirts of Ivinghoe, UK, a village of 965 people 33 miles northwest of London.
He's there to help with the filming of Wicked, which stars Cynthia Erivo, Ariana Grande, Jeff Goldblum and Michelle Yeoh.
"We already filmed a lot of it on soundstages closer to London," explained Schwartz. "But the sets they built here were simply too big for the soundstages. They are immense."
He peers out a window and starts to describe the sets for Munchkinland and the Emerald City. But trying to capture it all in just a few words proves too much for him. "It is just kind of overwhelming," he laughs. "I was unprepared for the meticulousness of detail on the part of the art department. Even the labels on bottles that you will never see are filled with incredible detail. They're decorated with Ozian things and expressed in Ozian language. I'm pretty flabbergasted. It's mind-boggling."
With some luck, though, Wicked filming will be complete by the time he joins with Maestro Russell and the Pops in September.
Schwartz used to do appearances like the one in Cincinnati more frequently. But as he's become busier (and older—he's 75 now), these evenings have become much more rare. "I haven't done one for quite a while," he says. "And that's too bad because I really enjoy them.
Theater is a living, breathing organism. Every time you perform in front of an audience it's a different experience. As a performer, I think it's a much more profound experience than performing on film. And I think it is for the audience, too. So when Scott Coulter (singer and University of Cincinnati College-Conservatory of Music grad) came to me several months ago and said we have this opportunity in Cincinnati, it sounded like something really enjoyable to do. And so, here we are."
One of Schwartz's Godspell songs—"Beautiful City"—unexpectedly became something of an inspirational and optimistic anthem for people in the wake of the 9/11 attacks. He had rewritten the lyrics in the 1990s, but he had no idea that the song would become such a comfort to people at a time of national grieving.
Here are a few of those "Beautiful City" lyrics:
Out оf thе ruins аnd rubblе,
Out оf thе smоkе,
Out оf оur night оf strugglе
Cаn wе sее а rаy оf hоpе?
Onе pаlе thin rаy
Rеасhing fоr thе dаy…
Wе саn build
A bеаutiful сity,
Yеs, wе саn (Yes, we can).
Wе саn build
A bеаutiful сity.
Nоt а сity оf аngеls,
But wе саn build а сity оf mаn.
(Listen to Schwartz discussing and performing two versions of "Beautiful City" by searching "Stephen Schwartz—Stephen Schwartz performs 'Beautiful City': Evolution of a Song.")
"Interestingly, I had rewritten the song after the Los Angeles riots in 1992," says Schwartz. "I wrote them to be performed as a benefit to raise money to rebuild South Central L.A. It became a very different song then. When 9/11 happened and New York was trying to recover from that, people started singing it and…it was an organic thing. I certainly didn't push it. People just found it. And it gave them solace."
A few last words from Maestro Russell.
"American musical theater has produced many fine composers and lyricists. But in Stephen Schwartz's case, it goes beyond the music and the tunes. His songs have so much thoughtfulness and nuanced storytelling. The genius of Godspell is its timelessness."
"For me, that first time seeing Godspell was life-changing. Like all of his shows, he takes some very uncomfortable truths about the human condition and helps us all to come to grips with them."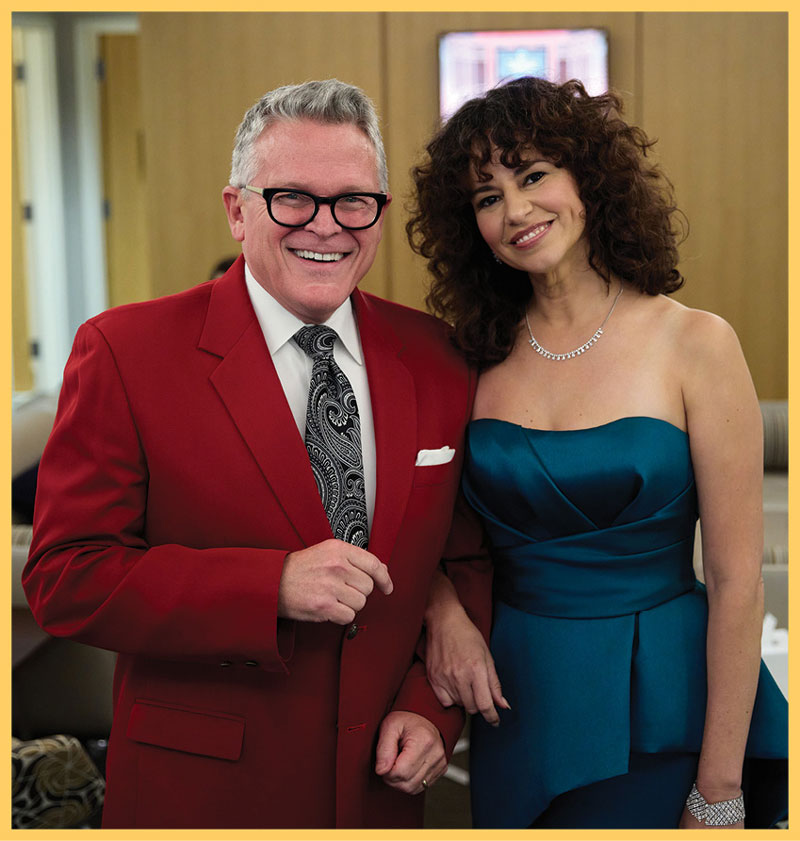 As JMR told us when this 2023–24 Pops season was announced, "I guarantee you that this will be one of those performances you'll tell your children and grandchildren about. This sort of concert is what Cincinnati's Music Hall has always been about. Look at the people who have performed here—Richard Strauss and Rachmaninoff, Miles Davis and Ella Fitzgerald, Janis Joplin, Johnny Cash. It's part of the legacy of our hall—it's a place where the greatest performers and composers share their music with us."