Spotlight on Keitaro Harada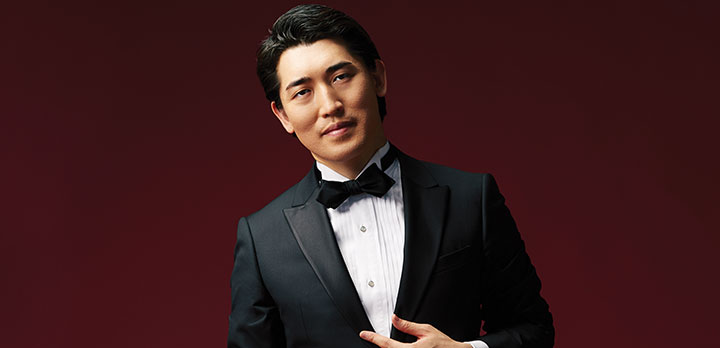 by Kayla Moore and Franck Mercurio
Fanfare Cincinnati recently spoke with Associate Conductor Keitaro Harada and asked him about his four-year term with the Cincinnati Symphony Orchestra (which concludes in August) and his time conducting a variety of concerts including our Great Parks concerts, Opera, Ballet, and films with live orchestra. Here's what he had to say:
Looking back on your time here with the Cincinnati Symphony Orchestra (CSO), what are some of the moments that stand out?
As Associate Conductors the past four years, Gene Chang and I have really experienced the biggest transition in the history of the CSO. In that time, we were involved in the worldwide streaming of Lumenocity; the closing and reopening of Music Hall; a season at the Taft Theatre; MusicNOW; the final season of James Conlon as May Festival Music Director; multiple tours including New York, Asia and Europe; and the recording of a Grammy-nominated CD. To choose my favorite moment is impossible, because every event at the CSO was special to me.
As Associate Conductors, we are the ears of the Orchestra, and my understanding of the CSO sound and how to maximize that with our acousticians for the Music Hall renovation was a great adventure. The experience we musicians have on stage is very different from how the sound travels into the Hall. Gaining the full trust of the musicians was important for me, so they could take my advice and adjust accordingly. This was especially important on tour when we were performing at different venues daily.
The CSO is truly one of the best places to be in the entire industry. The knowledge gained from Louis, John, Juanjo and guest conductors during the countless rehearsals and performances helps us all grow as artists. At the CSO we have the best of both worlds—classical and pops. In addition, we have the Ballet and Opera, which makes it a complete package. I feel fully equipped to take on any project and succeed because of the experience I had here. From Beethoven to Aretha Franklin, this is the best place to be, and I have been so fortunate to be part of this family.
You'll be conducting two more concerts before the end of your term: the "parks concerts" at Woodland Mound and in Troy, Ohio. What are the opportunities—and challenges—of conducting outdoor summer concerts?
Mosquitos. The biggest challenge is something we can't control, the weather. So we always hope for good weather. Summer outdoor concerts are so much fun—the audience is in a much more relaxed mood. You see and hear kids running around. There are fireworks, a beautiful sunset, gorgeous music, and much more. The July concerts I'll be conducting this year will be a bittersweet moment, since they are my final performances. However, Sam Strater and I have put a lot of creative energy into presenting a great program. I've also invited my classmate from college, Christin Coffee Rondeau, to sing fun tunes with us. It's going to be a blast!
What does the future hold for you? What do you plan to do after you leave Cincinnati?
I have a fair number of guest conducting engagements lined up through 2021 right now. I also have a wide variety of programs, from symphonic, opera and ballet to movies live with orchestra, like Harry Potter, Star Wars, and many more. My wife and I will use Tampa, FL and Tokyo as our home bases.
I'm very excited to be returning to the CSO in January for the new series, CSO Proof. We have a great program planned for this concert, and it will be a once-in-a-lifetime event that can only be experienced here in Cincinnati.
I do have several pieces of exciting news to share, but I can't just yet! If you're curious, please follow me on social media: @KHconductor on Facebook, Twitter and Instagram. You'll soon see some of the developments of my career.
Many thanks to the reader, and especially to those who have joined me for Classical Conversations before the concerts over the years. You all have been such wonderful listeners, and it was an honor to share with you insights about the program. And many thanks to the ushers!