Classical Roots Community Choir
At the center of Classical Roots is the all-volunteer Classical Roots Community Choir made up of 150 singers from over 50 churches performing in concerts and collaborations throughout the year. Vital to the choir are the volunteer choral music leaders, clergy leadership, church partners and a collection of passionate supporters and leaders who represent the rich diversity of the Greater Cincinnati region.
Participation in the Classical Roots Choir starts with the completion of the interest form linked below.
Join the Classical Roots Choir
Classical Roots Music Leaders:
Geneva Woode
Quinn Chapel A.M.E. Church
Marcellene Winfrey
Allen Temple A.M.E. Church
Eric Oliver
Zion Baptist Church
Ron Logan
Lincoln Heights Baptist Church
David Fowler
Church of the Resurrection
Adrian Cunningham
New Jerusalem Baptist Church
William Henry Caldwell, Resident Conductor, CSO Classical Roots Choir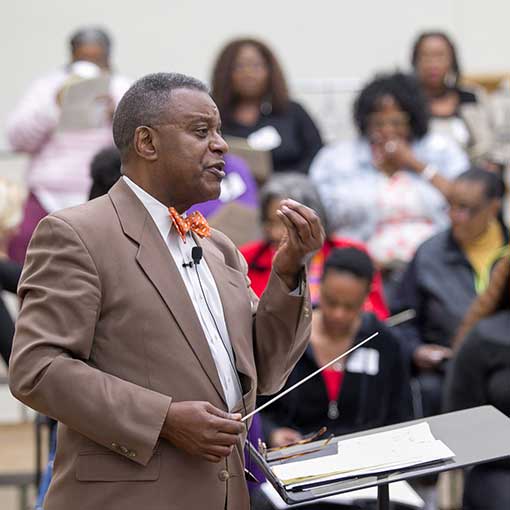 William Henry Caldwell is a choral conductor, voice clinician and baritone soloist. He serves as resident conductor for the CSO's Classical Roots Community Mass Choir and has also led the Martin Luther King Jr. Celebration Chorus for the Cleveland Orchestra for the past decade. Mr. Caldwell served as professor of music and chairman of the Department of Fine and Performing Arts at Central State University and was director of the Grammy-nominated Central State University Chorus for over 30 years.