Parties of Note
We've been partying for over three decades and we want you to join us! Each Party of Note provides a unique opportunity to gather with other music lovers and musicians to share food, drink and your passion for the CSO and Pops. Generous hosts cover all party expenses so 100% of ticket revenue can be used to support the Orchestra. Many of this year's parties are a special celebration of the CSO's 125th anniversary season.
Carol Hake, Parties of Note Chair, 19/20 season
PARTY A FIFTH THIRD BETTER
Experience breathtaking views of our city from Fifth Third's old Banker's Club while enjoying light bites and the cocktail of your choice.
Learn More
BEST OF BOTH WORLDS
Beethoven or Broadway? CSO musicians invite you to take your pick while enjoying hors d'oeuvres and your favorite beverage.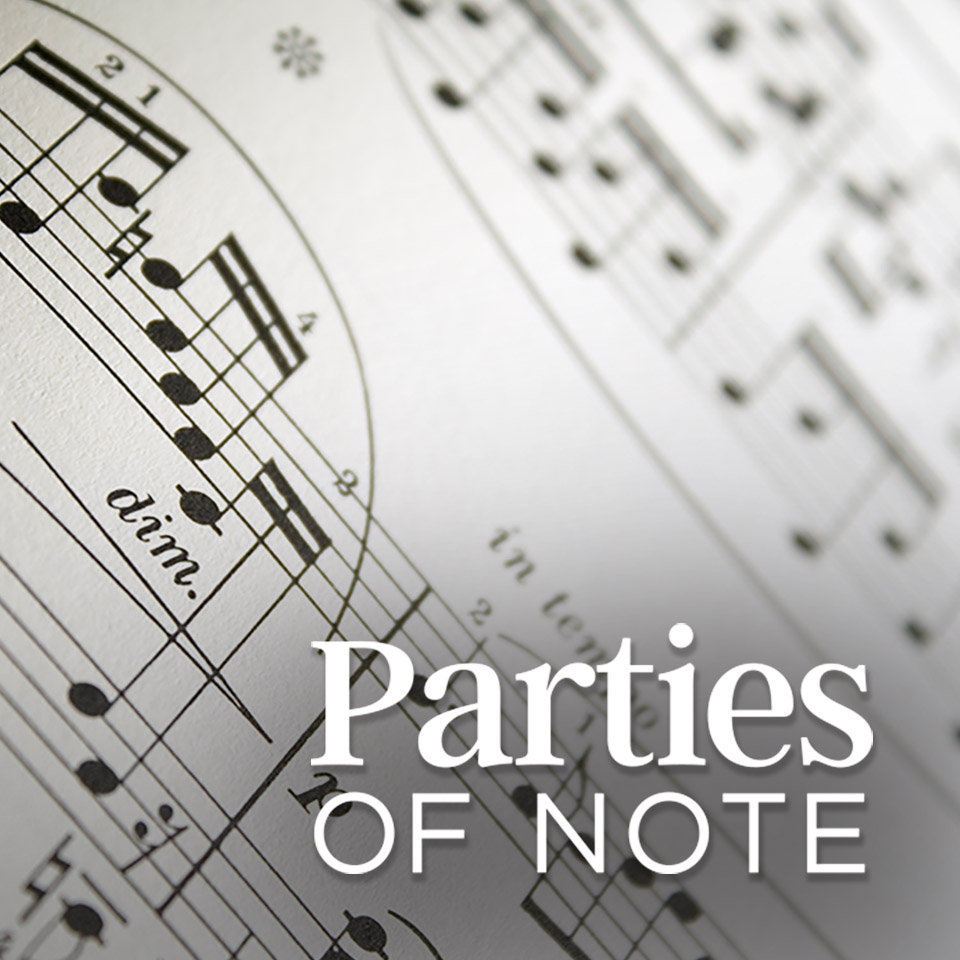 Learn More
We are grateful to our committee for curating a great series of parties!
Carol Hake, chair | Carla Babcock | Kelly Dehan | Linda Holthaus | Barb Kreider | Elizabeth Marsh | Allyson Rabkin | Rosemary Schlachter | Nancy Wagner | Patty Wagner
Thank you to our Season 32 Hosts and Sponsors:
Lars Anderson | Carla & John Babcock | Rebecca Bolce & Keith Wood | Kelly Dehan & Rick Staudigel | Karen Dunphy | Lesley Gilbertson & Bill Hurford | JoAnn & Gary Hagopian | Mr. & Mrs. Edward Hake | Linda Holthaus & Richard Zinicola | Mr. & Mrs. Gary Kreider | Ellie Nelson | Cora Ogle | John Morris Russell & Thea Tjepkema | Ann & Harry Santen | Christine Schaub | Rosemary & Mark Schlachter | Jenna Shaifer and Ombré Gallery | Torey & Tom Torre | Patty & Nancy Wagner | Carole C. & Dr. H. James Williams | Nancy Zimpher
Additional thanks to:
Blake Robison and Playhouse in the Park | Society for the Preservation of Music Hall (SPMH) | Symphony Hotel | Molly Wellmann
Interested in hosting a Party of Note? Contact the CSO's Director of Events 513.744.3357