A Letter from the President
Dear Friends,
Welcome to the Cincinnati Symphony Orchestra's 125th anniversary season!
We of course celebrate what's come before, cherish this momentous season and most importantly look to the future.
The CSO's newly articulated vision is to be the most relevant orchestra in America and, building on a foundation of increasing artistic excellence, we identified three values fundamental to this vision: to be inspiring, innovative and inclusive.
At its heart, music is inspiring and our organization certainly lives and breathes music. We have been inspiring audiences for 125 years, but how people listen to music and experience concerts is evolving. We are committed to be at the forefront of this evolution so we can continue to inspire audiences well into the 21st century and beyond. Being at the forefront of this evolution requires innovation that will impact how we present music, and a focus on inclusion will build future audiences and enable us to better reflect the community we serve.
Innovation, inclusion and inspiration were certainly at the heart of CSO Look Around in August, an immersive experience that kicked off this 125th anniversary season. This unique experience was inspired by the cultural tapestry that is Cincinnati, and involved more than 600 artists from 20 local ensembles, culminating in a massive performance with the CSO in Washington Park. Innovation, inclusion and inspiration continue through the season and with our launch of CSO Proof, a radically different kind of concert series.
We are grateful to have you on this journey with us.
Enjoy the performance!
Jonathan Martin | CSO President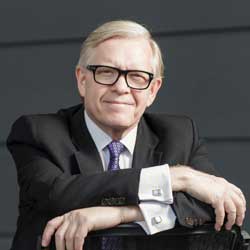 Jonathan Martin is President of the Cincinnati Symphony Orchestra since September 2017 and previously served the as President & CEO of the Dallas Symphony Orchestra from 2012-2017.
Dear Friends,
Wherever the Cincinnati Symphony Orchestra and Cincinnati Pops perform, we are committed to our audiences having an enriching experience. Improvements to that experience are evident at Riverbend Music Center this summer, especially for audience members enjoying better sightlines from the lawn, thanks to structural modifications; and, certainly, since the re-opening of Music Hall in 2017 following an extensive renovation, audience members have experienced improved accessibility, more concessions and restrooms, and better seat comfort.
Security is a topic being addressed and improved by the Cincinnati Arts Association (CAA) in the coming season at Music Hall. For those unfamiliar, CAA is the organization responsible for managing Music Hall, and in collaboration with the Orchestra and the Hall's other resident companies, new security measures are being implemented with your safety in mind. These improvements will impact how audience members enter the building, and they are consistent with best practices among performance venues throughout our region, across the country and around the world. We appreciate your patience and understanding as these new systems come online.
Best wishes for a terrific remainder of your summer and we look forward to welcoming you to Music Hall throughout the Orchestra's 125th anniversary season.
Enjoy the concert!

Dear Friends,
As our 2019–20 season at Music Hall concludes, I want to offer our gratitude on behalf of the Board of Directors, Louis Langrée, John Morris Russell, the musicians and dedicated staff, for making the Cincinnati Symphony Orchestra and Cincinnati Pops a part of your lives, and a priority in a community that deeply values the arts.
The CSO is a year-round orchestra and we continue to serve the community through the rest of May and into the summer. The May Festival is a treasured tradition in Cincinnati, and the CSO performs as the official orchestra and is responsible for working with the Festival's artistic leadership in Principal Conductor Juanjo Mena and Director of Choruses Robert Porco on the programming of eight unique concert experiences. This year's Festival includes premieres, new collaborations, and a scintillating wall of sound that must be experienced live in concert. I invite you to find out more at mayfestival.com.
The CSO's musicians also perform throughout June and July with Cincinnati Opera in five different productions. More information is available at cincinnatiopera.org.
The Orchestra plays as the Cincinnati Pops with John Morris Russell during the summer months, with a concert set to live fireworks following the Reds game on June 14 and, of course, our annual "Red, White and Boom" celebration on the Fourth of July at Riverbend with Rozzi's Famous Fireworks. The Pops will also be out at Woodland Mound on July 24 for a free concert, thanks to the Great Parks of Hamilton County.
Finally this summer, CSO Look Around is a free event on Saturday, August 3, that will bring together 30 local ensembles with the Orchestra for an enveloping musical experience in Over-the-Rhine and Washington Park. There are more details coming at cincinnatisymphony.org/lookaround.
Best wishes for a great summer, and we look forward to seeing you for the opening of the CSO's 125th anniversary season in September.
Enjoy the performance!

April 2019
Dear Friends,
There has been considerable attention in recent months regarding the future FC Cincinnati Stadium in the West End and how it will impact Music Hall and the surrounding neighborhood.
First, let me state that we are absolutely committed to ensuring that our customers' experience at Music Hall remains superlative, and we will remain vigilant as the stadium is designed, constructed and operated.
Music Hall's management and performing resident companies, which includes the CSO, entered into an agreement of cooperation and support with FC Cincinnati on February 13 regarding the construction and operation of the stadium.
The parties agreed to work together as good neighbors and in good faith on concerns related to noise, parking, traffic and scheduling. The collective goal is to minimize the number of occasions where performances at Music Hall occur at the same time as FC Cincinnati home games when the stadium opens in March of 2021, and to minimize the impact of the stadium's noise on Music Hall on the occasions when there are simultaneous events.
Per an agreement with the City of Cincinnati, FC Cincinnati will manage the Town Center Garage only on game days starting in March of 2021. The team has committed to making a substantial amount of parking in that garage available to audience members attending performances at Music Hall when games overlap with performances. The team has also committed to working with us to make stadium parking available for Music Hall events when there is no overlap.

March 2019
Dear Friends,
To have an orchestra of this caliber in Cincinnati is thanks to the visionary united arts fund founded in 1927 by Charles and Anna Sinton Taft. This arts fund is, of course, known today as ArtsWave, and plays a critical role in Cincinnati's vibrant arts scene thanks to tens of thousands of donors who contribute every year.
To understand the magnitude of this support, consider that in just the past decade ArtsWave has contributed over $26 million dollars to support the CSO. Simply put, the Orchestra's impact would be significantly diminished without this funding support.
ArtsWave's mission is to be a "leader and catalyst, advancing the vitality and vibrancy of our communities by mobilizing the creative energy of our region." To create community through the arts, ArtsWave achieves the following:
• Amplifies the impact of the arts
• Provides funding, resources, and services to local arts organizations
• Promotes our arts and cultural assets as a defining characteristic of our region
• Connects arts organizations and nonprofits to each other and to the broader community
Please join me and everyone at the CSO in supporting ArtsWave's 2019 Community Campaign, and take advantage of the free ArtsWave Days, including an Open House here at Music Hall on Saturday, April 6 from noon to 4 pm.
Make a contribution to the campaign at ArtsWave.org/Give.

February 2019
Dear Friends,
The 125th anniversary season for the CSO, just announced last month, will showcase our Orchestra's scintillating sound and artistry. As important, its programs and performances reflect a commitment to propelling the art form forward and advancing our vision to more fully engage broader audiences and our wider community in the 21st century.
Next season introduces an entirely new concert format with the goal of reaching new audiences, the commissioning of new works, as well as experimentation with alternative performance elements and collaborations with acclaimed artists from around the world. With all of this bold programming comes our Promise to Cincinnati:
• We will inspire people through compelling musicmaking, drawing talent from our community and the world around us.
• We will innovate with boldness, evolving how we engage with our art form to reach more people than ever.
• We will include artists and welcome the broadest community, with backgrounds and perspectives that enrich everything we do.
Reflecting our community and the world at-large is one of our highest priorities moving forward, both as the CSO and the Cincinnati Pops at every level: on stage, around the office and in neighborhoods throughout the region.
We have seen this in action through a host of artistic and community engagement activities, including the groundbreaking CSO-CCM Diversity Fellowship and Nouveau Pre-Conservatory programs, both featured in the feature article this month, 'Opening Pathways'.
This commitment to inclusion must and will be fundamental to who we are as an organization, and when the CSO turns 150 in 26 years, I am confident that the articulation and execution of this commitment today will be celebrated as an inflection point in the life of the Cincinnati Symphony Orchestra.
Enjoy the performance!