Spotlight: Cincinnati Symphony Brass Institute
by. DiDi Turley
In June of 2022, what would typically be a sleepy summer week on Miami University's campus in Oxford, OH was shaken to life by a new sound ringing out from the Center of Performing Arts. That sound—the brilliant voices of 25 high school and young professional brass players—marked the inaugural season of a partnership between Miami University and the Cincinnati Symphony Orchestra (CSO). The Cincinnati Symphony Brass Institute, founded by CSO Associate Principal Trumpet Doug Lindsay and composed of a High School Program and an Orchestral Training Fellowship, is an auditioned, one-week brass-intensive program provided at no cost to students. According to Lindsay, this program focuses on launching the next generation of professional brass musicians into the orchestral world armed with every tool needed to find success.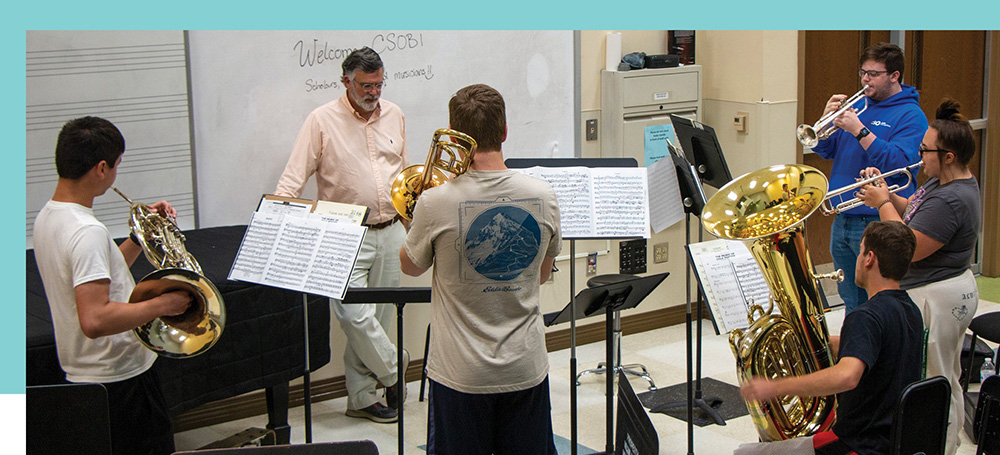 The Cincinnati Symphony Brass Institute (CSBI), having completed its inaugural season this past summer, is gearing up for its next round of auditions. Programs like the CSBI are a rare gem in the crown of professional music-making. The program has two components: one focuses on outreach to high school students in the Cincinnati/Dayton area; the other serves young professionals stepping into the early stages of their orchestral careers. Students in both categories are invited to this one-week program to engage in private lessons, masterclasses and chamber music rehearsals—all taught by the world-renowned musicians of the CSO. Moreover, this exceptional experience is free of charge to all students selected for the program.
According to Lindsay, in a world full of pay-to-play training opportunities, the financial accessibility of CSBI is a key component of this program's mission: "You hear a lot these days about how people with money have access to the best instruction. That leaves behind many talented students whose opportunities to study with musicians in major orchestras are limited because of the expense. With CSBI, Miami University and the CSO are committed to removing financial barriers of advanced musical study and making the arts for everyone, not just those with means. All the students need to do is make their way to Oxford."
By eliminating the costs of application fees, tuition and housing, CSBI provides musicians with access to crucial industry connections, mentorship and experience—with acceptance to the program based on merit.
High School Program
At the high school level, the CSBI focuses on preparing students for college auditions while sharpening their fundamental playing skills. These students also get a rare glimpse into what the life of a professional brass musician entails. According to student Matthew Lyons, alumnus of the 2022 High School Program, one of the highlights of his experience was getting to work directly with musicians from the CSO: "Probably the best experience that I had at the CSBI was the private lesson I had with Chris Olka [Principal Tubist for the CSO].... He worked through some orchestral excerpts and taught us about what it's like to be an orchestral tuba player…. [He] also talked about the best way to go about an audition process—especially at the higher level."
Orchestral Training Fellowship
For the young professionals selected for the Orchestral Training Fellowship, the program prepares them to win jobs in professional orchestras. The week is spent sharpening their skills through daily coaching with expert brass players, masterclasses, and intensive audition preparation, all while building their professional network and connections to their future colleagues.
---
"a 'confluences of events.'"
—Douglas Lindsay
Mind you, programs like the CSBI don't appear out of thin air. Lindsay recalls that the program came out of a "confluence of events." According to Chris Olka the roots of this program took hold in a casual conversation between friends a few years ago:
"Doug [Lindsay] was brainstorming and said, 'Well, I think that before I retire, I'd like to do something to make [Cincinnati] a destination for young brass players, because there are so many young brass players who aren't aware of what Cincinnati has contributed.'
"In my recollection, that was the moment where Doug got that idea of a summer brass institute and, true to his word, he started putting his thoughts on paper and got it from a nascent idea to this full-fledged, big, big thing that it has turned into."
With a vision outlined—a program that provides the next generation of brass players with a launchpad to a successful career—Lindsay began making plans and set them into action. With the help of Carol Dary Dunevant, CSO Director of Learning, and an organic relationship with Miami University, where Lindsay and several other CSO musicians teach, the CSBI began to come to life.
According to Lindsay, the CSBI seeks to shine a light on Cincinnati's history of remarkable brass musicians, in addition to bolstering the careers of young brass players: "There's really a rich history of brass playing in this city, because of its German roots. The guys that were here back in the early 20th century were animals. The Cincinnati brass-playing history inspired me. As someone from Cincinnati, I want people to know this is what it's like."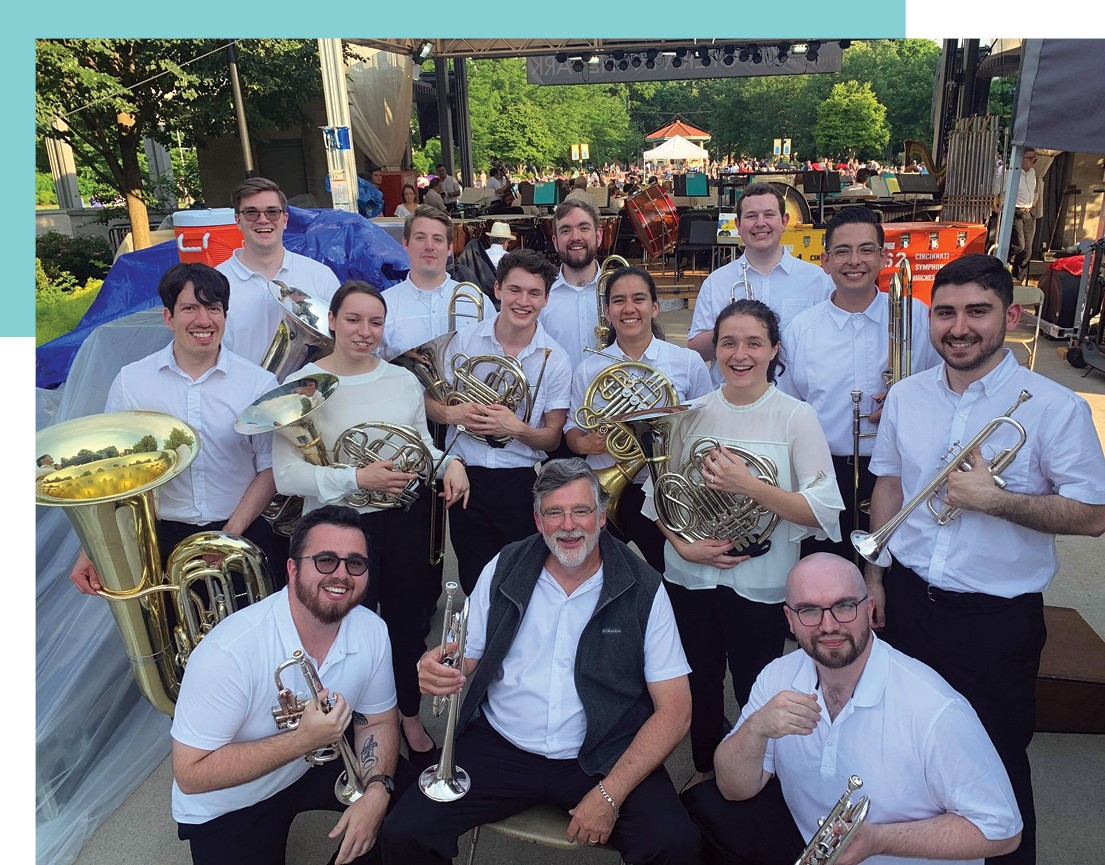 CSBI 2023 Auditions
Applications for the CSBI 2023 Season are due on February 15, 2023. Audition dates for the Orchestral Training Fellowship and High School Program can be found on the application, which is available at cincinnatisymphony.org/brass-institute.
The audition experience has been tailored to each program's goals. In contrast to the typical audition format, the High School Program auditions have a workshop format. According to Lindsay, this "very relaxed audition" allows the adjudicators to foster a growth mindset in the room. Some advice from Lindsay for prospective High School Program students, "Prepare. Don't come in and sight read. Take the music to your teacher. If you don't have a teacher, take it to your band teacher."
As for the Orchestral Training Fellowship, musicians should expect an experience of the same caliber as that of a professional orchestra audition. The adjudicators expect clean recordings and spotless takes of the audition excerpts, paired with a high level of musicianship. Lindsay offered the following advice, typically reserved for his students, to prospective Orchestral Training Fellows: "Start now, and do a hundred takes."
The 2023 Cincinnati Symphony Brass Institute will take place in June 2023 at Miami University. To learn more and to apply, please visit cincinnatisymphony.org/brass-institute.