Meet the New Musicians of the CSO
by Meghan Isaacs
This season, audiences will see five new faces on Music Hall's stage. Two trumpet players, two cellists and a bass player bring their talents to the CSO (which could be the start of a joke!), and each has a fascinating story as to how his journey led here. Whether by joining the family business or by stumbling across an instrument proposed by a middle school band teacher, the variety within these musicians' backgrounds and the challenges they faced along the way helped shape these individual voices that now enrich the Orchestra's collective sound. Fanfare Magazine caught up with them as they started their new positions this fall.
Anthony Limoncelli, Principal Trumpet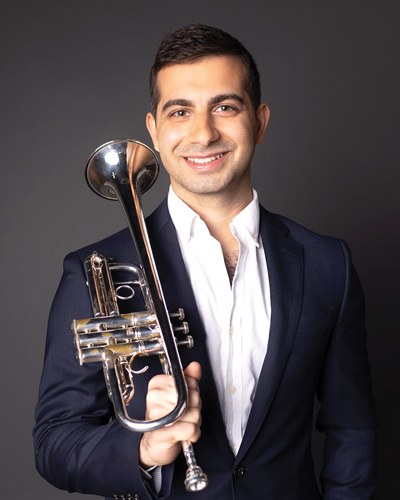 Anthony Limoncelli grew up on Long Island, in New Hyde Park, NY. He and his older sister both started learning music with the piano. His father was an amateur trombone player and enjoyed collecting all kinds of instruments. When it came time for Anthony to choose an instrument for band class, his father brought his collection down from the attic. "Trumpet was the first instrument I could make a sound with, so I chose that," said Anthony.
In middle school he started lessons, studying with Anthony Bavota and Michael Klein. Bavota would invite the young Anthony to play community band gigs with him in middle and high school. "I credit my sight-reading skills to him," said Anthony. He went on to study with Mark Gould at the Manhattan School of Music. After graduation, he briefly considered quitting trumpet. "Things weren't going right physically, and I wasn't sure I could overcome it. Then I realized I was thinking about quitting because I was scared." That realization motivated him to keep going. He took the next year off, studying with Ethan Bensdorf in the meantime, then went on to pursue a master's degree at The Juilliard School with Raymond Mase, during which time he was a fellow at Tanglewood for two years.
Anthony then decided he wanted to study with Barbara Butler and Charlie Geyer at Rice University, where he spent about a year and a half before winning an audition for principal trumpet of the Sarasota Orchestra. He spent a year in Sarasota, then won the second chair position in the Atlanta Symphony, where he spent the last three years.
When not engrossed in music, Anthony enjoys trail runs, hiking, reading and yoga. "Spending time with people outside of the practice room can be extremely restorative," he said. Last summer, he enjoyed visiting such beautiful locales as Aspen, Vale, Sun Valley and the lakes area of Minnesota while performing for festivals.
So far, Anthony appreciates the energy and vibe of Cincinnati, as well as the easy walk to work from his peaceful corner of Pendleton, where he resides. He is looking forward to the iconic trumpet solo in Mahler's Fifth Symphony, as well as Ein Heldenleben and Harmonielehre and performing Shostakovich's Eleventh Symphony for the first time. "There's a lot of great music coming up, so I will be happy to share my voice," he said.
As he starts this next step in his career, Anthony continues to be inspired by his dad, sister and many trumpet friends and colleagues.
Drew Dansby, cello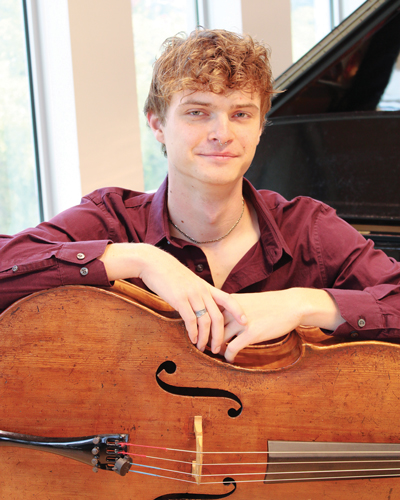 Drew Dansby took his first violin lesson on his fourth birthday in his hometown of Charlotte, North Carolina. Six months later, he began learning cello. He played both instruments until high school, when he started in the youth orchestra. "Growing up in Charlotte was really good for me because the youth orchestra had so many opportunities, and there were many occasions to perform around the community," said Drew. "All those experiences made me enjoy playing my instrument but also playing with other people."
During his senior year of high school, Drew auditioned for several music schools and landed at Oberlin College, where he is about to finish his last semester with degrees in both cello performance and chemistry. Since he has had the opportunity to play more chamber music in college, he has discovered the versatility of the cello. "It is so melodic, but it also can be an important foundation when it provides the bass line. It's also a very effective middle voice," said Drew. "So it can play many roles, but it is also a fun challenge to figure out where you fit in an orchestra setting for any given piece."
Drew spent the 2021–22 season as acting section cellist in the Charlotte Symphony. Also during that year, he started taking orchestra auditions and was particularly looking forward to the Cincinnati Symphony Orchestra audition because he liked the city and its proximity to both Oberlin and his hometown. "I remember being blown away by the hall the first time I stepped in there," said Drew.
In addition to his childhood teachers (Alan Black and Ernest Pereira of the Charlotte Symphony), other mentors and sources of inspiration for Drew along the way include his teacher at Oberlin, Darrett Adkins, as well as Paul Kushious of The Cleveland Orchestra and conductor Marin Alsop, with whom he worked at a summer festival. Drew also draws inspiration from the quartet from Oberlin with which he performs, the Poiesis Quartet. He owes much to Joy Payton-Stevens who loaned him his first full-sized cello, on which he still plays.
Drew enjoys reading, Netflix, traveling, road trips and mountain biking. He also finds fulfillment in organizing smaller concerts with his friends, and he looks forward to joining the rich chamber music scene to be found in Cincinnati.
Drew is eager to perform the all-Brahms concert in January, which includes the composer's Piano Concerto No. 1 and Symphony No. 2. He also looks forward to playing Ein Heldenleben, "which is probably the piece that got me so fascinated with orchestral playing."
Nicholas Mariscal, cello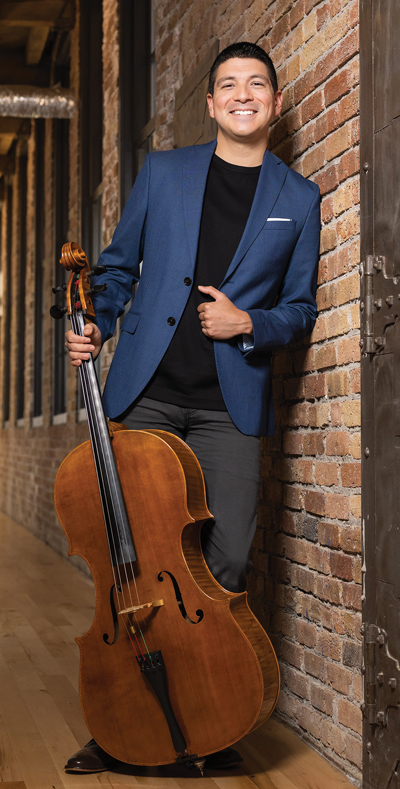 Growing up in Tucson, Arizona, Nicholas Mariscal started his musical education playing piano in his after-school music program at the age of nine. He eventually met a conductor who suggested that it would be a good experience for him to learn an instrument that was part of an orchestra. Since Nicholas, then 12 years old, had a friend who played cello in his middle school orchestra, he decided that would be a fun instrument to try.
Nicholas grew up in a family and community that was not particularly musical, so he did not have the advantage of early exposure to classical music that benefits many musicians by providing an early education by osmosis. "I felt like I was a little bit behind where some other people were," said Nicholas. "I had to find my way in the field and carve out my own path." Nicholas says he owes a lot to his first full-time cello teacher, Mary Beth Tyndall, who was his main teacher and mentor before college.
Nicholas went on to attend Indiana University, where he studied with former CSO Principal Cello Eric Kim. Following undergrad, he spent four years at the University of Southern California in Los Angeles for graduate school. There he studied with Ralph Kirshbaum. "He was a huge influence on me as a cellist and as a person," said Nicholas.
He then went on to spend two seasons at the New World Symphony Orchestra, followed by his most recent position as assistant principal cellist with the Milwaukee Symphony Orchestra. Nicholas has long been a fan of the CSO via the Orchestra's many recordings. One of his favorites is that of Prokofiev's Romeo and Juliet, recorded under former CSO Music Director Paavo Järvi.
Looking ahead to the upcoming season, Nicholas is especially excited to perform the February program featuring Shostakovich's Eleventh Symphony and Lutosławski's Cello Concerto with soloist Kian Soltani. "I always love Shostakovich symphonies, and that's one I haven't performed yet. [Soltani] is one of my favorite young cello soloists on the scene today, so I'm excited to come together and play with him on a piece I really love."
In his free time, you'll find Nicholas staying active outdoors with running and biking. "Last summer, I did a triathlon for the first time, and I'm hoping to try to continue to do more of those," he said. "It was a tough experience, so I'm hoping to redeem myself!"
Alex Pride, trumpet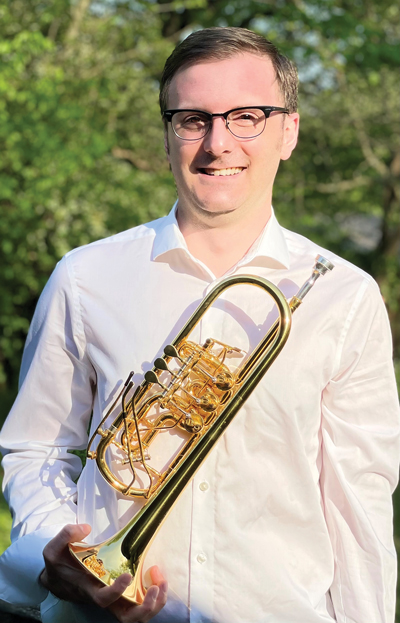 Cincinnati native Alex Pride grew up about as close to the Orchestra as one could get. His father, Steve Pride, played trumpet in the CSO for 43 years until his retirement last season. "I grew up going to concerts at the CSO all the time, and I know several of the Orchestra members from when I was a kid, so it's all very personal for me."
Although one might say Alex was destined to play trumpet (which he started in sixth grade band), he still needed to forge his own path.
"Trumpet in the orchestra is amazing and it has a lot of historical relevance, which is cool to read about," he said, referring to ancient practices of fashioning horns out of natural materials. After high school, Alex continued his training at the Cleveland Institute of Music, where he studied with Michael Sachs. "[Sachs] is really the person I looked up to the most," said Alex. "He helped me understand how to conduct oneself professionally." He then completed his master's degree at Rice University under the guidance of Marie Speziale, another former trumpet player with the CSO. Since then, he has had a one-year contract with the Utah Symphony and has been freelancing with the CSO, Cleveland Orchestra and Detroit Symphony. "I've been running all over the place for several years, so I'm looking forward to being in one place," he said.
Considering that he rarely has a chance to play Wagner, Alex is looking forward to performing The Ring Without Words this season. Mahler's Fifth Symphony and Copland's Lincoln Portrait are also on Alex's list of works he's particularly excited about.
As a sports fan, Alex follows the Pittsburgh Steelers, as well as the English soccer team Tottenham Hotspur. He also enjoys cooking and trying out new recipes. "If I can eat it, I consider it successful," he joked. You might also spot Alex in a record store, digging through vinyl collections for jazz and classical recordings.
Gerald Torres, bass

Gerald Torres grew up in Cincinnati and first discovered the double bass through the school music program. His original intent was to join the band, but he missed the after-school session when students were fitted for instruments. Luckily for his future career, he heard the "last call" announcement for double bass fitting and joined the orchestra instead.
In high school, Gerald played with the Cincinnati Symphony Youth Orchestra, as well as Cincinnati Junior Strings. With the latter, he went on tour to Australia. "That was a big push for me to go into music, realizing I could actually see the world with this as a career," said Gerald. He credits much of his early foundation in bass to Debbie Taylor, his first teacher. "Your first teacher is in many ways the most important. They set the foundation and they inspire you to continue the path," he said.
Gerald went on to study at Oberlin Conservatory and the Cleveland Institute of Music. From there, he started actively auditioning while freelancing with such orchestras as Cleveland, Pittsburgh, Columbus and Baltimore. He worked closely with mentors Maximilian Dimoff and Charles Carleton, both of The Cleveland Orchestra. He then went to Carnegie Mellon to study for a year with Micah Howard, a member of the Pittsburgh Symphony. Next, he won a job with the Grand Rapids Symphony, where he played for several seasons before winning his current job here in Cincinnati.
One of the most demanding challenges of his career thus far came while he was preparing for the CSO audition. "Trying to prepare for an audition like the one with the CSO just involved a monstrous amount of work," said Gerald, who was juggling two jobs and a family (he and his wife have a four-year-old daughter). "It basically amounted to not sleeping. I would wake up before my family and go to sleep long after them."
The drive, discipline and sleepless nights paid off. Gerald not only won the audition, but did so using a bow he crafted himself. His bowmaking journey started when he moved to Grand Rapids and became friends with Aaron Reiley, the owner of Guarneri House. The owner's father, renowned bowmaker Steven Reiley, had recently retired. "I didn't know anything about bowmaking, but I threw in my hat and said I wanted to learn," said Gerald. "I've always been interested in doing something with my hands, and actually crafting an object, not just making a sound. So I started to study with him. Most of my bowmaking skills have come from Steve Reiley." Gerald was the bow technician at Guarneri House before his move to Cincinnati, and he has made bows that are currently being played by professionals throughout the country.