Debuts Bring Musical Treasures
by Ken Smith
Read the sidebar: Shaw's Observatory, Holst's The Planets and a CSO partnership with the Cincinnati Observatory
---
…both come from families of visual artists,
and each considered conducting as a viable career
only after seeing a prominent female figure on the podium.
Not so long ago it was rare to see a woman leading a major orchestra, let alone two women appearing on the same podium a week apart, but in November a pair of well-traveled maestras make their Cincinnati Symphony Orchestra debuts, each bringing a musical treasure from her adopted country.
The Ukrainian-born Finnish conductor Dalia Stasevska, who conducts the Sibelius Violin Concerto on November 18 and 19, has much in common with Hong Kong-born Elim Chan, who leads the CSO in Elgar's Enigma Variations on November 26 and 27. Both have launched successful careers in London in recent years, both come from families of visual artists, and each considered conducting as a viable career only after seeing a prominent female figure on the podium. Beyond that, though, their paths have followed rather different directions.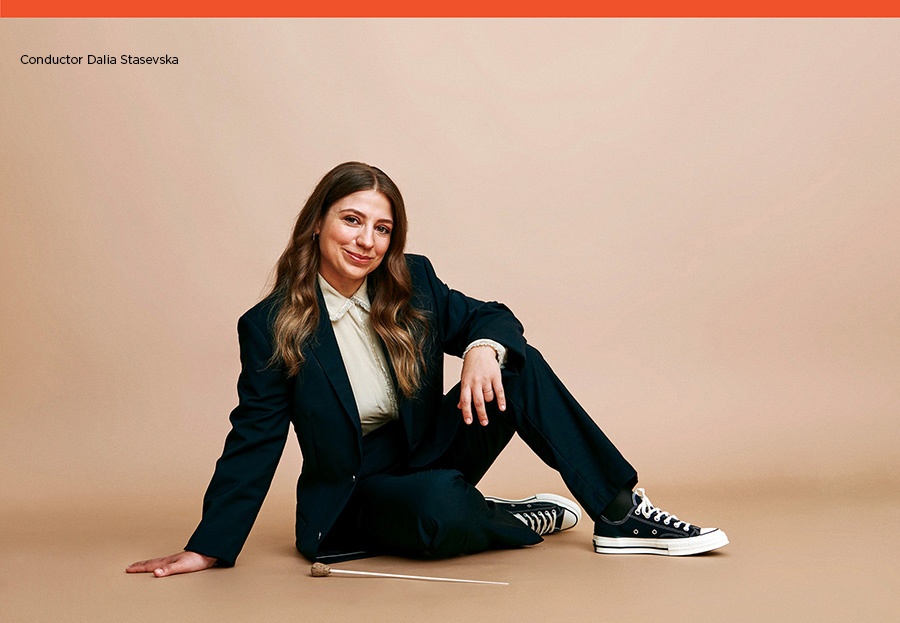 Stasevska came to Finland by way of Tallinn. Even at age 5 she could tell the difference. "Estonia was still the Soviet Union," she recalls. "The community was warm, but there were shortages of everything. Finland had social security, a great education, bananas!" Then at age 8 she suddenly found herself enrolled in the local conservatory as a violinist. "Music came out of the blue, to be honest," she says. "Our parents didn't want us to be painters, so they decided that we—my two brothers and I—would become musicians. We were poor, but in Finland we had the same access to good education as anyone else."
By age 12, Stasevska had discovered opera, attracted largely by the orchestra's emotional power. She joined her student orchestra and actively listened to symphonic music, but also began collecting orchestral scores and reading through all the parts. "It was my hobby, with no thought of actually conducting," she admits. Then she saw Eva Ollikainen (now chief conductor of the Icelandic Symphony Orchestra) and found a role model.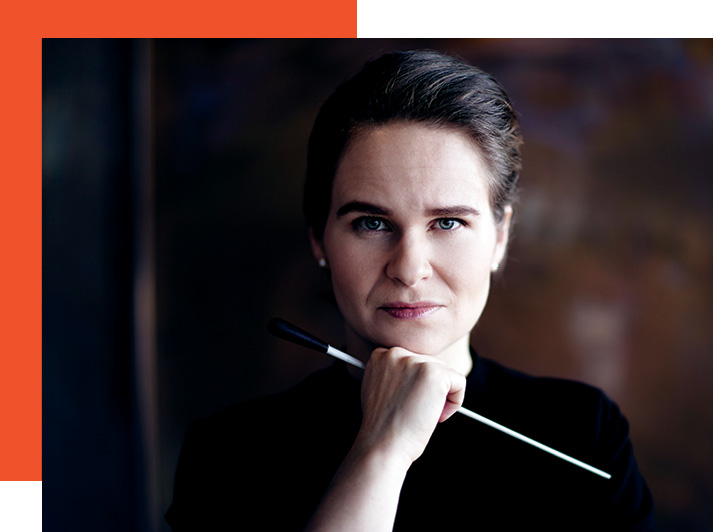 After studying with Jorma Panula at the Royal Swedish Academy of Music and Leif Segerstam at the Sibelius Academy, Stasevska became Paavo Järvi's assistant at the Orchestre de Paris. At that point, her own career started taking off, notably with the Lahti Symphony Orchestra (where she is now Chief Conductor) and the BBC Symphony Orchestra (where she is currently the orchestra's first female Principal Guest Conductor).
Along with the rest of the music world, Stasevska had something of a career reset during the Covid pandemic. One highlight—becoming the second female conductor to lead a Last Night of the Proms in September—was dampened a bit by performing without an audience. "The most difficult part has been the uncertainty," she says. "Covid brought time for reflection and made some of us really appreciate our jobs. Now I'm less concerned with how I look, or what people think of me, and much more relaxed as a musician. But the saddest thing is that we were like paintings hanging in an empty museum for three years. Getting back to playing and sharing music with people was truly a joy."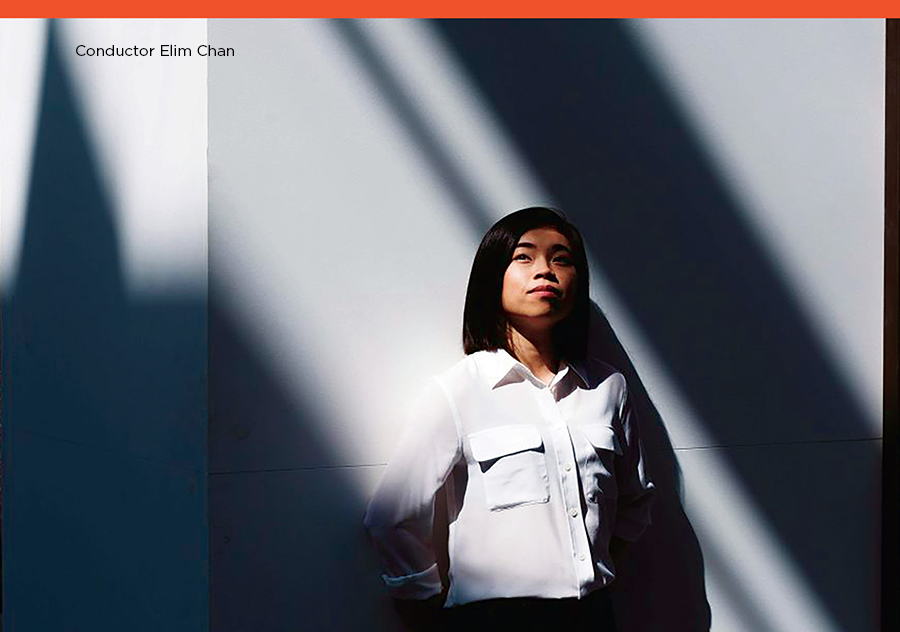 Elim Chan's journey to the podium began in Kowloon and the New Territories (Hong Kong's equivalent of New York's outer boroughs), where she started piano lessons at age 6 and soon joined the internationally renowned Yip Children's Choir. "Every summer we'd sing in big choral festivals around the world," she recalls. "When I was 13, I walked around Red Square and the feeling was unforgettable. I know it sounds cheesy, but experiences like that give a kid a wide scope of what music can do. Even at that age I wanted to connect with others."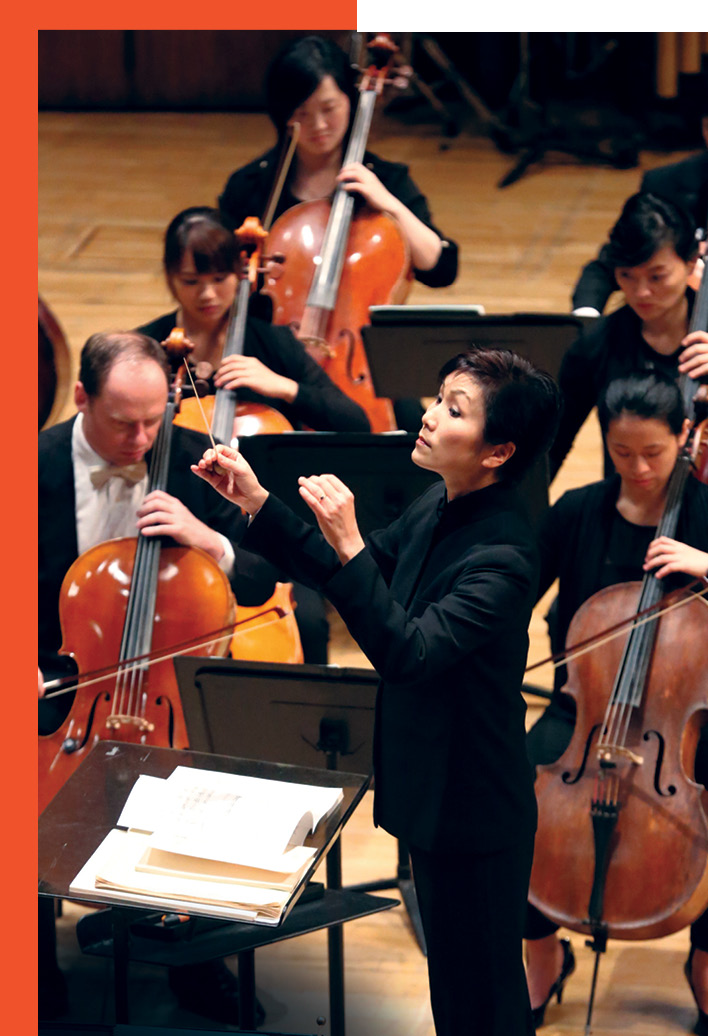 During the holiday season, when the choir performed Tchaikovsky's Nutcracker with the Hong Kong Ballet and the Hong Kong Philharmonic, Chan encountered conductor Yip Wing-sie, eldest daughter of the musical patriarch and a one-time Seiji Ozawa protégée. "I'd arrive early just to see her rehearse the orchestra," Chan recalls. "There was never an issue of her being a woman."
But when Chan later left to attend Smith College in Massachusetts, music was not on the agenda. "In Hong Kong, music is never anyone's first choice," Chan says. "It's either medicine, law or business. My dad was a painter and a graphic design professor, so he understood the difficulties of an artistic career. You're either the top-top-top or you don't do it at all."
Her first year at Smith was "science all the way," predominantly biology and psychology. But Smith also had an active choral tradition, and Chan not only auditioned for the choir but was tapped to be the conductor's assistant. By the end of her first term, she was invited to conduct a piece and suddenly the career debate resumed.
"At Smith you could really have these difficult discussions," Chan says. "When the music department saw I was taking this seriously, my advisors said maybe I should conduct choirs, because there are more women in the choral world. But I thought, no, that's too easy. Then they said, conducting is a very lonely career. The phrase I loved was, 'The higher you get, the thinner the air.' But they empowered and prepared me to decide for myself."
Chan pursued graduate studies at the University of Michigan with Ken Kiesler, whom she met at a conducting workshop at Smith. "At that point, I had no technique, no idea what I was doing," she says. But by the time she received her doctorate in 2015, she'd served as music director both of the Michigan Campus Symphony Orchestra and the Michigan Pops. She'd also won the London Symphony Orchestra's Donatella Flick Conducting Competition—the first woman to do so—and was named LSO assistant conductor in 2015.
"Those two years at the LSO were quite formative—the first time I was able to put everything I'd learned into action," says Chan, who now serves as chief conductor of the Antwerp Symphony Orchestra, again the first woman to hold the position.
"I can't speak for others, but in my case, I think being a woman has some advantages," Chan says. "Many people have low expectations—and even looking at myself, I'm small, I'm Asian, I'm not a Barbie type. But because of that, the music is the only thing I need to focus on. By the end of the week, people often come up to me and say they only noticed I was a woman after the fact."
"It used to be much more difficult for women," Stasevska observes. "Younger men were seen as a talent you need to grab, while with women it was always, 'Is she good enough? Let's wait and see.' But #MeToo has changed the whole business. People of diverse ages and backgrounds now have a voice, and I think it's something to celebrate."
Given her background, Stasevska claims a special relationship with Sibelius. "Growing up as a musician in Finland, it was impossible not to know him," she says. "Before we switched to euros, his face was on the money. He was always there, and you know his musical language from a very early age." But beyond that, Stasevska is now married to Lauri Porra, Sibelius's great-grandson and a composer in his own right (as well as the bassist for the Finnish metal band Stratovarius).
Chan, having been born in a former British territory, came to Elgar from a different direction. "It's often difficult to talk about Elgar," she says. "The Enigma Variations is very English music, highly detailed and subtle, with a dreamlike quality that needs to unfold without being forced." Considering Cincinnati's history with Elgar—the composer conducted his Dream of Gerontius at the 1906 May Festival—she looks forward to hearing a different perspective.
"In England, people already know this music so well they often don't rehearse it," says Chan, who has conducted the piece with the London Symphony Orchestra and the Philharmonia, among others. "It's like walking into a religious space where they say, 'We'll only touch it in the moment.' I took this piece to the Deutsche Symphonie-Orchester Berlin and was really happy when the players said, 'Let's really work through this. We want to know how it should sound.'"